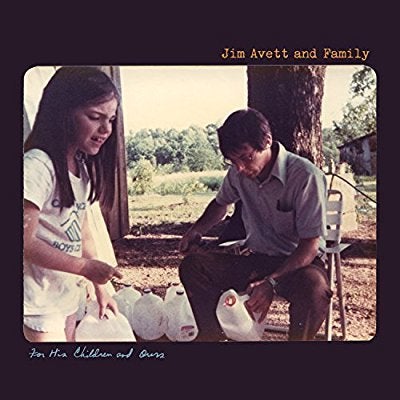 In "Jim's Gospel Song," the only original song on For His Children and Ours, the new album by Jim Avett and Family, Jim sings: "When I was just a little boy / I sat on my daddy's knee / singing the songs he liked best / I learned them in harmony / there must have been a million tunes I learned to sing with him." A few verses later he continues, "My daddy's gone on to his reward / he's singing at Heaven's throne / but I'll sing them all with my kids and try to pass them on."
The "kids" Jim refers to in the song are his three adult children with wife Susie: Bonnie Avett Rini, Scott Avett, and Seth Avett. Scott and Seth are the core members and chief songwriters of the band The Avett Brothers. [If you aren't familiar with The Avett Brothers, you can read all about them here.] Jim's "daddy" was Clegg Wallace Avett, a Methodist preacher who ministered to small town congregations in North Carolina from the late 1930s until his untimely death in 1976. In that single song, Jim Avett references three generations, bound together by faith and music.
As I told Jim when we sat down on the concrete back patio of the Days Inn in Wilkesboro, North Carolina on a sunny Friday morning in late April, I believe that song is the heart of For His Children and Ours. He shrugged off my praise for his work, telling me that he had written the song 25 years earlier and submitted it to a songwriting contest at MerleFest. "Of course I lost," he said. "I knew it would because it has so much plagiarism in it. It uses so many song titles, but it was something that I wanted to say."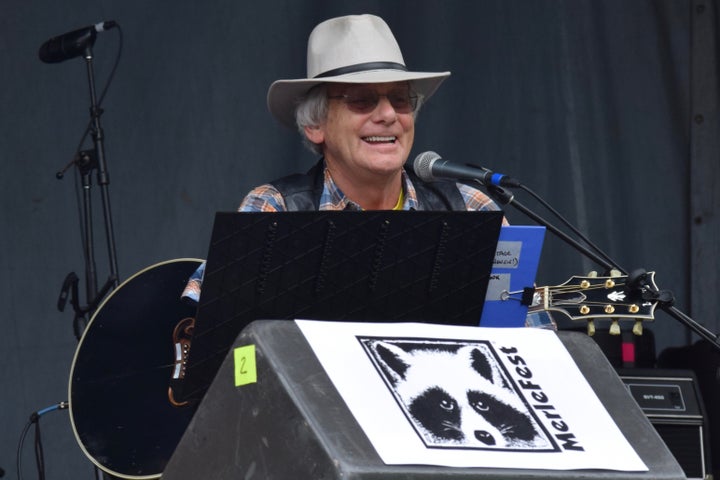 Jim, who recently turned 70, recorded the album with Bonnie, Scott, and Seth in two sessions, each lasting three days. The album was recorded in Seth's home. "This is pretty homemade stuff," Jim explained. For His Children and Ours is Jim Avett's fourth album. Jim Avett and Family (2008), also recorded with Bonnie, Scott and Seth, includes ten gospel songs such as "It's Me," "Keep on the Sunny Side," and "Down by the Riverside." Tribes (2010) and Second Chance (2012) include original songs written by Jim.
Originally, Jim explains, he just "mentioned" to his kids that he wanted to record another gospel album. "I didn't say let's do one together. I didn't say I need some help on a gospel album. They said 'we'll do it with you' and I said, 'fine.'" Production was entrusted to Seth. "Seth is a perfectionist," Jim explained, "He is very, very good in a studio. Knowing technically what you can do and what you can't do."
According to Jim, the four Avetts recorded sixteen or seventeen songs and "of course we let Seth pick" the final twelve. For His Children and Ours includes at least one standout song for each family member. Bonnie's beautiful vocals combine with Jim on "Beulah Land." Scott takes the lead on "Angel Band." Seth performs "Peace in the Valley" with the arrangement created by Sam Cooke and the Soul Stirrers. Jim sings lead on a number of songs, closing out the album with a stark and lovely "Precious Lord." He recently performed that song, backed only by Seth on acoustic guitar, to an audience of nearly 5,000 at an Avett Brothers concert at Fox Theatre in Atlanta. At that same concert, Jim, Bonnie, Scott and Seth stood in a tight circle around a single microphone and sang "He Said, If You Love Me, Feed My Sheep" a capella. Who arranged the beautiful four-part harmony, I asked Jim? "We were just doing the best we can," he replied.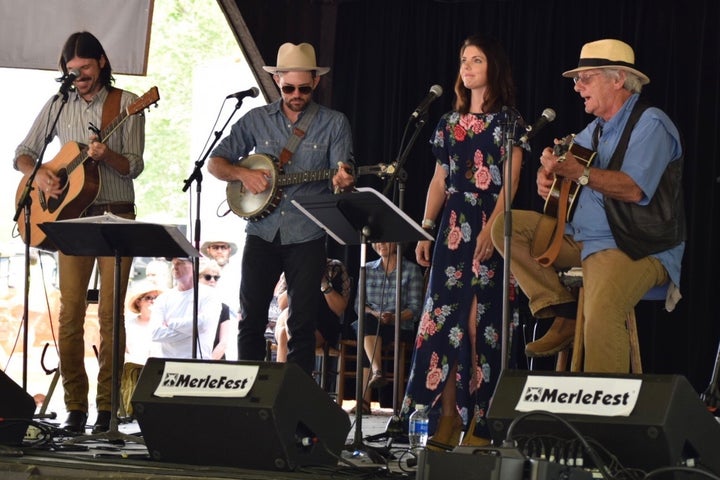 Scott Avett often tells interviewers that Jim put his musical career on hold in order to take care of his young family. In 2013, Scott asserted that his father "kind of forfeited his dream of being a musician when he was younger, as our family grew. He stopped and put all of his work into building a welding company. He probably wanted to be a musician always, because he was definitely an entertainer, but he put it on hold during our upbringing." Jim is familiar with that story. As he told Jay Callahan in 2016: "Scott once said that dad gave up a career in music so we could have one. That isn't quite true."
Jim is the third child of Clegg Wallace Avett and Martha (Hogan) Avett. Jim described his paternal grandfather, Clegg's father, as a "very, very religious man." Jim continued, "My dad had eight brothers and sisters and all of them turned out to be Sunday school teachers or missionaries. They were a very committed group of people." Clegg grew up in North Carolina and attended Emory University to prepare for a career as a minister in the Methodist church. As Clegg himself wrote in a piece entitled "Philosophy of Life," he first contemplated other careers. "I didn't enter the ministry because I wanted to from the start," Clegg wrote. "I ran as long as I could and as hard as I could. I tried to trade with the Lord by being a teacher or an attorney and I intended to be a Christian in either. I tried to horse-trade with the Lord and learned he didn't need any horses. I experienced what the man meant when he said, 'Your arm is too short to box with the Lord.' I've never regretted entering the ministry, that is left for those who have to hear me preach."
Jim's brother Wallace Avett described their father Clegg in the introduction to a book of Clegg's sermons (For All the People), published a few years after his death. "My father," Wallace explained, "was a preacher and a singer and a counselor, a father and loving husband, a teller of funny stories and a shade-tree philosopher, handyman, logger, farmer and country sage. He was plain and honest and full of the common sense that those who live close to the earth and its people often have. … There was no pretension about Clegg Avett, no coldness, no reserve." If you are fortunate enough to spend a little time with Jim Avett, you'll see that this description largely applies to him too.
Jim's mother Martha was born and raised in north Georgia. "Her parents supported their children in whatever they wanted to do," Jim told me. Martha's sister became a missionary, one brother became an entrepreneur who also played violin with the Atlanta Orchestra, and the other brother became a captain in the Navy and commanded a submarine in the Pacific during World War II. Martha enrolled in Shorter College (now University) in Rome, Georgia and earned a degree in music. A concert pianist, Martha became a church organist after marrying Clegg. She passed along her love of music to her son.
As a child, Jim learned piano, violin, and guitar. "My mother was an absolute master of a piano," Jim explained. "She was the kind of woman who could be three rooms away from me fixing supper and I would be practicing violin and I'd hit a sour note and she'd say 'that's a Bb you're looking for.' And I'd say, 'how can you do that?'" Both of Jim's parents grew up surrounded by Southern gospel music—Methodist in the Avett family and Baptist in the Hogan family. They passed those songs along to their children. "My daddy, we would go to see my grandmother in north Georgia and when I was a kid it took 8 hours to get from North Carolina to Atlanta. In that time you went through every small town. You hit all the lights. And we'd go through singing and we'd sing mostly gospel."
After graduating from high school, Jim attended a few colleges before enlisting in the Navy. While in the Navy, he met Susie Gleason, then a student at the University of North Carolina at Greensboro, studying to become a reading teacher. They communicated by letter and phone call, going on a few dates, before marrying in 1969. "I told Susie when we got married—I have no idea what I'm going to do. None. I have no prospects." Jim laughed. "Susie's daddy was a general in the Army and I was an E4 in the Navy which is like [he gestures to show the wide difference in their relative ranks] and I'm sure her parents wondered what in the world their oldest daughter saw in the son of a preacher enlisted in the Navy with no prospects from North Carolina. And I told her, I have no idea what I'm going to do for a living but I promise you this, you will never go hungry and you will never be rained on. I will provide us a place and provide us food. You have to make a living. I think God, and I've said this a ton of times while I was working, I think God would be somewhat put out with me if I did not provide for my family because I have a responsibility."
Married while Jim was still in the Navy, the newlyweds waited four years before having Bonnie. "We needed time to make sure we had the best idea of staying together, find out if we were compatible," Jim explained. Jim and Susie both graduated from college, and he worked for the North Carolina Department of Social Services for a couple of years before Jim, Susie, and Bonnie moved to Alaska so that he could pursue work as a welder. The young family stayed out West a few years. As Scott sings in "The Traveling Song," "I was born out west in Cheyenne town / while my ma and pa was ramblin' 'round." After Scott's birth in 1976, the Avetts returned to North Carolina. Over time they purchased a house, bought some land, and Jim started a welding company.
When he had children of his own, Jim taught them about music and faith. "We sang every opportunity we got," he explained. "We were on a trip, we didn't have a tv in the car. We didn't put the radio on. Susie's momma lived down in Miami, so we had a 13 hour trip to go down there. So we'd sing. Carrying on the family tradition is all this is. When the kids were growing up, we sang gospel in church maybe once a month or maybe once every two months. There for about two years we did that. We got very used to one another."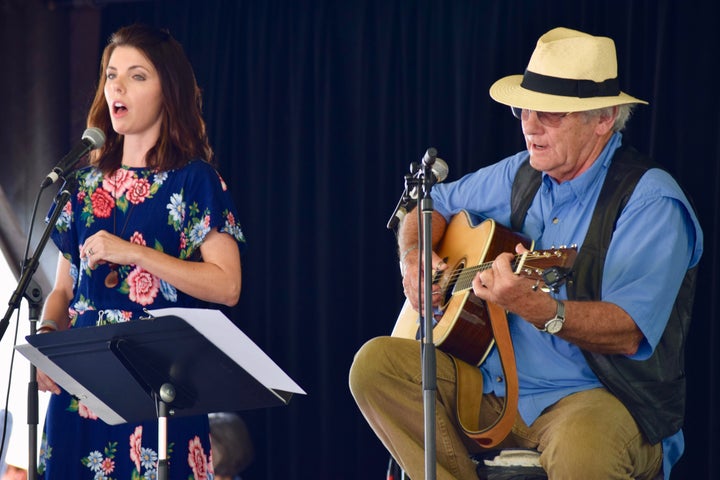 Although Jim, like his father, believes that you must "live your faith," he differentiates between "what is right" and "religion." Jim asserts that at their core, all religions are bound by similar concepts of right and wrong. "If people don't know what is right," Jim said, "they're not going to do the right thing." There is nothing wrong with "influencing" people to do the right thing through music, Jim explained. But, he continued, that doesn't mean forcing your particular brand of religion on others.
"Somebody in an interview within the last three weeks," Jim recalled, "she was dancing around the question, she said, 'do you…' and I said 'do I testify?' I said not in so many words. I think somewhere in the Bible it says 'you will know them by their actions.' You will know anybody by their actions. Christians or not. And I said if you have to ask me if I'm a Christian, then I'm not much of one I don't guess, or you haven't seen me enough. I think maybe you might be missing the point. It ain't what I say. And it is none of my business whether you're saved or not. That's up to you. You'll answer that call. I'll answer my own."
Gospel music, as Jim tells it, is a vehicle for teaching people (including his children) what is right. "Music does for people what nothing else does. Nothing. Sex and food and anything else. There are certain combinations of chords. There are certain phrases and lines of words that do for people what nothing else does. And what you try to do is you try to reach as many people as you can with the vehicle that you have. … I sing a lot of gospel. I sing gospel in churches and sing it in bars. Ain't nothing like singing gospel to a pack of drunks. They know all the words. They're so enthusiastic. It's a lot of fun singing. … I'm not trying to change people's lives. I'm trying to put something out there for them to make a better choice with. … I do the best I can. And I hope that it is good enough to affect somebody's life in a positive direction."
Jim speaks of his parents, and what they taught him, with love and admiration. "My mother never said a negative word about anybody." Jim's voice gentled as he described his mother. "If she didn't think much of somebody she just didn't say anything about them. She was a treasure. She was an absolute treasure. My dad was the same way."
"One of the differences between my generation and your generation," Jim volunteered, "is that my generation had heroes. We had lots of heroes. My neighbors were World War II veterans. My teachers were World War II veterans. These were tough people." Jim explained that his heroes were Sir Earnest Shackleton, who led three expeditions to the Antarctic, and his Uncle Tom Hogan, his mother's brother who commanded a submarine during World War II. His father was also his hero, but for a very different reason. "I thought my daddy was the toughest man in the world," Jim explained. "My daddy was a conscientious objector in the Second World War and he was my hero because he stood up for what he believed in."
Fascinated by this piece of information, I looked up Clegg Avett's draft card. (A curious person who is trained in genealogy and went to law school can find just about anything.) Sure enough, I found Clegg's neat handwriting on the back of the card, "Without any spirit of defiance toward the government, I am a conscientious objector to war." During World War II, over 34.5 million men registered for the draft but only 75,000 applied for conscientious objector status. It would have taken a great deal of bravery in 1940, even for a minister, to assert his opposition to war. It was that same quiet fortitude that led Clegg Avett to preach in favor of desegregation in the early 1950s and against the Vietnam War. "Too often," Clegg wrote in a sermon on desegregation, "we think with our emotions or prejudices instead of using our intelligence. … We know what we want to think and do not want to be bothered." In a sermon entitled "Too Many Altars" (a thought-provoking piece that alone is reason enough to acquire a copy of For All The People) Clegg wrote: "As long as mankind shall continue to bestow more liberal praise on their destroyers than on their benefactors, the thirst for military glory will be a curse to civilization. We have given far more attention and praise to war than to peace."
Jim Avett's heroes include his teachers, neighbors, and uncles who fought in World War II, as well as his father, who refused to do so. "You gotta give people a lot of room," Jim explained. "You ain't always right. This may be a shock, but you ain't always right and there are other ways of looking at things. … You got to make room for an awful lot of different people. That doesn't have anything to do with the way I lead my life. If everybody else decides to go this way and I decide to go that way, that's me. You go do what you want to do."
What Jim wanted to do was record a gospel album. His children wanted it to be a family effort. When the recording was complete, according to Jim: "Seth said, 'Your signature is all over this album. This album is for you. We want to showcase you.' And I disagreed with that. The good thing about getting to be an old guy is that you have so many experiences and so many lies you can tell, you have a short window you can tell them to because everybody that could refute them, they're all dead and pretty soon you're gonna be dead too and the next man will have his shot at it and that's as it should be. They're the next man. The kids are the ones who are going to be here when I'm gone. I'm very at ease with that."
The "kids" aren't the next man quite yet. Jim is still writing and performing original songs, as well as covers and gospel tunes, alone, with Bonnie, and sometimes with The Avett Brothers. He and Susie go out of their way to meet their sons' fans, wandering through the general admission pit at The Avett Brothers' New Year's Eve show and sharing hugs and taking selfies. I've been fortunate enough to speak with both of them a few times and you will not meet warmer, more open people. They both radiate love.
You can (and should) purchase a copy of For His Children and Ours wherever albums are sold, on iTunes, through Amazon, or via Ramseur Records. Jim's touring schedule is on his website. His father Clegg's book of sermons, For All the People, can be purchased here.
Support HuffPost
The Stakes Have Never Been Higher
Related
Popular in the Community