Dorothy went looking for home, running away from the people who had raised her, and found, in her dreams, such a wonderful/terrible place. Oz was everything home wasn't, and she wanted to be--needed to be--home.
On Homecoming Sunday, my church was packed. We are Black, White, Latino/a and Asian, gay, straight, bi, trans, old, and young. The sound of children fills our sanctuary each Sunday. Ann, a beautiful, sunny woman and mother of two young children, sang "Home" from The Wiz:
When I think of home, I think of a place where there's love overflowing.
I wish I was home, I wish I was back there with the things I've been knowing...
Her voice, like a violin, took us into the story of Oz, and Dorothy's big adventure, as told in The Wiz. Our eyes were wet, for the beauty of the singing and with our own yearning for a safe place to call home.
I preached about a home created by a loving father for his two sons. One rebellious, one steady. Both loved. Their father created a home--a container--in which both boys could be themselves. They could be lost, frustrated, find their way home, protest their circumstances, be prodigal and petulant, and in the space of his love, become their better selves. (Luke 15:11-32)
Home is like that. A place where people miss us when we are gone. A place where we can be real, and be really seen and recognized and loved. A place where resources are shared, a space of forgiveness and grace. Home is where we are gently challenged, encouraged, and reminded that we are unique, amazing, and deeply loved. Home is a space--a container--in which family has our back, a space in which our lives and our livelihood matter to those around us.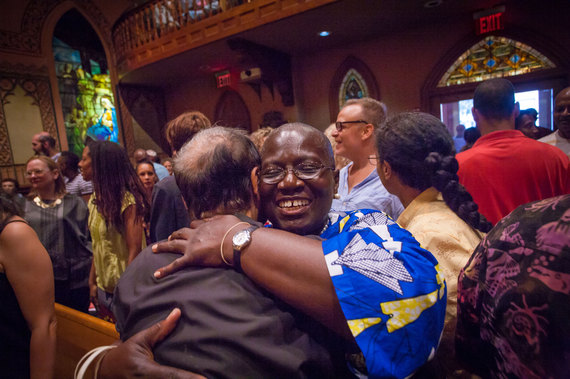 Photo by Patrick Mulcahy
Sadly, America is not such a wonderful home--or container--for much of our family. Too many Black men, women, boys, and girls have been killed in encounters with the police. Too many children of all races live in poverty, but Black families struggle disproportionately more. Too many civil rights are being eroded. Women don't yet earn what men do for the same work. Muslim, Sikh, and Jewish people are increasingly oppressed in this land of the free. And even though marriage equality is a national law, gay, lesbian, bisexual and transgender folk are still harassed and can be fired in some states just for being themselves.
The writings of psychologist Donald Winnicott suggest that a "good-enough" container or home is all that is needed for us to be whole and healthy human beings. Not perfect, good-enough. Someone comes to care for you when you cry, someone changes your diaper or dries your eyes. Good-enough. You are hungry and you are fed. Good-enough for you to feel safe, to be whole.
I love our country, and I know we can do better. The home we have created is not good-enough. Our union needs to be perfected.
On Sunday, following the lead of Colin Kaepernick, Middle Church got on our knees. Our kneeling was both a protest and a prayer. We linked arms, and our children joined us as we prayed for their future and ours. Our kneeling was a vulnerable show of strength. We love this home, and we are responsible to make it better.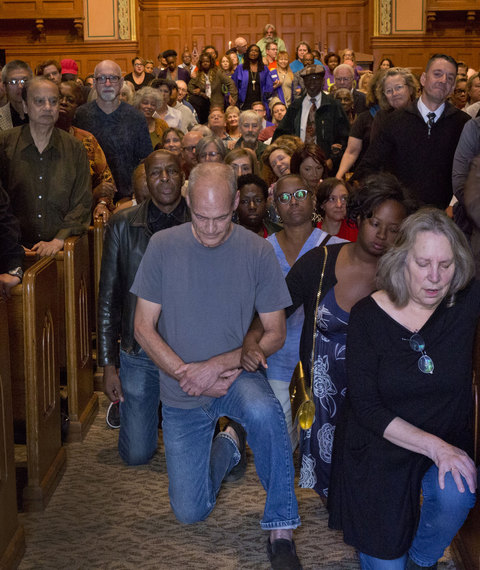 Photo by Beatrice de Gea
Friends, we have some home-work to do.
We are all homemakers, responsible to create a safe space for each other, a space to be real and to become our best selves. A space in which everyone is welcomed, one in which everyone has enough. We can't create this home in segregated silos; we can't do this pulling apart in fear and suspicion.
But we can and must do this--together.
Do you see this praying, hoping for a healed world? We are deeply grieved at the state of our nation. And we know our grief must be prophetic. First we mourn, then we organize and act. We pray on our knees and we pray with our hands, hearts, and feet.
When we are marching down Fifth Avenue for Pride; when we are organizing our conference Revolutionary Love: Disruptive Ethics to Dismantle Racism; when we are partnering across race and religion on the 15th anniversary of 9/11; when we are feeding the hungry--we are praying and working to make a good-enough home for our family, for our nation.
Friends, we have some home-work to do. Together, we can make our nation a home for all of us, a place where we can all thrive, a place to which we can return, a place to belong.
What can you do?
Like and share these pictures, as an act of prayer.
Go to middlechurch.org to find ways to get involved in the multiracial movement for justice.
Register for the Revolutionary Love conference in April at Middle Church
Get a ticket to the Together Live Tour, and be inspired to do this work together.
My friend Branch sang our call to action this way, in "Bring Him Home" from Les Miserables.
Lord on high hear my prayer in my need you have always been there. He is young he's afraid. Let him rest. Heaven blessed. Bring him home, bring him home, bring him home.
REAL LIFE. REAL NEWS. REAL VOICES.
Help us tell more of the stories that matter from voices that too often remain unheard.