You know what they say: If you want to get something done, ask a busy person to do it.
But when the Hong Kong government came to Joe and said that they wanted some new rides, shows & attractions for HKDL, he didn't use all of his other obligations as an excuse to shirk this new assignment. Lanzisero just turned to his team at WDI and began spit-balling ideas.
"And I have to thank our Hong Kong government partners because they were very adamant that -- in their marketplace -- they really wanted to have bragging rights. These officials wanted to be able to say that 'The only place in the world that you're going to experience these attractions is at Hong Kong Disneyland,'" Joe explained in a recent phone interview. "Which meant that we were now going to get to do what the original Imagineers did with Walt. Which wasn't build a ride or show around some pre-existing Pixar or Disney intellectual property. But -- rather -- create something out of whole cloth like The Haunted Mansion or Pirates of the Caribbean or It's a Small World. Build a brand-new theme park experience around a place that people had never been before featuring characters that they'd never met."
Which sounds like a pretty big challenge in and of itself. But Lanziero was looking to raise the bar even higher when it came to Imagineering's newest assignment.
"Think about it. Thanks to all of these giant, big budget special effects films, people are now just used to seeing the most unbelievable things," Joe continued. "And what I wanted WDI to try and do was create an attraction where the Guests wouldn't be able to tell where a piece of projection began and ended and where a live set began & ended and where an animatronic began and ended. With the end result being this absolutely seamless visual melding of all these elements which then created this ride experience that was so mind-blowing that Hong Kong Disneyland visitors were going to walk out of this thing saying 'How the heck did they do that?'"
Mind you, the Imagineers were going to need a story and some characters to build this special effects extravaganza around. And after a couple of false starts, they eventually came up with Mystic Manor. Which was where Lord Henry Mystic, a turn-of-the-century explorer and his simian companion Albert, lived surrounded by all of the rare and unusual artifacts that these two had collected during their travels 'round the globe.
"The idea behind this ride can kind of be traced back to Walt Disney World's Adventurers Club. Though -- truth be told -- it really has more to do with Tokyo DisneySea's version of the Tower of Terror," Lanzisero stated. "Since the Japanese weren't really familiar with Rod Serling or the Twilight Zone television series, we had to come up with a brand-new back story for the Tokyo DisneySea version of this thrill ride. Which is when the Imagineers dreamed up Harrison Hightower III, this billionaire explorer/industrialist who built the Hightower Hotel and then met a mysterious fate on New Year's Eve 1899. Supposedly because Harrison didn't heed the warnings about a particular artifact that he had recently added to his collection."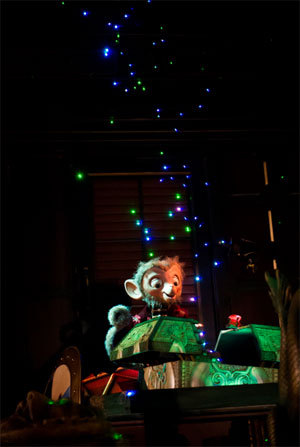 "And since Harrison Hightower was supposed to be a member of SEA, the Society of Adventurers & Explorers ... Well, we decided to build Mystic Manor around another SEA member who had just taken possession of a mysterious object that might cause him problems," Joe continued. "Only this time around, it was a Balinese music box that -- when it was opened -- released this magical music dust which then caused inanimate objects to come to life."
And given that music played such a big part in this proposed Hong Kong Disneyland addition (More to the point, given that all of the truly classic Disney theme park rides -- It's a Small World, Pirates of the Caribbean and The Haunted Mansion -- all prominently featured songs) ... Well, Lanzisero was just thrilled when Academy Award nominee Danny Elfman reached out to WDI and then volunteered to write an original score for Mystic Manor.
"Danny came on board this project via his manager Richard Kraft. Who -- as it turns out -- is a big-time Disney enthusiast," Joe said. "Richard was at the very first D23 EXPO and saw the display that WDI had put up for Mystic Manor. And as soon as Richard saw the concept art and storyboards for this ride, he immediately thought 'Wow, this would be a great project for Danny to work on.' Who Kraft knew was looking to expand beyond the scores that he'd been creating for film and television. And since -- when Elfman was growing up in Southern California -- his favorite ride at Disneyland was The Haunted Mansion ... Well, Danny was just the perfect guy to write the music for Mystic Manor."
Of course, it's one thing to have a story and characters to build your theme park attraction around (or -- for that matter -- a theme song for your theme park attraction). But then comes the really tough part: How are you actually going to convey people through this experience? Because many a promising theme park attraction has been undone because its designers opted to go with the wrong ride system in the end. Which then made it impossible to properly tell that attraction's story.
"But that's why it's great to work at WDI," Lanzisero enthused. "Here at Disney, we are blessed with the top of the industry. The very best lighting designers, colorists and special effects people. And our ride guys really outdid themselves with Mystic Manor. Those engineers made use of some proprietary software -- not mention the more than 200 RFID tags that we buried in the concrete floor of our Mystic Manor show building -- to create this trackless ride system which can then dispatch four vehicles at a time. Not only that, but these ride vehicles -- Mystic's Magneto Electric Carriages -- actually reinforce our story. We now have the ability to program each individual vehicle so that it can go up to a particular prop or effect in a show scene and then direct the Guest's attention at that specific vignette. Then after this show scene plays out, this trackless vehicle is programmed to move the Guests to the next vignette. So that cumulatively -- going from scene to scene to scene -- we can then treat Hong Kong Disneyland visitors to a complete story. Which climaxes with Albert frantically trying to close that Balinese music box before its magical music dust actually tears Mystic Manor apart."
It's this skillful mix of special effects, music, storytelling & ride systems that has made Mystic Manor the talk of the themed entertainment industry ever since this new HKDL attraction first opened back on May 17, 2013. More importantly, it's why -- this past Saturday night -- TEA (i.e., The Themed Entertainment Association) paid tribute to Joe and his team at WDI by giving Mystic Manor an AOA (i.e., an Award for Outstanding Achievement).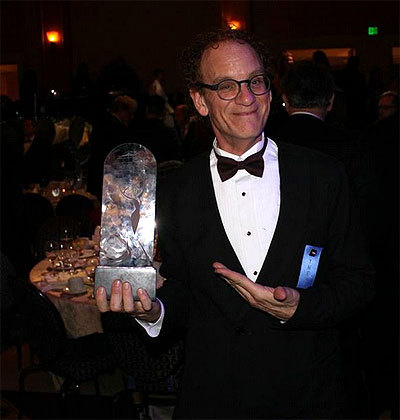 And Lanzisero -- even though, as I mentioned at the very start of this article -- is a very busy guy, he still made a point of traveling to the Disneyland Hotel to accept this award. And as Joe stood at the podium in the Grand Ballroom during the Thea Awards Gala, he graciously made a point of thanking the people who helped make this attraction possible. Which -- to Lanzisero's way of thinking -- stretched all the way from Ethan Reed (who did such a brilliant job with sculpting Lord Henry & Albert) all the way back to Disney Legend Marc Davis (who taught Joe at CalArts back in 1975 about silhouette value and using design and strong poses to tell Guests how they're supposed to feel about the characters that they encounter in Disney's theme park attractions).
"As for that Award for Outstanding Achievement, it's one thing to have the Guests go through and then say that they like the ride that you and your team designed. But to be recognized by your peers, by people who know all too well the challenges that we face when we design rides, show and attractions like this, that means the world to me," Joe concluded. "I've had the chance to do a lot of neat stuff around the world. But Mystic Manor -- thanks to the people, the location and the subject matter that I got to work with here -- has probably been one of the high points of my career at WDI."
EDITOR'S NOTE: An earlier version of this article credited Imagineer Ethan Reed Credit with the sculpting of the Lord Henry & Albert figures for "Mystic Manor." While Ethan designed these characters and served as Animation Creative Director on this Hong Kong Disneyland project, it was actually Imagineers Steve Cotroneo who sculpted Albert and Scott Goddard who sculpted Lord Henry.
Popular in the Community