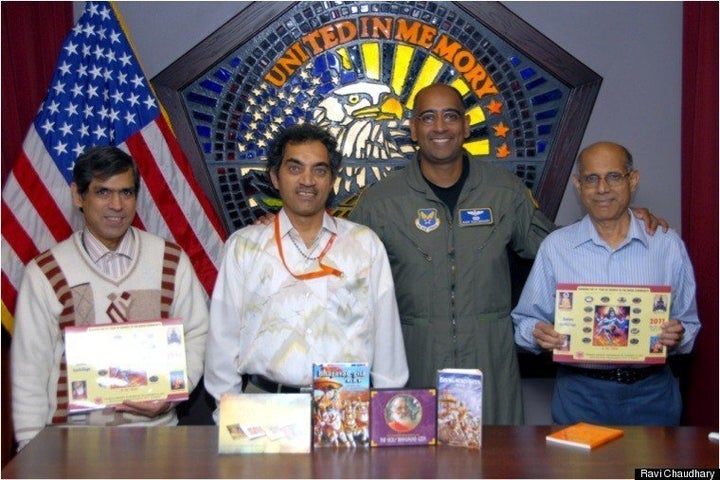 This Veteran's Day, we will take time to honor those who have served in the U.S. Military in times of conflict and recognize their sacrifices. It is a day where we put aside our differences, political or otherwise -- a time to remember those service members and their families who have paid the ultimate price in defense of our nation. The solemn nature of this day is universal and can be found in the smallest communities across America, where events of remembrance are accomplished in unique ways.
I recently came across one such community effort deep in the hallways of the Pentagon where I work. Three gentlemen, all Indian Americans, gather each week in the Pentagon Chapel to conduct Hindu services in a very special way. Dr. Ram Bhat, Bhuj Gidwani and Hitul Thaker serve in various Department of Defense organizations in the D.C. area, yet they gather in the Pentagon each week to express their Patriotism and support for men and women serving in the U.S. Military. "We are here to show our support for the members of Department of Defense serving all over the world," says Dr. Rham Bhat, who works at Bolling AFB. Their remembrances are often short in duration, lasting a mere 20 to 30 minutes. And while their format is simple and succinct, they display the kind of spiritual energy that would rival any 21 gun salute.
Outside the modest chapel area, the bustling sound of Pentagon Action Officers rushing to their daily briefings carries on. "It is an intense feeling of Patriotism that brings us together each week, and we've enjoyed tremendous support from the Chaplain's office here at the Pentagon," said Mr. Thakur, who works at the Walter Reed Medical Center and has also served on active duty in the U.S. Air Force. A few feet away from where they conduct their services, the Pentagon Memorial provides a solemn reminder of Sept. 11, a theme that connects to Dr. Bhat and his group's purpose.
It comes as no surprise that their message of service and patriotism is growing, and they are turning heads in their respective communities. News of their gathering is spreading throughout the Indian-American Diaspora. This year, they have energized communities in Maryland, Virginia, Georgia and Minnesota to conduct Veteran's Day remembrance events of their own, as well as volunteer-related tasks for veterans. They have also recently garnered support from organizations who are mobilizing charitable events to serve veterans this year. Anju Bhargava, member of the President's Advisory Council on Faith-Based and Neighborhood Partnerships said, "The term 'Seva' is a well-known Hindu reference to the generous act of service. We are thrilled to support Veterans throughout the country, and look forward to ways where we can help." Mrs. Bhargava is coordinating efforts for communities to reach out to veterans through charitable organizations and local businesses.

At the conclusion of their service, attendees share heartfelt prasadam (or gracious offerings, usually of small snacks) with the U.S. Army Chaplain's office. They trade cultural stories with members of the staff and give thanks for the opportunity to gather there.
The significance of Dr. Bhat and his group's effort is that they tell a broader American story on Veteran's Day. It is a story of all American communities, steeped in cultural tradition. Yet their unique brand of patriotism transcends traditional boundaries, and serves as a unifying force. They convey their thoughts and prayers for servicemen through their own cultural lens, and their acts resonate across cultural lines for a single purpose: support for the U.S. Military.
As I sit down with my family this Veteran's Day and give thanks for service members and their families who've given their all, I'll reflect on my own experiences as an Air Force officer, and how our soldiers, sailors, airmen and marines work together to serve our great nation. I'll think of patriots like Dr. Bhat, Gidwani and Thaker who take time each week to pledge their support to raise awareness for veterans in their communities through their own cultural lens. They truly exercise their freedoms as our forefathers had intended -- in ways that bind us as a nation -- freedoms that all veterans believe are worth fighting for.
Above all, this Veteran's Day I'll think of soldiers, sailors, airmen and marines who've made the ultimate sacrifice to serve their country. May their families remain in the thoughts and prayers of all communities across America -- communities that embody the words written on the great seal of the United States: "E Pluribus Unum," that out of many, we are one.
Ravi Chaudhary is an Air Force officer and works as strategic planner at the Pentagon. People interested in partnering with Dr. Bhat and his group can contact him directly at rambhat@aol.com.
'

Popular in the Community