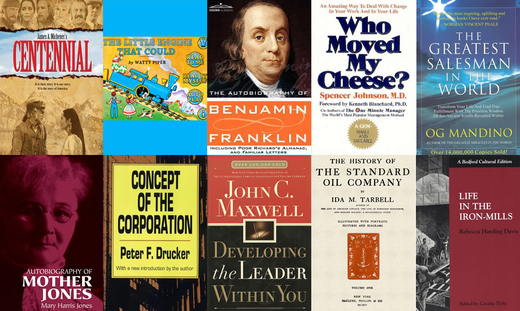 "Labor Day differs in every essential from the other holidays of the year in any country," Samuel Gompers, the founder and longtime president of the American Federation of Labor, once said. "All other holidays are in a more or less degree connected with conflicts and battles of man's prowess over man, of strife and discord for greed and power, of glories achieved by one nation over another. Labor Day is devoted to no man, living or dead, to no sect, race, or nation."
Gompers was right, Labor Day is a unique tribute to the working people of our nation, and the contributions they have made - and continue to make - to our our national strength, prosperity and well-being.
So in honor of Labor Day, and in honor of the working men and women the holiday honors, we've added 10 new books - suggested via public submissions by ordinary working people - to our ongoing list of Books that Shaped Work in America. These new additions, bringing the total number of books on the list to 170, span more than 220 years and include autobiographies, leadership development/self-help tomes, well-known and titles worthy of rediscovery, and one of the most beloved children's books of the past century. They are:
Published in 1993, this universally trusted management text uses research and anecdotes to outline principles for effective leadership.
This first-of-its-kind analysis of the internal workings of a large business and the managerial strategies that contribute to corporate success was published in 1946. General Motors criticized it as prejudicial against business; but over time, it helped establish GM as a model of organizational structure.
One of the most important books in the history of the United States, this book, published in 1904, exposed the inner workings and corrupt practices of John D. Rockefeller's Standard Oil, the United States' first major industrial monopoly. It played a significant role in the breakup of Standard Oil in 1911.
Originally published anonymously in Atlantic Monthly in 1861, this book portrays the lives of workers in factories and mills in the mid-19th century. Inspired by Davis's time living in industrial West Virginia, it called attention to the plight of America's working poor.
Published in 1998, this little book became one of the best-selling business books ever. Through a parable about four creatures seeking cheese in a maze, it outlines a strategy for embracing change, especially related to one's career.
Originally published in 1968, this delightful book prescribes a specific reading structure, with instructions to read certain sections (called scrolls) three times a day for 30 days in order to instill good management habits.
Published in 1925, Jones recounts her life as a teacher and dressmaker who, after losing her husband and four children to yellow fever, became a labor activist and union organizer. Her story is still relevant and inspiring, and it proves that one person can make a difference in the world.
A memoir written between 1771 and 1790, "The Autobiography of Benjamin Franklin" chronicles the life of one of America's founders, who, throughout its pages, self-identifies more as a working scientist and scholar than a political thinker. Its four parts were then published posthumously between 1791 and 1818. The most recent version, considered the most authoritative, was published in 1981.
This sweeping novel traces the evolution of present-day Colorado from prehistoric times through the early 1970s. Along the way, it paints a vivid picture of the lives and livelihoods carved out of America's western frontier, from fur trappers and traders to hunters and homesteaders.
Voted as one the top 100 books for children in a National Education Association poll, "The Little Engine that Could" emphasizes the value of hard work and determination through the story of a personified steam engine who, despite being small, wills itself to pull a long train over a mountain. Although variations of the story existed previously, the version most ingrained in American culture was published in 1930 by Watty Piper, a pen name for Arnold Munk.
Interested in adding to the list? Suggest a book here.