Founder, Summer Search
Author, Forever Changed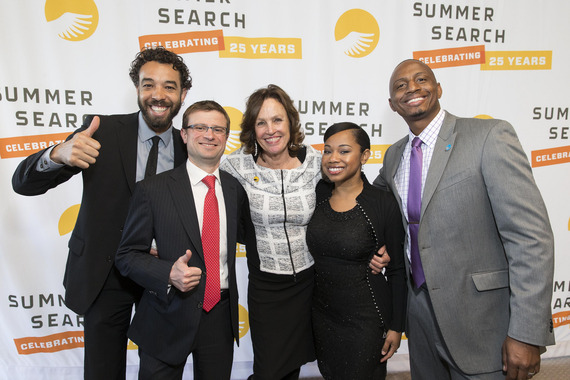 In 1966, a young woman named Linda Mornell, climbed on a greyhound bus headed for San Francisco. She was leaving her small, remote childhood farm in Indiana right after completing her RN and BS in a nursing training program in Indianapolis. She had a few dollars carefully folded in her small purse but no secure sense of what lay ahead. She knew only that she wanted out- out of the mid-west, that she loved psychiatric nursing and that one of the best mental health facilities in the country, was in San Francisco. She headed west.
Fast forward forty six years to 2012 in San Francisco. I was attending a fundraiser for an organization called Summer Search. I did not know much about the program but two things quickly became obvious. First, we were there to honor the astounding success of the students as well as the founder, Linda Mornell. Second, there was a palpable charge in the air that night that let me know that this program and Linda Mornell were something very, very special.
I wanted to know more Linda Mornell and about Summer Search, but with the many demands on my time that moment passed.
Then recently, I had the opportunity to sit down and interview Linda right after her book, "Forever Changed" was published.
Linda Mornell grew up in a middle class family on a small farm. Her father had chronic health problems as a childhood diabetic and was seriously addicted to gambling often plunging the family into poverty. Opportunities for college were few so she attended a three-year hands on nurses training program, designed for low-income young women from all over the state to get an education. When she was twenty, she arrived in San Francisco on that greyhound bus and did per diem work (contract nursing) at facilities that were momentarily short of staff while waiting for that important interview at one of the best in-patient psychiatric training facilities in the US: Langley Porter at the San Francisco University of California Medical School.
After getting her psychiatric training, Linda married, had three children and worked with her late Psychiatrist husband, Dr. Pierre Mornell, providing psychotherapy for adolescents and families with teenagers. At that time she developed a particular interest in summer experiential education programs for teenagers; hard ones, challenging ones, lengthy wilderness expeditions that her own growing children found so helpful as they coped with the normal swings of adolescence. They had also transferred from a public school to a private high school and it was there that Linda saw the vast differences in opportunities available to the super rich when compared to the super poor. Poor children, even those on full scholarships at that private school, were often missing the support, mentoring, and experiences that broadened other children's minds and taught them to trust themselves and others.

Low-income youth are also locked out of the extraordinary opportunity of summer experiential education programs that Linda had been recommending for her affluent clients. It was then that she had the idea to secure full scholarships to summer experiences for low-income but high-potential young people. It was 1990. The seed of an idea became a reality and 14 youngsters participated on summer programs all over the world.
What happened next was disappointing. Despite the broadening of the summer opportunity, those young people returned to homes and schools in poverty stricken communities that all too often fostered a culture of hopelessness and despair. Linda said, "It seemed rather naïve, maybe even mean, to take kids out of their limitations, expand their vision of the world and of themselves, and then return them without support to neighborhoods where no one understood the magnitude of their achievements and sometimes even resented them.
Summer Search soon became a more comprehensive organization that offered year round mentoring and two summer trips along with college counseling for seniors. After those early years of experimentation Summer Search became a national organization whose mission it is to break the cycle of poverty and low achievement for teens born into low-income families. It does this by identifying young people who have some innate ability to connect with themselves and communicate with others, but who have had only limited opportunities to develop those skills. Summer Search not only gives them the summer experience, it also gives them the supportive culture and ongoing mentoring they need to interrupt learned and often repetitious self-destructive behaviors and develop the all-important inner resources to reflect and guide themselves more effectively throughout life.
What is unique about Summer Search is not only the success but the length of the intervention. The initial interview and the summer experience is just the beginning. Upon return, Summer Search full time paid staff go on to mentor the students over the course of several years, through a process Linda developed called "insight mentoring."
100% of Summer Search students graduate from high school and 85% graduate from college.
Often the first in their family ever to graduate from high school, never mind college, they go on to become empathetic and educated leaders in what are often dispirited communities.
Today, Summer Search works with young people in seven US cities- Boston, New York City, Philadelphia, North Bay San Francisco, San Francisco, Silicon Valley and Seattle.
Every step of the way, Summer Search fosters self-reliance. Students, through learning to find their voice, engage in public speaking and are the speakers at Summer Search events, raising the money for the growth experiences of new students in the ever expanding program. Their stunning confidence, honesty, and gratitude raise more and more opportunities for growth within the organization, as well as contribute to their communities.
What was most striking to me in my interview with Linda, was not only her warmth and her compassion, but her clear memory of the individual students with whom she worked. She did modestly confide to me that her years in counseling students helped her develop a photographic memory for conversations. This empathy and skill on Linda's part has created a remarkable process for change based on a combination of acute observation and opportunity that has been developed, tested and modified over time and been passed on to others. With the dedicated help of talented staff, generous donors, and new leadership, Summer Search has become a national organization that does indeed "forever change the lives of thousands and thousands of underprivileged youngsters". This summer, Summer Search is sending over 1000 young people to summer experiences all over the world and there are 3000 "Summer Searchers" involved in the program. Those numbers will continue to expand.
Perhaps Linda's greatest gift as Founder, has been to give the program over to others who also now find right work and are shocked at what they can achieve and are amazed at their own capacity.
Linda sums it up, concluding our interview with, "As a farm girl growing up in a family crippled by addiction and surrounded by low expectations I stepped off that Greyhound bus with a lot of baggage. The fact that I could actually act and create something that was so impactful to others was stunning. I am indeed a very lucky person."
Summer Search is celebrating its 25th birthday on October 15 in New York City. I will be there and hopefully you too!
Our mission is to help low-income teenagers transform what they believe is possible for themselves and develop the skills they need to become college-educated leaders who give back to their families and communities.
What can we learn from Linda Mornell's experience finding her own right work that has been so beneficial to others?
I have discovered that "right work" is present when a person's top priorities, strongest talents,skills and core values are all aligned with the work they are doing.
Linda Mornell's top priorities when she started Summer Search included a passionate desire to give to others and a strong belief that change was possible for people when they were given the right support, communication and life experience. Her ability to be fully present with each child was based on conscious listening, she consistently accessed her own inner wisdom and let go of needing to know how things would happen. She asked for help as she needed it, and she attracted all of the right people for support along the way.
As a legacy gift to Summer Search, to all of the alumni and now to all of us who may be in our own pursuit of our right work, Linda has written a powerful autobiography of her journey with Summer Search. Her insights into the often life and death challenges faced by children growing up in poverty in America are sobering. The true life stories of "changed lives forever" are inspirational beyond words. Read these stories and be inspired to move in your own direction of right work.
Think of the thousands of lives who would not be "forever changed" had Linda Mornell not tenaciously, courageously, and passionately persisted in learning and growing and trusting that dreams can come true...even for children who had not been taught to dream at all.
Related
Popular in the Community