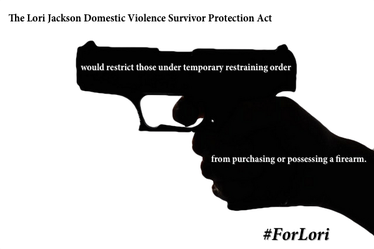 In May of this year, I read with great dismay about the death of Lori Jackson. A 32-year-old mother of two, Lori fled her home with her two children and filed for a restraining order to protect her family from her estranged husband. She moved in with her mother in Oxford, Connecticut, and the court granted her a temporary protective order while she waited for a hearing to obtain a permanent restraining order. The day before the hearing was scheduled, Lori's husband shot and killed her, and injured her mother Merry Jackson using a gun he legally possessed because a permanent protective order was not yet in place.
Lori's death was, unfortunately, not an isolated incident. Barbara Diane Dye, Jasmine Leonard, Laura Aceves, Tamisha Evette Ridge, Erica Bell, Chyna Joy Young, Evelyn Burgos & her daughter, Annette Sowders-Fuller & her mother -- those are just ten more of the thousands of women who are murdered each year by husbands, boyfriends, or significant others they are desperately trying to escape. In each of these 11 cases, the women obtained court issued restraining orders designed to protect them. But in each of these eleven cases the abusers were able to get guns. Each of these women is now dead -- shot and killed by men they feared.
Our country can and must do better than this. The Lori Jackson Domestic Violence Survivor Protection Act, which I am introducing today, would restrict those under temporary restraining order from purchasing or possessing a firearm, and would extend the protections granted domestic violence victims to victims abused by their dating partners.
Current federal law protects domestic violence victims by preventing their abusers from purchasing or possessing a firearm -- but only once the court has issued a permanent restraining order. This leaves victims like Lori unprotected exactly when they are in the most danger: when a domestic abuser first learns his victim has left him and only a temporary restraining order is in place.
The facts on domestic gun violence are harrowing: One in four women will be a victim of domestic violence in her lifetime, and further, more than three times as many women are murdered by guns used by their intimate partners than are murdered by strangers using a gun, knife, or any other weaponed combined. In 2005, 40 percent of female homicide victims nationwide were killed by a current or former intimate partner ("just 3 percent of men suffered the same fate") and guns were used in more than half of those murders.
A New York Times investigation found that "in at least five instances over the last decade, women were shot to death less than a month after obtaining protection orders. In at least a half-dozen other killings, the victim was not the person being protected but someone else...More than 50 people facing protection orders since 2011" were arrested on gun charges like unlawful possession of a firearm, and "in Minnesota, more than 30 people facing active protection orders were convicted of some type of assault with a dangerous weapon" over three years.
In Connecticut alone, 175 homicides were linked to domestic violence between 2000 and 2011. Of those, 153 of the victims were females.
In the difficult struggle to reduce gun violence, there are assuredly some relatively easy wins we can have along the way: We can and should help protect all those who are victims of domestic violence. If a court has determined someone is in danger and granted a temporary protective order, we should no longer leave them at the mercy of violent offenders with easy access to firearms.
I am committed to protecting my constituents, and I will no longer stand by as so many live in fear as a result of a loophole in our legal system. There should be nothing partisan about ending domestic abuse, and I hope my colleagues in both parties will join me in working to pass the Lori Jackson Domestic Violence Survivor Protection Act.
Popular in the Community