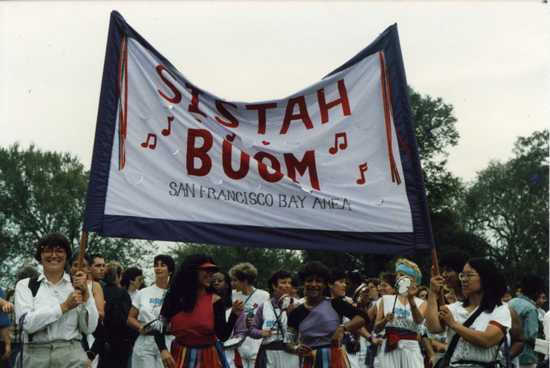 Twenty-five years ago, I was on a plane to Washington, D.C. to attend the October 1987 March on Washington for Lesbian and Gay Rights as part of Sistah Boom, an all-women samba band. Our bass drums were stowed in the cargo hold, my dance outfit packed in my carry-on: a turquoise sheath dress with a belt made of a rainbow-array of ribbons that swayed with our movements. We would be joining the march and then performing onstage.
In 1987, we had yet to add the "B" for bisexual -- not to mention "T" for transgender -- to form the acronym LGBT. AIDS was raging. Whenever I walked on San Francisco's Castro Street, I would encounter skeletal young men, hobbling along with a cane or pushed in a wheelchair. Reagan's communications director, Pat Buchanan, called AIDS "nature's revenge on gay men." The AIDS activist group ACT UP had just coined the slogan SILENCE EQUALS DEATH.
Other than AIDS, gay issues and gay people were rarely mentioned in the mainstream press. There were very few out celebrities, and no gay characters on TV. We were fighting to be visible.
The band had raised money for our journey by standing on Castro Street, drumming and singing, "Buy a t-shirt! Send Sis-tah Boom to Wash-ing-ton!" We were a wildly popular contingent in the Gay Pride Parade since the band's creation in the early '80s by drummer Carolyn Brandy, and the colorful shirts sold briskly.
Marchers poured into D.C. The subway was jammed with gay folks of all stripes, strangers greeting each other like long-lost family. Exiting at Dupont Circle, D.C.'s gay neighborhood, we streamed up the escalator, crowds on the street whistling and cheering our arrival. As we wandered the raucous streets, filled with jubilant queers, I felt safe holding my partner Dana's hand in a way I rarely did, even in the Bay Area. To feel that way here in the nation's capital was exhilarating.
The next day, Sistah Boom joined the marching throng, our bells ringing a high note against the deep bass thumps and polyrhythms of the drums. Four of us dancers samba-sashayed down the street at the front of the drummers. We danced and drummed past the Supreme Court and the White House, the seat of U.S. government power. Half a million strong, we marched past the marble columns and along the wide boulevards.
Two days later, I would be back outside the Supreme Court to witness the non-violent civil disobedience action. I watched as ACT UP members and others linked arms, pushing through police barricades. They were protesting the court's decision, in Bowers vs. Hardwick, to uphold a Georgia sodomy law used to arrest two gay men engaged in consensual sex in the privacy of their own bedroom. As police moved to arrest demonstrators, they put on gloves as protection against catching AIDS, even though by now it was known that AIDS was not spread by casual contact. Chants broke out: "Shame, shame!" and "Your gloves don't match your shoes!" The protesters were sitting down in a chain of interlocked elbows, singing and chanting with solidarity and fierce courage as the police descended. Over several hours, six hundred demonstrators were arrested one by one. Some walked handcuffed; others were dragged by police across the plaza to waiting city buses.
But back on the day of the march, as our band got to the march's end, we filed to the outdoor backstage area to await our performance. Cesar Chavez mounted the stage, advocating for gay rights, and I choked up: this beautiful leader of the United Farm Workers -- he was with us. It was rare back then to have a prominent heterosexual make a public appearance in our support.
A chill wind came up, bringing goosebumps to my skin, still sweaty from dancing. Frail, gaunt men with AIDS in wheelchairs were seated in a special section at the very front of the audience. In the unexpected cold, the organizers sent scouts on a frantic search to local stores for blankets, and some men were being taken off in ambulances, their weak bodies in shock. Nearby, the first-ever full display of the NAMES Project AIDS memorial quilt was laid out in a section of the National Mall larger than a football field. Later that day, Dana and I would wander amidst the memorial with its 1,920 panels, deeply affected by the potent mix of the quilt's vastness, and the intimacy of the panels, each its own world of those who wove grief, love, and memories of their beloved onto cloth.
I will never forget the moment when it was Sistah Boom's turn, and I stepped with the dancers to the front rim of the stage, looking out at the vast crowd completely filling the National Mall with the Washington Monument in the distance. It was a stunning sight. We were a force, making ourselves visible both as celebrants of our humanity and as protestors demanding civil rights.
The drums began their beat, and we took up a chant from the slogan of the March: For Love! Boom boom. For Life! Boom boom. We're Not Going Back! Boom boom. As we danced, our hips and torsos shimmied as our hands spoke the chant in American Sign Language. Our rhythm was infectious and hundreds of thousands swayed with us. I danced for the men with AIDS, danced for our diverse queer beauty, for our liberation from oppression, moving to the rhythms of the Sistahs, drumming our joy, our love, and our strength.