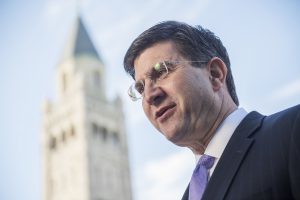 Business PAC donors tend to be practical. Historically they favor incumbents and try to be friendly with members of Congress. Usually, that's a safe bet: Incumbents won 97 percent of the time in House races and 93 percent of the time in Senate elections in 2016, numbers on par with those in past elections. But incumbents lose from time to time, and when that happens, PACs often quickly switch horses.
The 2016 election was no different. In eight races, the challenger beat the incumbent and then — before the end of the year — collected contributions from PACs that had previously supported the sitting lawmaker.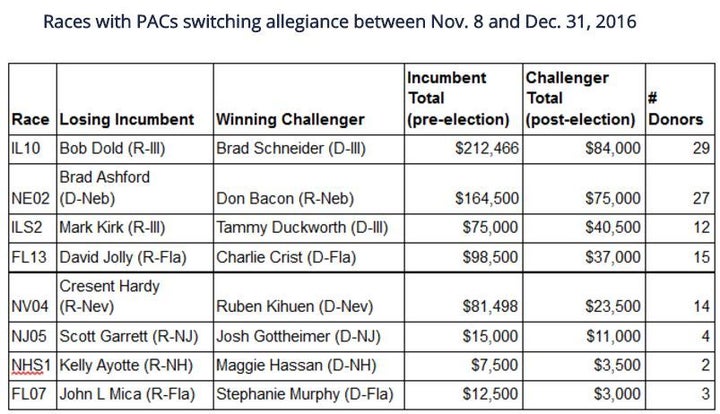 New Reps. Brad Schneider (D-Ill.) and Don Bacon (R-Neb.) were the biggest beneficiaries of this swing. Twenty-nine of incumbent Rep. Bob Dold's PAC donors contributed to Schneider after the challenger prevailed on Nov. 8, combining to give him $84,000; Bacon received $75,000 from 27 PACs that had given to sitting Rep. Brad Ashford's campaign.
Democrats benefited more than Republicans from these PAC recalibrations for the simple reason that Bacon was the only winning GOP challenger in either the House or Senate in 2016. Only two winning Democratic challengers failed to benefit from PAC switching: Ro Khanna (D-Calif.), who didn't take PAC money, and Carol Shea-Porter (D-N.H.), likely because she and Republican Frank Guinta have taken turns occupying this seat every cycle for the past decade.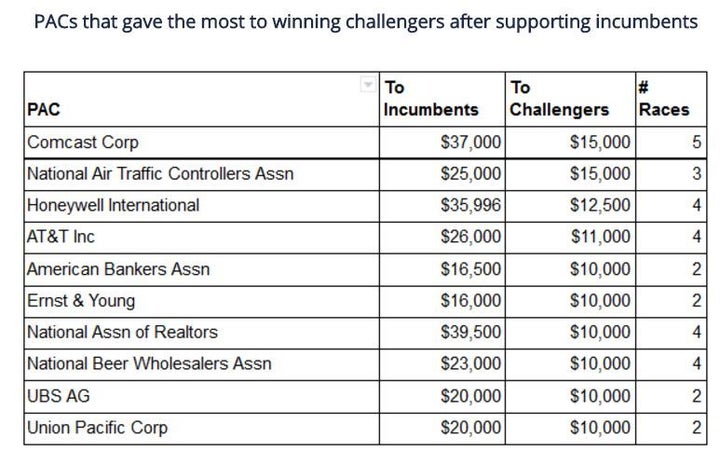 Ten PAC donors gave $10,000 or more to winning challengers after supporting losing incumbents. In total, over 70 PAC donors switched their allegiance in at least one race after Election Day. Comcast Corp was quickest on the draw, giving $15,000 to winning challengers in five races after backing the incumbents.
Politicians come and go but their pragmatism remains constant. They need friends on Capitol Hill — preferably ones who will return their calls.
Calling all HuffPost superfans!
Sign up for membership to become a founding member and help shape HuffPost's next chapter