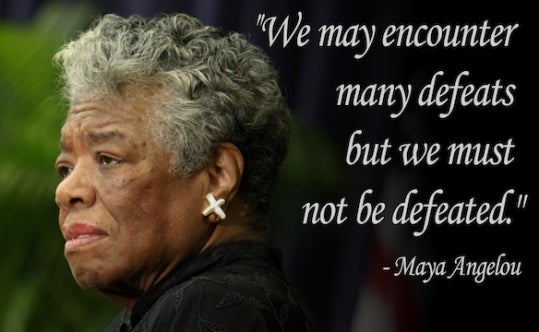 Activist, poet, actor and writer Maya Angelou understood intimately what it means to find your voice amid hatred and oppression. She beautifully expressed this understanding in her famous poem, Caged Bird:
But a bird that stalks

down his narrow cage

can seldom see through

his bars of rage

his wings are clipped and

his feet are tied

so he opens his throat to sing.
A survivor of sexual trauma and racial oppression, Angelou sought to solve the "puzzle of inequality and hate." She did this through her activism and her art, most notably, her memoir, I Know Why the Caged Bird Sings. In it, she described the struggle to "become liberated from the shackles of racism and misogyny."
Angelou recognized that anger, unchanneled, is useless, and anger channeled the wrong way, can be destructive. Yet, when channeled wisely, anger can catapult you into action and be transformative.
Angelou's transformation paved the way for her own personal healing, and, as she was a fierce civil rights activist, was instrumental in fueling societal change.
The Rise of the Woman = The Rise of the Nation
On January 21st, I will be joining thousands of women from around the world in the Women's March on Washington (WMW), a march not only for women's rights, but for human rights. Many women, including me, have chosen to channel their anger through action. For some, this march will be the first step.
Co-chair Linda Sarsour describes the WMW as "a stand on social justice and human rights issues, [including] race, ethnicity, gender, religion, immigration and healthcare." According to feminist leader and honorary co-chair, Gloria Steinem, when we march, we're sending a message to those in power: "We will keep working for a democracy in which we are linked as human beings, not ranked by race or gender or class or any other label."
I will be marching not only as a woman and a social worker, but also as a mental health professional who frequently works with survivors of sexual trauma.
The extent to which a victim of a sexual crime is validated or supported is a predictor of long-term effects. Too often, when victims disclose their experience, the crime is minimized or dismissed. Too often, those who are supposed to protect victims, whether families or the justice system, fail to do so.
Studies show that perceived invalidation at the time of the trauma is a more damaging and traumatic experience than the crime itself. Invalidation also has far greater long-term negative effects, such as the development of PTSD and substance use disorder.
Invalidation normalizes the behavior.
His winning the presidency.
For many survivors of sexual trauma, this election has been an ongoing re-traumatization.
Nationally recognized expert on trauma and violence against women, Candace W. Burton, Ph.D, R.N., believes that participating in movements such as the March on Washington, or any positive action toward change, can help to restore feelings of personal agency, one of the first things to disappear in cases of intimate violence. "By joining with others to openly protest the kind of culture that supports or allows these acts of violence to happen," Burton says, "survivors can see directly that they are not alone."
Trauma expert and internationally recognized psychologist, Anjhula Mya Singh Bais, Ph.D, agrees: "In any kind of trauma, there is a violation of agency and autonomy. Feelings of helplessness are directly countered by being the architect of not only surviving, but thriving ― most directly expressed by taking the reins of control and finding one's voice through action."
The National Association of Social Workers (NASW) is organizing social workers from around the country to participate in the march. NASW Senior field organizer, Dina Kastner, describes the WMC as "an opportunity to show that women's rights are human rights, and, that women, their partners and their children are ready to advocate for policies that affirm the value of women in society."
By marching, my social work colleagues and I will be abiding by the profession's code of ethics to do the following:
Respect the inherent dignity and worth of the person
Treat each person in a caring and respectful fashion, mindful of individual differences and cultural and ethnic diversity
Facilitate informed participation by the public in shaping social policies and institutions
Act to expand choice and opportunity for all people, with special regard for vulnerable, disadvantaged, oppressed, and exploited people and groups
Prevent and eliminate domination of, exploitation of, and discrimination against any person, group, or class
Promote social justice and social change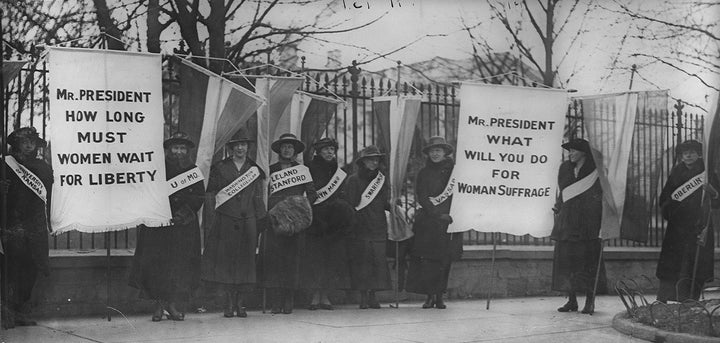 The Women's March on Washington is a step toward that change. By channeling our outrage through activism, we not only have the potential to transform society, but to also heal our own souls.
If you also would like to stand for change, RAINN, the nation's largest anti-sexual violence organization, invites visitors to its website to sign a petition to the new administration to make the issue of sexual violence a top priority. To sign, go to: https://www.rainn.org.
If you or anyone you know has been a victim of sexual assault, call the National Sexual Assault Hotline: 800.656.HOPE, a free and confidential crisis hotline.
REAL LIFE. REAL NEWS. REAL VOICES.
Help us tell more of the stories that matter from voices that too often remain unheard.