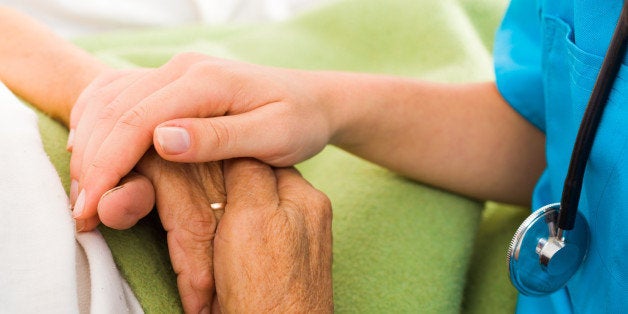 Imagine losing the ability to remember... to think... to function. First, you forget simple words, or miss important dates, or misplace familiar items. You have difficulty doing things that you've always done. Then, slowly, the confusion builds. Names and faces are harder to recognize. As a result, you may start to withdraw from the world around you -- narrowing your world to the places you find most safe.
Now imagine explaining these symptoms to a doctor -- then being sent away without a clear explanation, or any diagnosis at all, to help you understand the changes. For too many Americans with Alzheimer's disease and their loved ones, this happens every day.
The Alzheimer's Association, an organization I've had the honor to work with for more than 10 years, recently released its 2015 Alzheimer's Disease Facts and Figures report. A new analysis within the report focuses on how often the diagnosis of Alzheimer's and several other diseases are told to patients or their families. The results are staggering: Only 45 percent of people with Alzheimer's or their loved ones say they were told the diagnosis by their doctor. In contrast, 90 percent of people with the four most common types of cancer say their doctors told it directly to them.
As a doctor, delivering bad news is the hardest part of my job. Delivering the diagnosis of a fatal illness such as Alzheimer's, is the hardest of all. I understand the well-intentioned desire of some doctors to spare patients the stigma and emotional pain that can accompany an Alzheimer's diagnosis.
However, the decision to withhold the truth about Alzheimer's often has the opposite effect: It robs patients and their families of the chance to come to terms with what lies ahead. Failure to disclose the diagnosis can leave patients and families wondering and worrying about the cause of their symptoms. Even bad news can bring some sense of closure and control. Withholding deprives them of the opportunity to ask questions, determine treatment options, plan for the future and cherish the time they have left. Above all, hiding the truth about Alzheimer's harms our collective efforts to find a cure for the greatest public health crisis of the coming decades.
According to Alzheimer's Association 2015 Facts and Figures, every 67 seconds another American develops Alzheimer's. As baby boomers age, the number of people with the disease is projected to rise from more than five million today to nearly 14 million in 2050. Alzheimer's is the sixth leading cause of death in the United States, and will cost our country an estimated $226 billion this year alone.
Over the years, we have made progress in our ability to detect the enemy we're fighting -- and to do it earlier. With our improved understanding of the disease (though there's still a lot more work to do), we have to find the courage to talk about it openly and honestly -- not shrink from it.
We must raise awareness about Alzheimer's in order to generate appropriate concern about the health impact of this terrible disease. This awareness and concern are essential to generate the funding required for the research that will save the minds of future generations. Promising research is ready for the pipeline, and leading scientists believe effective treatment and prevention is attainable if we accelerate federal funding. With millions of lives and billions of dollars at stake, Congress must continue its commitment to the fight against Alzheimer's by increasing funding for Alzheimer's research. The Alzheimer's Association is advocating for an additional $300 million in fiscal year 2016.
As medical professionals, breaking the silence around Alzheimer's must begin with us. I'm old enough to remember a time when doctors were afraid to say the word "cancer." It was only when we overcame our fear and reticence that the stigma around cancer diminished, awareness grew, research funding increased and effective treatments and preventions were discovered.
We must overcome that fear again. We must recognize that our silence says more about our own feelings of powerlessness than our patients' ability to cope with the disease. Studies show that few people with Alzheimer's become depressed or have-long term emotional problems because of the diagnosis itself. On the contrary, for many people, the clarity can even come as a relief.
This was certainly true for my mother-in-law. She was adored by her eight children, and when she began showing early symptoms, there were probably eight different opinions about what was wrong. Then she received an honest diagnosis. It helped the entire family to see things from a common vantage point. I believe this made it much easier for everyone to work together to provide her with loving and attentive care. The focus moved from discovering the problem to dealing with it.
As a result of the findings of this new special report, the Alzheimer's Association first calls on healthcare providers to understand and implement their professional policies for disclosure of diagnosis, including disclosure of Alzheimer's disease and other dementias. In addition, it is clear that more thorough education is needed for medical students and practicing healthcare providers on making and delivering an Alzheimer's diagnosis.
Only when the vast majority of medical professionals choose to be forthright about the disclosure of Alzheimer's, will we all begin to see and understand the disease from the same point of view. As the stigma fades away, as it once did with cancer, we will step up our efforts to raise awareness, care for our loved ones and ultimately find a cure.