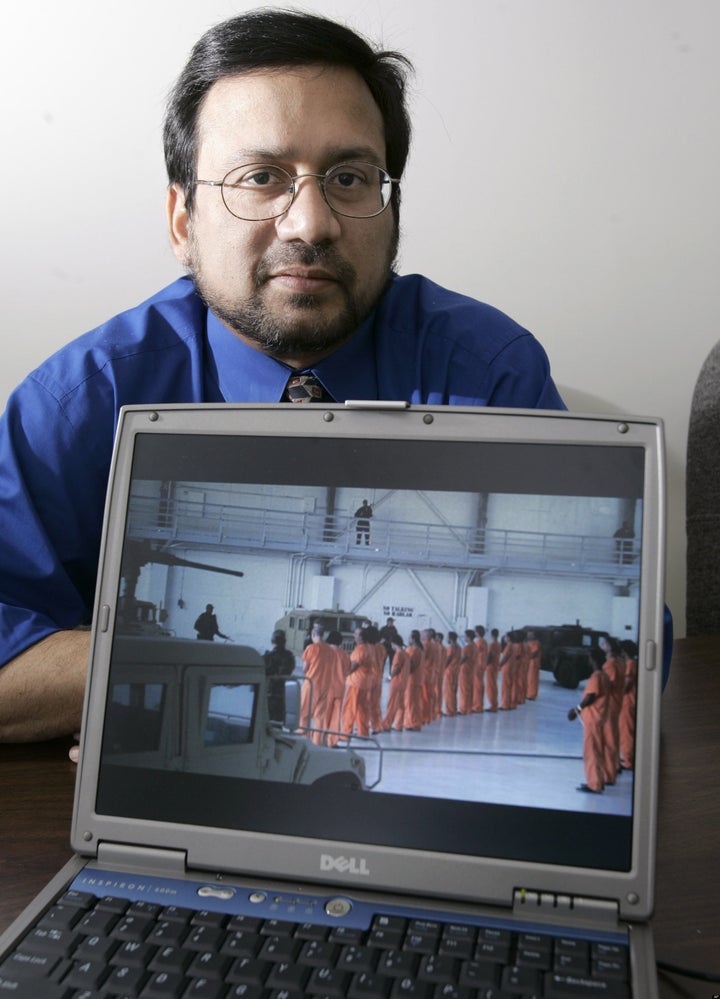 By Simone Sebastian
Religion News Service
TRENTON, N.J. (RNS) Sohail Mohammed doesn't work for a big-name law firm. He holds a GED diploma, and he practiced engineering for years before he thought about working in a courtroom.

Mohammed, 47, an immigrant from southern India, however, does have experience in dealing with law enforcement. Since graduating from Seton Hall University School of Law in 1993, Mohammed has risen to prominence as a key voice of the state's Muslim community.

Now he's one of Gov. Chris Christie's nominees for a judgeship on the state Superior Court.

The regional office of the FBI calls when questions arise about Muslim culture. He helped pass the state's landmark halal food law in 2000, which pledged to help protect Muslim standards for food preparation. And in the aftermath of the 9/11 attacks, he defended Muslim and Middle Eastern detainees swept up in the federal government's dragnet.

Along the way, he caught the attention of Christie, who was then serving as the state's top federal prosecutor.

"Sohail worked effectively and very appropriately with the U.S. Attorney's Office (of New Jersey) and the FBI in bridging relations and providing outreach with the Muslim community," said Michael Drewniak, a spokesman for the governor.

"And he did it at a time when federal law enforcement in New Jersey needed someone like him to do that."

But not everyone is praising Mohammed's work. Conservative bloggers and a well-known anti-terrorism advocate have blasted the nomination, concerned about Mohammed's criticism of certain federal antiterrorism efforts and his representation of a local religious leader battling government accusations of terrorist ties.

Mohammed declined to speak publicly before the confirmation process in the state Senate is complete. This is Mohammed's third attempt to join the state judiciary; if confirmed, he would be only the state's second Muslim judge.

"It's still not a smooth road going ahead. There will be some bumps along the way," said retired judge Robert J. Passero, who has mentored Mohammed over the length of his career. "He has a quiet confidence that it will work out."

Mohammed discovered his passion for law almost by accident.

He had immigrated to the United States at age 17 with one of his brothers and his mother, who held a green card sponsored by a relative. Eight years later, Mohammed graduated with a bachelor's degree in electrical engineering.

While in school, he was called to jury duty in Passero's courtroom and served as foreman in a criminal case. The legal proceedings captured Mohammed's interest. Several years later, Passero swore him in as an attorney.

Mohammed runs a general civil law practice, but his passion is clearly for immigration and cultural matters. In the crackdown that followed the 9/11 terrorist attacks, Mohammed represented undocumented immigrants who were detained while federal agents reviewed their
backgrounds.

He also represented a Muslim man who was questioned by security at Giants Stadium. Other fans raised concerns when they saw the man and his friends praying during a 2005 game, according to news reports of the incident.

"These folks were exercising their fundamental right to practice their faith, and they wanted to enjoy, as Americans, their favorite sport," Mohammed said at the time, according to The Associated Press.

Mohammed also has forged close ties with local judicial and law enforcement communities.

His name has been passed to successive leaders of the FBI's Newark office as a community contact, said Michael B. Ward, who currently heads the office. Mohammed became an important resource after 9/11, explaining nuances of Muslim culture and arranging meetings between the FBI and Muslim leaders, he said.

"He has been of great assistance, working with us and bridging the gap" between law enforcement and the Muslim community, Ward said.

The Investigative Project on Terrorism, a nonprofit that examines funding and operations of Islamic extremism, called Mohammed a "mouthpiece for radical Islamists" in an online post about his nomination.

Until 2008, Mohammed represented Mohammad Qatanani, the imam of the Islamic Center of Passaic County, who was accused of failing to disclose an alleged conviction in Israel for ties to Hamas on his green card application. Qatanani denied any involvement with Hamas and won the case. An appeals court has since sent it back to the immigration judge for a rehearing.

Steven Emerson, founder of the Investigative Project on Terrorism, also cites Mohammed's involvement in the New Jersey-based American Muslim Union. Emerson criticized the organization and Mohammed, who has served as its general counsel, for making statements against certain federal antiterrorism efforts after Sept. 11.

"Views and statements that (Mohammed) has made are quite radical and would be counter to the views of a government" fighting terrorism, Emerson said.

But those who have worked with Mohammed in the legal and Muslim communities reject the accusations.

"There's a process through which the truth will ultimately prevail. That's the American way," said Asaad Siddiqi, president of New Jersey Muslim Lawyers Association. "He's articulate, compassionate, someone who understands where both sides are coming from."

Simone Sebastian writes for The Star-Ledger in Newark, N.J.
Related
Popular in the Community