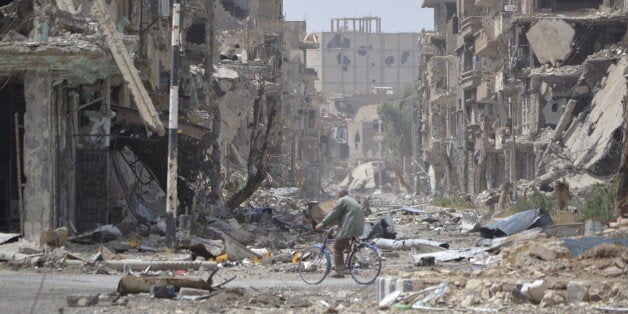 "We will never forget the blood of our martyrs."
I lay down, with my headphones in my ears, listening to the people of Dara'a chanting the Syrian revolutionary slogans in March, 2011. A few weeks later, those same sounds started filling the streets of my own neighborhood. My disbelief that day led me to think I was dreaming.
I remember I left my house and ran to join the rally. It was a solidarity march with the martyrs who had fallen in Dara'a.
"We will never forget the blood of our martyrs," they repeated.
I chanted with them, feeling a mix of joy and sadness. I would then return home, shutting the door slowly, to ensure my family did not hear me.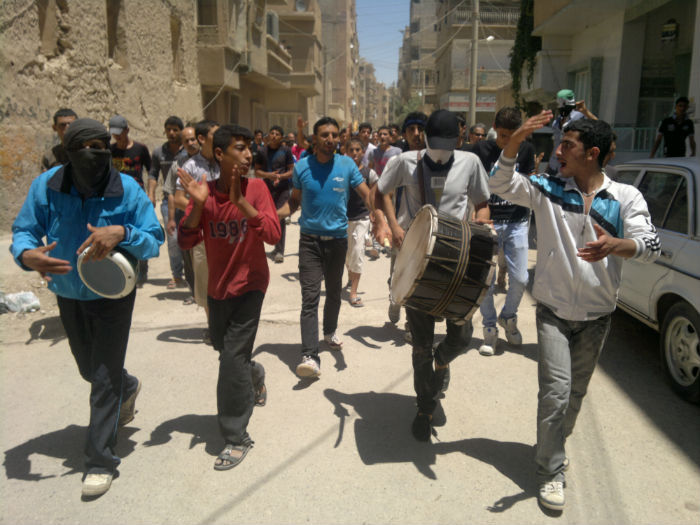 The winds of the revolution had reached my city, Deir Ezzor, a place in Eastern Syria rich in oil and other natural resources.
As time proceeded, martyrs began to fall in my city. During their funeral marches, I would walk next to those carrying the coffins. One day, I turned to the man next to me, the street lights reflected the many lines on his wrinkled forehead, and I asked "How was he martyred?"
I was shocked to find that the man I was asking was my father; he had been a part of the marches, as well.
A week later, my father and I prepared ourselves for the Friday in which the city of Deir Ezzor would attempt and fail at the conquest of four mosques. Officers filled the streets, harassing the man who was burying his martyred son. The violence began and screams filled the streets.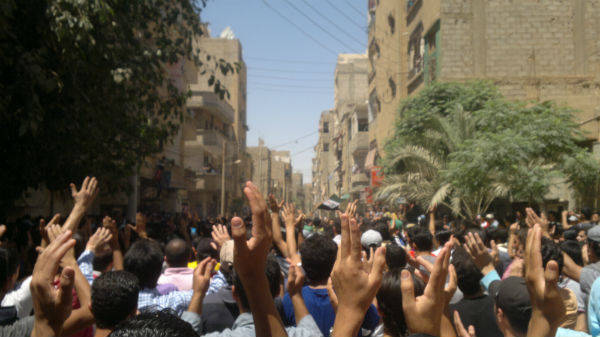 This was the first demonstration I shared with my father.
As events escalated in Syria, the secret police would raid the demonstrations killing and arresting people. In July 2011, one of the demonstrations I partook in was raided by a military bus. I found myself running, with many others, through narrow lanes that I had not discovered in my city before. A car came to pick us up, and many of the guys and I stuffed ourselves into the back. After catching my breath, I looked to find that the driver was my father.
My activism led to my arrest and imprisonment four times during the revolution, with the most recent stretch lasting one year. Seventy-three people died in my lap, as I was held in one of the worst prison branches in Syria, the Palestinian prison branch.
When I was finally released, I hugged my father, who had been there for me from the first demonstration until my last imprisonment. I spent two weeks with my family but then needed to leave the regime-controlled area.
I left to Turkey to work in press and media freely, but my father stayed in Syria. He refused to leave the city of Deir Ezzor, which was under regime control and under constant threat, bombardment, and gunfire from both ISIS and the regime.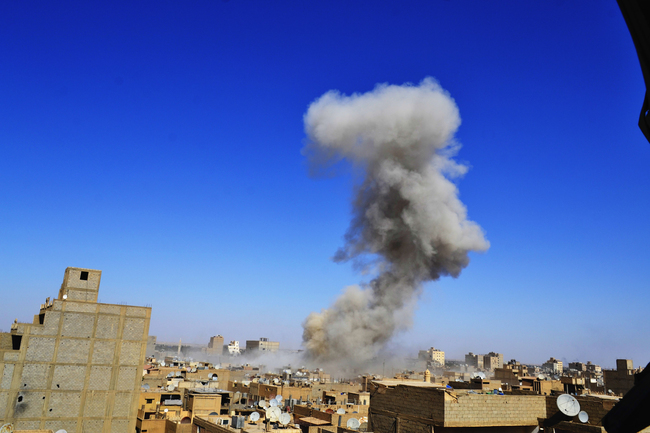 In addition to living under endless onslaughts from both fronts, the city's residents are suffering from a lack of food, medicine, and other basic necessities. People are living in dire conditions under ISIS's rule, while the regime refuses to help citizens in areas under its control. The siege is now entering its ninth month and people are starving to death. There are seven documented deaths from starvations, three of whom were children. The current siege on Deir Ezzor is categorized as the worst siege in Syria, with the price of food being three times more than any other area in Syria. The tight grip by ISIS has not allowed any food or supplies into Deir Ezzor for nine months.
My father refused to leave at the beginning of the siege, claiming that it would "not last more than a month." It has now been nine months, with no food, medical supplies or other necessities entering the city. According to the Red Crescent, the four major districts of the city -- Qosoor, Joorah, Hrabesh and Bghelieeh -- the population has decreased to 220,000, and the population within the city of Deir Ezzor itself has dropped to 23,000. In spite of this, ISIS and the regime stopped others from leaving the city, leaving them to starve.
"My monthly salary, which was enough to send your siblings to school and stock food for three weeks at least, is now only enough to buy a watermelon," my father explained to me. A watermelon currently costs more than 25,000 Syrian Pounds estimating a total of 120 dollars.
ISIS besieged the city of Deir Ezzor in order to pressure the Syrian Regime and conquer the rich and strategic area, but the Syrian regime seems to be unaffected. The regime continues to freely use the Deir Ezzor airport, pays the engineers working in ISIS-controlled oilfields, and the regime checkpoints are still receiving equipment and supplies, including buckets of cigarettes. Even when ISIS first laid siege to Deir Ezzor, the regime confiscated much of the supplies within the city and raised the food prices by tenfold, while regime-allied businessmen used it as an opportunity for profit.
The siege has greatly affected the health of the people still stuck in the city. My friend, Abdullah, who recently escaped the siege a month ago, speaks of how civilians are suffering from dehydration and are being transferred to hospitals in large numbers. Hospitals are running out of necessary medicine and supplies. Disease is rapidly becoming another reason for the premature death of children and adults.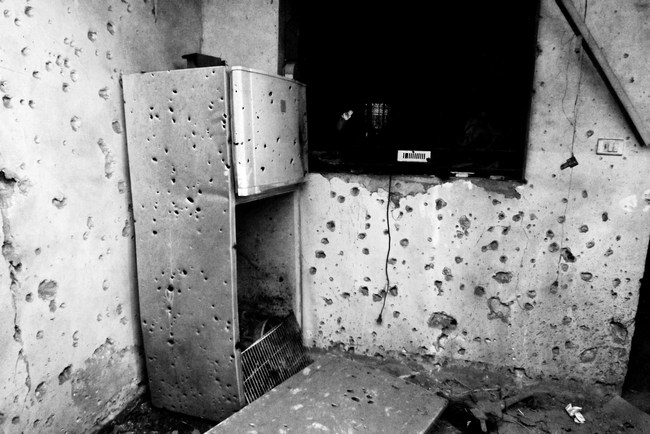 Amer, a graduate from the Agricultural Engineering College in Deir Ezzor, explains how "there are families in the inner city who are forced to sell their house, car, furniture in exchange for food, and even then they are only able to secure enough to survive a couple of months."
People within the city are currently selling all they own in order to bribe regime officers into letting them out, but smuggling people out of Deir Ezzor has become more expensive than the cost to migrate to Europe. Regime forces use it as a business opportunity, charging more than 1,000 dollars in bribe, per person, and seldom letting people leave.
The only group suffering are the people trapped within Deir Ezzor -- trapped between two merciless states, who are starving and suffocating them to death.
My father remains under the siege of ISIS and the regime, surviving on sour bread. In nine months, he has lost almost half his weight dropping from 192 to 121 pounds, and he's quickly running out of medicine for his diabetic needs.
The laughter of children in the streets has been replaced with bombs and gunfire, the marketplace has grown empty, the buildings have continued to fall, turning into piles of rubble, and the people have kept disappearing.
"I planted seeds where you used to play, the little trees are growing," my father tells me over the phone. "Hopefully they will bear some food that I can eat."
His voice still sounds resilient and undefeated.
With no end in sight, with no intervention and with no help, Deir Ezzor is dying and it is dying slowly and painfully.
"The birds in our garden -- I am afraid one day I will not be able to share my dry bread with them," my father continued. " I am afraid they will die."
All photos courtesy of Karam Alhamad.
Calling all HuffPost superfans!
Sign up for membership to become a founding member and help shape HuffPost's next chapter