Today I march with my keystrokes. While I am not in Washington, I wanted to add my voice to the Woman's March to ensure my children and grandchildren know I gave what I could to this moment.
I am very lucky to be a woman in this era in the United States. I have been well educated and respected for my voice and that is not taken for granted. I live in Rochester, NY where Susan B. Anthony did so much advocacy for our right to vote. Having the right to vote and being informed to vote are two separate things. We still need to work much harder on the latter.As a young girl pre-internet the only role models I knew were my immediate family, teachers and a few famous voices. If you asked me in 1984 my freshman year of high school who were the three most famous women I knew about I would repond:
We truly only know what is in the landscape of our dinner tables. We are in an era where accessiblity of female role models is abundant and we all have a role at the dinner table to ensure we are weaving in conversations about effective female scientists, artists, writers and professionals across the entire workforce, lifeforce spectrum.
I'd like to personally thank Ms. Neal my freshman English teacher from Cedar Shoals High School in Athens, Georgia who is someone who helped me claim confidence in my voice to make a difference. We had to learn Don't Quit (see below) and be able to say it so the timbre of our voice matched the power of the words.
I'd like to acknowledge two people in particular who are rigorously working to enhance the landscape:
If you don't know them, please get to know the work of Hannah Arendt and Elinor Ostrom. They have wisdom and direction on how we can lead with more dignity.
There are many impactful ways right in front of us where subtle choices further progress.
Ayn Rand once said, "A culture is made or destroyed by its articulate voices."
Oh I wish that were true. I believe a culture is made or destroyed by its amplified voices. Articualtion has nothing to do with it. Which is why I am so passionate that if we have a chance to speak at an event, we need to ensure diversity in the programming. Platforms promote what is relevant at scale and we need visibilty.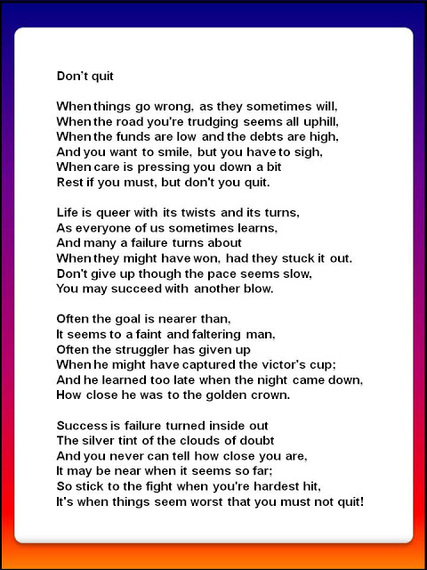 Popular in the Community