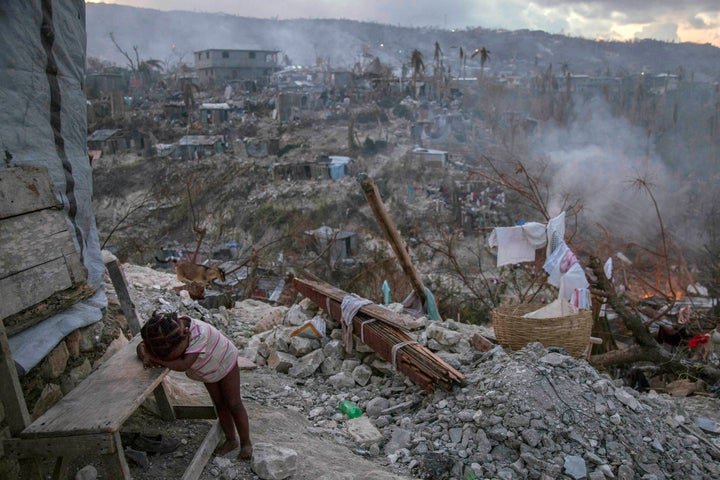 A week that was supposed to be filled with hope for tens of thousands of school children in Haiti instead yielded to heartbreak. October 10th had marked the start of the academic year, but the aftermath of Hurricane Matthew left more than 100,000 children without schooling. Two weeks after the storm hit, international assistance has been slow and education aid minimal.
The challenges confronting Haiti have long been recognised. World Bank figures point toward a GDP per capita of $824 as 6 out of every 10 Haitians live in poverty. Following the January 2010 magnitude 7.0 earthquake that struck the island nation claiming well-over 100,000 lives, the country – through patchwork international aid – moved to rebuild. From the rubble, schools rose and extreme poverty fell as primary school participation rates grew from 78 per cent to 90 per cent and extreme poverty dropped from 31 per cent to 24 per cent. But this story of progress is now in jeopardy.
Hurricane Matthew made landfall in Haiti as a Category 4 storm with sustained winds upwards of 235km/h. Hitting a region of Haiti where the poverty level is close to 70 per cent, more than 1.2 million people were exposed to high winds and 2 million to extreme precipitation according to a United Nations Office for the Coordination of Humanitarian Affairs (OCHA) report. This same post-crisis report points to at least 300 deaths, 61,000 displaced and another 1.4 million in need of varying degrees of assistance. Of grave concern are more than 100,000 children as 300 schools were "severely affected" amidst a broader toll of 70 per cent sustaining damage. These are the initial, confirmed figures. Through Haiti's Education Minister, we are coming to learn that as many as 600-900 schools may now be unsafe and unusable at a time when they are most needed.
The international aid lessons following the 2010 earthquake must be heeded. It is incumbent upon the international community to now move swiftly to provide the basic minimums necessary to live such as water, food, shelter and emergency medical aid. But bundled into such assistance must be a commitment to ensure temporary education interruptions do not become permanent and that valuable education momentum is not lost. The flash appeal calls for $119,850,000 in emergency aid, of which $4,375,000 will go toward restoring education over the next three months. The education request is too small and will be proved by events to be inadequate.
The appeal is a product of the challenging humanitarian aid landscape. In all, less than 2 per cent of humanitarian aid goes toward education in emergency situations. A $4-million-dollar flash appeal is grossly inadequate when it comes to rebuilding destroyed schools, renewing damaged learning materials and supporting the 100,000 Haitian children who need to be back in school and learning.
And if the aid money does arrive, as we hope it will, it will go to restoring infrastructure such as the 70 per cent of schools damaged in Grand'Anse. It will go to replacing books, uniforms and other materials swept away by the waters and winds. And it will go to restoring a status quo that was never recognised as acceptable. This hurricane has forced us to surrender educational momentum – true, meaningful progress – and now the prayer is simply for normalcy. The loss of hope and ambition is profound.
The Education Cannot Wait fund, launched in May this year, exists for emergencies such as the one Haiti now faces. Under the present international aid architecture, the aftermath of emergency situations – from hurricanes to civil wars – sees the line between development and humanitarian aid blurred as funds are swiftly marshalled to save lives. So with the creation of Education Cannot Wait, an emergency aid platform was established eliminating the time-consuming process of circulating a disaster relief begging bowl and generating the high-level advocacy needed to encourage governments – and donors – to prioritize education in a humanitarian response. Calling upon both donor countries and the private sector to ensure the new platform receives the necessary funds, Education Cannot Wait will be armed with financing on hand ready to be deployed at the first sign of a crisis to ensure education goes uninterrupted and development aid remains protected.
Saving a country in the wake of an emergency should not come at the cost of securing its future. As Haiti now begins the process of rebuilding once again, we should not mistake progress for a return to normalcy. No, progress must be marked by accelerated momentum as the country works toward equal educational opportunity for all children. An educated population is the very foundation Haiti needs to rebuild and thrive in a future filled with opportunity. This is one foundation no hurricane can wash away.
Related
Popular in the Community