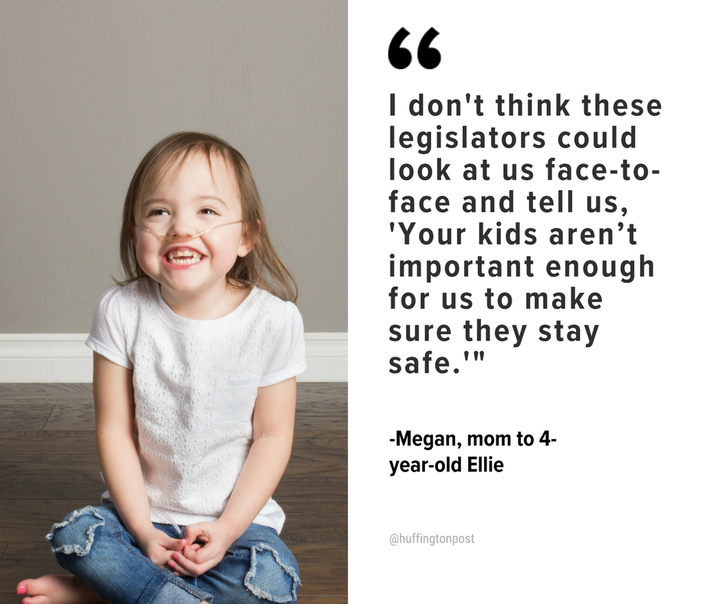 Megan, 36, still had 16 weeks left in her pregnancy when she gave birth to her second child four years ago. Her daughter, Ellie, teetered on the edge of survival and weighed less than a pound. She spent the first four months of her life hooked up to tubes in the NICU.
At the time, Megan—who asked that only her first name be used—had health insurance though Obamacare. Ellie also qualified for secondary Medicaid coverage. The couple still relies on that combination to cover her ongoing health complications: Chronic lung disease, which requires her to be on oxygen; intestinal complications that require a special feeding tube; chronic kidney disease; epilepsy; growth hormone deficiency and low muscle tone. Between January and March 2017 alone, the family's insurance plan paid more than $100,000 for some 1,200 claims.
So a day after the Republican-led House narrowly passed a bill to repeal and replace major parts of the Affordable Care Act, Megan is trying not to panic. Trumpcare would roll back protections for people with pre-existing conditions and slash federal funding for Medicaid—both changes that put her daughter at risk.
"It seems like these kids are going to fall through the cracks, and it's just really unfair," Megan told HuffPost, pausing to collect herself. "She didn't do anything wrong to deserve any of this. I had a healthy pregnancy. I'm a healthy person. We didn't ask for this. And it just feels like we're being forgotten."
Megan's husband already puts in 60- to 70-hour weeks managing a car sales department, and she has quit her job to manage Ellie's care full-time and watch their 7-year-old son. They simply cannot afford for their health care costs to soar.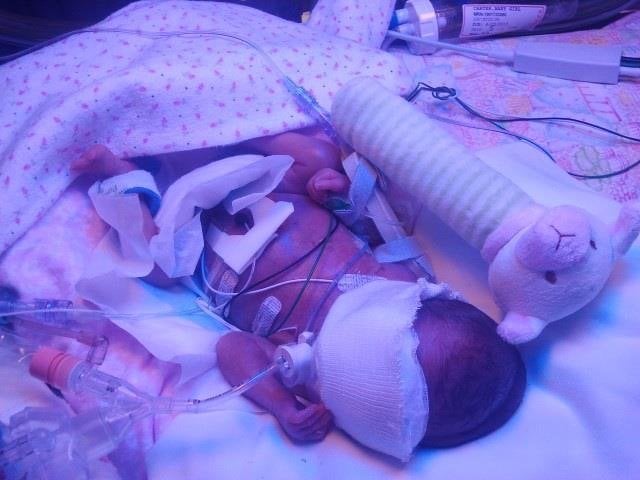 Other families are particularly concerned about potential cuts to programs and services supported by Medicaid.
Erin Raffety, a 35-year-old professor from New Jersey, told HuffPost she feels "betrayed" by Thursday's vote. Her 3-year-old daughter, Lucia, has a progressive genetic disease of the brain and has been in early intervention programs in New Jersey for much of her young life. Lucia is bussed to a local school that is equipped to handle her speech, physical and occupational therapy in-house.
Raffety said that since President Donald Trump's election, she has learned to cope with the feeling that her daughter's life hangs in the balance, but after yesterday's House vote she is even more anxious.
"She's been on Medicaid since she was probably a year old," Raffety said. "We try and be really outspoken about the amazing benefits the state of New Jersey, and also the federal government, provides families like ours. There's no way anyone could afford the level of care Lucia needs, and not just the medical services, but the services she needs for her life to be full."
"I'm feeling a combination of angry, scared and really sad. I don't know what's going to happen."
The possibility that the new health care bill could bring back annual and lifetime caps on coverage—even for individuals with employer plans—is also worrisome for mothers and fathers managing sick children with serious, life-time needs. When a child needs millions of dollars in care, these limits can be life-destroying.
"I'm feeling a combination of angry, scared and really sad. I don't know what's going to happen," said Lisa, 30, who lives in California and who also asked that only her first name be used. She has a 4-year-old with cerebral palsy and a nearly 2-year-old with chronic lung disease.
"My pregnancy with my daughter alone was really complicated, and cost something like $500,000. If they bring back the maximums, that's really close, you know?" she said.
But while Trump boasted on Thursday that the American Health Care Act is "a great plan," doctors who treat children have widely condemned the bill. The American Academy of Pediatrics said in a press release on Thursday that it is "bad policy for children and dangerous policy for our country."
Parents like Megan—including those who took to social media this week to express their outrage using hashtags like #IAmAPreexistingCondition—say they simply want some reassurance that legislators are doing what they can to protect their kids.
"Ellie's great," Megan said. "She thinks she's a typical 4-year-old and handles everything so well. She's a complete joy."
"I don't think these legislators could look at us face-to-face and tell us, 'Your kids aren't important enough for us to make sure they stay safe,'" she said. "I don't think they could look at my daughter and tell her she's not worth it."