In "A Funny Thing Happened On The Way To The Forum," for which Stephen Sondheim wrote the music and lyrics, the imperious Miles Gloriosus says, "Stand aside -- I take large steps!"
Peter DuBois, artistic director of the Huntington Theatre Company, could make the same claim.
He's taking the astonishingly large step of committing to producing and presenting all 15 of the works for which Stephen Sondheim wrote the music and lyrics.
The New York Times calls Sondheim "the greatest and perhaps best-known artist in the American musical theater."
Many others call Sondheim the Shakespeare of our times.
So why would anyone take on such a huge burden?
HuffPost sat down last week with DuBois and asked him why he was taking these large steps with Sondheim.
Michael: Why did you decide to do all 15 of Sondheim's works?
Peter: I love large ambitious projects that span time. And I think Sondheim is challenging but thrilling, and I've always been drawn to the way in which you cannot separate his book scenes from his songs, and the way that they flow together. When you're looking at the lyric and the emotion behind the lyric, and when you place that lyric alongside the score, musically is he pointing directly at the emotion? Is he pointing ironically at the emotion? How is he approaching it? So it's a wonderful moment-to-moment juicy acting and directing challenge, directing people beat by beat through these songs. That drew me into Sondheim.
Michael: You have multiple venues for performing different Sondheim works.
Peter: Absolutely. Certain revivals of Sondheim came into their own in smaller venues. John Doyle's Passion, for example, at the Off Broadway Classic Stage Company, was a completely different production than when it was on a large Broadway stage. I feel the same about all of the Sondheim musicals I have seen at the Menier Chocolate Factory in London.
And I started to think about the fact that we have 3 venues: a 200-seat black box, a 375-seat jewel box proscenium, and an 890-seat Broadway style proscenium house. And I thought, wouldn't it be amazing to do an exploration of his entire body of work in these different houses and configurations that allow either greater spectacle or greater intimacy. Because the musicals play differently on different scales.
Michael: Makes sense. One of my favorite Sondheim quotes is, "My idea of a good show is one that has you laughing your head off for two hours, and you go home and you can't sleep." Is that your experience?
Peter: Depending on the show, yes, absolutely. In "Sunday in the Park with George," you're looking at the way in which artists constantly have to fight with that part of them that says, "You're a fraud." Or "you're stuck". The George of Act 2 is stuck, and the George of Act 1 cannot stop manically creating. And I've been in both of those positions, and when you are in the act of creating you wrestle with these questions.
With "A Little Night Music," it's similar. You look at different relationships. Whether it's someone in middle age wondering if life will allow for second chances; or if it's someone who's married to someone they shouldn't be in a marriage with and realizes that they have to come out of it; or looking at Madame Armfeldt as she's approaching death and her relationship to Desiree. In any given show, Sondheim grabs onto the third rail of whatever crisis element he can find.
Michael: Sunday in the Park with George isn't Camelot. It's not a straight shot Broadway musical.
Peter: No. You can't just jump into a song the way you can in so many other musicals. A given song might riff thematically on what's happening in the moment, but if it's not driving the character's emotional storyline forward -- not the plot line but the character's storyline -- it's not generally in a Sondheim musical. Typically in musicals, where a character is speaking about a theme or an idea, you'll get a song, but you sometimes feel that the composer kind of forced that one in there. Like maybe he wrote that song for something else and found a way to wedge into this scene. And I never feel like that with Sondheim.
Sondheim wrote "Send in the Clowns" for A Little Night Music at the very last minute, but you could feel that he had just found the emotional bottom to that character and the depth of sorrow she's feeling at that moment. And it weaves into the fabric of the book brilliantly as though he had written the song while Hugh Wheeler was writing the scene. It's just brilliant.
Michael: How do you get that across to the audience? That this belongs here, and it's not just simply time for a song?
Peter: That's a great question because we're starting rehearsals soon at the Huntington, and George and Dot are going to learn their music for a couple of days on their own, because there's so much music that really is just theirs. And then when we start rehearsals, the company is going to learn all their music first, and then we're going to read through the book while we're singing through the music.
I've been in musical first rehearsals where people will read the book and read the lyrics before they've done the music, and it's just terrible because lyrics weren't meant to be read without music. The melody informs the underlying emotional undercurrent of the lyric. So for me, it's really about not separating the book from the music, but really rehearsing the songs as scenes, treating the moment-to-moment intimacy of a song within its scene.
With Sondheim you need a strong point of view. I think when you're staging a Sondheim musical you have to really come in with a strong personal sense of what you're going to go after. There's nothing paint by numbers about it.
Michael: So when "Sunday in the Park" first came out, as with most of his musicals, they were absolutely groundbreaking. How do you avoid these shows becoming museum pieces? How do you keep the reverence for the way they were staged in the past from being a straitjacket and not letting you do things the way you want to do them?
Peter: That's a really good question. It's why I wanted the Huntington Theatre Company to do a complete investigation of Sondheim's canon. For me, it's like the way Joe Papp approached Shakespeare with Shakespeare in the Park, he committed both to the major works and those less well known, , because you're getting inside the mind of a genius.
And I think that exploring ALL of the work is really the way to get inside genius. Sondheim is a living writer, who has created several works which are already classics. The litmus test of a sturdy classic is that it can take a number of different interpretations and blossom in very different ways. The recent boom in new Sondheim productions brings that point to bear.

Michael: You believe that Boston is the perfect place for doing of all Sondheim's works.
Peter: I don't think there's another city in the country that's more suited to an exploration of his entire body of work than Boston. Some of the best music schools, musical theater training programs are in this city. This is one of the most intellectually-focused and musically-grounded cities in America. That combination of musicality and intellectualism makes this the perfect city to geek out on a brilliant composer over a long period of time. And that's what I'm really hoping people do, is they just geek out on it and get into it the way I'm getting into it.
My big hope is that people celebrate, not just the fact that we're doing a canon by a single artist, but also personalize the experience and have fun with it. I'm certainly not taking a point of view of reverence. One of my great acting teachers said to us, when we're working on Shakespeare, we should work on Shakespeare sitting on the toilet, to demystify it and take it out of a place of distancing the highbrow fear. And while I want people to appreciate that Sondheim is our Shakespeare, the Shakespeare of our time, I don't want them to be afraid to approach his music, because once you start to unlock it and engage with it, it's the greatest flight of fancy that you can have. It's really a blast.
Sunday in the Park with George, Huntington Theatre Company, Boston,starts September 9. For more info, http://www.huntingtontheatre.org/ .

Peter DuBois, courtesy Huntington Theatre Company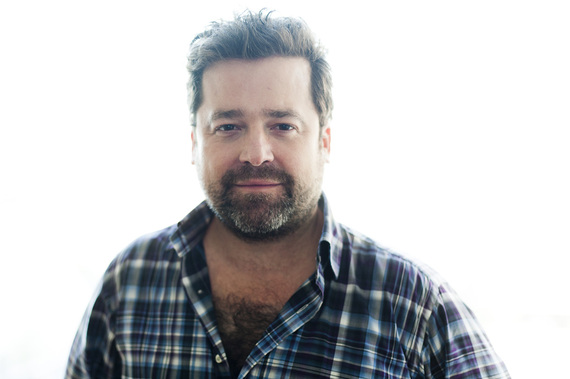 REAL LIFE. REAL NEWS. REAL VOICES.
Help us tell more of the stories that matter from voices that too often remain unheard.