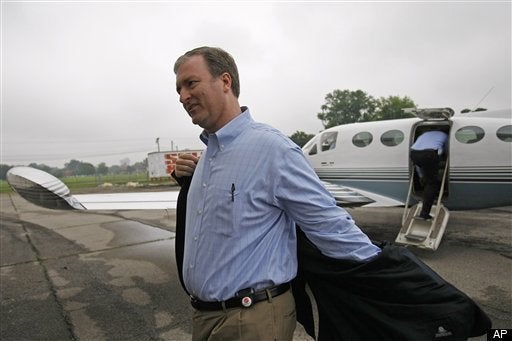 With election results showing convincing wins for Democrat Joe Sestak in Pennsylvania and Republican Rand Paul in Kentucky, some hard analysis awaits both parties on what the results foreshadow for the November elections.
Democrat Blanche Lincoln of Arkansas, in another closely watched Senate primary, failed to win the 50 percent threshold Tuesday and now heads to a runoff election on June 8th against Lt. Gov. Bill Halter, who was winning 43 percent of the vote to Lincoln's 44 percent with 80 percent of the precincts reporting, according to The Associated Press.
There will be plenty of time to examine how the victors of the Tuesday's primary will position themselves for November.

But for right now, what about the vanquished?
Can Arlen Specter, and Trey Grayson, losers in Tuesday's primary, along with Bob Bennett, who failed to win the Republican nomination in Utah, continue their fight as independent candidates for the November election, much like Joe Lieberman successfully pulled off in 2006?
Despite losing the Democratic primary that year to Ned Lamont, an anti-war candidate, Connecticut Sen. Lieberman ran as an independent in the general election, and surprisingly enough was re-elected to his fourth term, winning nearly 50 percent of the popular voter over Lamont with less than 40 percent of the total vote.
So what does the future hold for dethroned Democrats like Specter and Lincoln if she loses the runoff election next month? What about defeated Republicans like Bennett in Utah; or Grayson in Kentucky? Can they run as independents?
The answer is a definite no.
Aside from the faint possibility of competing in the general election as write-in candidates, state laws in Arkansas, Pennsylvania, Kentucky, and Utah clearly prohibit candidates of established parties from running as independents or third-party candidates in November.
According to Section 118.315 of Kentucky's Revised Statutes, no candidate as of December 31, 2009 "whose registration status is as a registered member of a political party shall be eligible to election as an independent candidate."
So the road ends for Secretary of State Grayson, the party establishment candidate, once considered the frontrunner, but whose sails flagged against Rand Paul, and his anti-Washington refrain, which earned the eye doctor top billing with the Tea Party movement.
After serving 30 years in the United States Senate, most of those as a Republican, the clock appears to have run out on Sen. Specter as well, who doesn't have the option of continuing his crusade as an independent candidate in November.
Pennsylvania has a 'Sore Loser' provision in its Election Code, which according to Charlie Young, Deputy Press Secretary with the Pennsylvania Department of State, means, "if a candidate files nomination petitions to get on the ballot of one of the two major parties in the primary, then loses in the primary, he cannot then use nomination papers to get on the November ballot as an independent or representing a minor party."
Democrat Blanche Lincoln, first elected to the Senate in 1998, and who now finds herself clawing for her political survival after being roundly criticized for schmoozing with Wall Street, earning the tag, "Bailout Blanche" from her opponent, wouldn't have the option to run as an independent should she fall short next month in her runoff battle.
Arkansas law would prohibit Sen Lincoln from running as an independent in November.
According to Section 7-7-204 of the laws for the state of Arkansas, a person who files as a candidate for nomination by a political party shall not be eligible to 1.) "Be the nominee of any other political party for the same office during the primary election or the following general or special election"; or (2) "Be an independent or write-in candidate for the same office at the general or special election."
Utah Republican Sen. Bob Bennett, who lost his party's nomination at the state Republican Party convention on May 8th, (placing third behind businessman Tim Bridgewater and lawyer Mike Lee) is reportedly not ruling out running as an independent in November.
But as specified in the unaffiliated Utah Code section (20A-9-501 through 20A-9-503), Bennett missed the deadline to qualify as an independent candidate, according to a spokesperson from the Lieutenant Governor's Office, leaving the junior senator from Utah with no real option except to run as a write-in candidate if he hopes to stay in the race.
Despite voter uncertainty whether either party is feeling their pain or listening to their sorrow in this crippling recession, it's not clear either whether Bennett, Specter, Grayson, (or even Lincoln if she ends up losing her runoff) would have benefited much from running as independents in November.
According to Charles Prysby, political science professor from the University of North Carolina at Greensboro, voter dissatisfaction is not coming from moderate voters, but appears restricted to members of the Tea Party, a conservative movement which has grown weary of both parities.
"The primaries,'' Prysby says, "have not shown us much of a moderate vote."

Traditionally, successful independent movements have been a reaction from moderate candidates against extreme wings of either party.
As Stephen Ansolabehere, political science professor at Harvard University, explains it, "[Joe] Lieberman left the Democrats after [Ned] Lamont beat him in the primary over the Iraq war. [Charlie] Crist left in response to a strong challenge from a more conservative candidate [Marco Rubio]."
It appears, then, that moderates like Specter wouldn't have been able to withstand the strong backlash against incumbents, particularly Democrat incumbents, even if they had tried to test the muddy waters as independents.
Calling all HuffPost superfans!
Sign up for membership to become a founding member and help shape HuffPost's next chapter