When I graduated from college with a bachelor of arts in religious studies, working in the nonprofit sector seemed like an appropriate "fit." However, now more than ever the sector is in need of students and professionals from a variety of disciplines to help transform the industry. As nonprofit organizations, especially direct service providers, continue to adjust to the ever-changing realities regarding how they deliver services, how those services are financed, and the very nature of how organizations are structured, they will require a certain degree of business acumen to help guide those transitions.
Consider for a moment some of the changes currently taking place in the sector: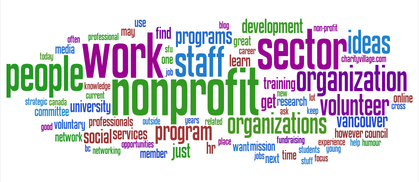 1. Transition in financing: As health and human service nonprofits across the country undergo a transition from fee-for-service to managed care models of funding for direct services, they will need to think strategically about business development, marketing and accountability. This concern is unique to direct service providers whose services are largely funded by the government, such as hospitals, community clinics or nonprofits serving people with developmental disabilities. In fact, segments of the direct service provider community have already undergone a transition to managed care.
In a managed care system, consumers have greater choice, which requires nonprofits to enhance their efforts for reaching and engaging with existing and new participants. Of course, consumer engagement is nothing new to the for-profit sector and you may even argue that nonprofits have conducted similar efforts with regards to donors; however, the practice of marketing to potential consumers may require the sector to engage for-profit partners to understand best practices.
2. Delivery is changing: "Brick and mortar" nonprofit organizations are attempting to remain relevant as we transform into a more "digital society." Although nonprofits will need to continue to offer in-person services at established sites, the digital age will require agencies to take on a greater digital presence. This presence is not defined by a nonprofit's followers on Facebook or Twitter, but rather its ability to harness the power of technology, so as to use the Internet as a platform for delivering "soft services" in a way that extends the nonprofit's relevance and presence beyond any particular geographic area.
A powerful example of this is CFY's augmentation of its Digital Learning Program with PowerMyLearning, its online learning platform. By bringing in leaders from for-profit education companies, CFY was able to leverage the business acumen skills of those leaders while drawing on its own understanding of best practices from its highly successful -- and classroom-based -- Digital Learning Program.
3. How organizations are structured: The very structure of nonprofit organizations is changing. As agencies prepare for change, now more than ever we're seeing traditionally "corporate" titles emerge as new roles in the nonprofit sector.
Consider for instance the recent appearance of Chief Innovation Officer and Director of Business Development among the more traditional titles associated with the industry. These new titles are not representative of newfound creativity in defining organizational roles, but rather the need for leaders with substantial background in business and product/service innovation to help with ushering in a new area for the nonprofit community.
The nonprofit community is changing; however, in many ways it's not changing quickly enough. If the sector is going to survive financing and delivery changes, it will require a willingness by nonprofit leaders and supporters to foster an approach that draws on the expertise of the for-profit community while appreciating the uniqueness of nonprofit organizations. By sharing best practices from the business community with the nonprofit sector, the fear of changes to the financing and delivery of services as well as the structuring of organizations won't seem nearly as frightening, but rather the acceptance of such will help to transform the industry, so as to achieve greater efficiency, accountability, and most importantly, impact.
Calling all HuffPost superfans!
Sign up for membership to become a founding member and help shape HuffPost's next chapter