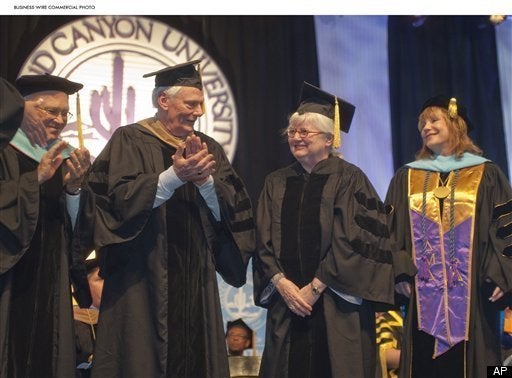 A new Government Accountability Office report confirms that for-profit college recruiters not only mislead potential students about their post-graduation job opportunities, but encourage them to lie about their assets to obtain maximum federal financial aid.
As the report details (full PDF here):
Undercover tests at 15 for-profit colleges found that 4 colleges encouraged fraudulent practices and that all 15 made deceptive or otherwise questionable statements to GAO's undercover applicants. Four undercover applicants were encouraged by college personnel to falsify their financial aid forms to qualify for federal aid--for example, one admissions representative told an applicant to fraudulently remove $250,000 in savings. Other college representatives exaggerated undercover applicants' potential salary after graduation and failed to provide clear information about the college's program duration, costs, or graduation rate despite federal regulations requiring them to do so.
According to BusinessWeek, one recruiter told an undercover investigator that a two-year criminal justice associate's degree could lead to a job with the FBI or the CIA, even though positions at both agencies typically require a four-year bachelor's degree at minimum.
Another recruiter said his employer was accredited "by the same one that accredits Harvard University."
The report comes on the heels of a slew of proposed federal regulations for for-profit colleges that would require the schools to prove that they provided their students with ample opportunities for gainful employment post-graduation -- or else risk losing federal funding.
Currently, for-profit colleges receive 20 percent of the nation's Pell Grant revenue, even though they serve only six percent of the student population. (See where the Pell Grant money goes).
Inside Higher Ed anticipates what the for-profit college pushback will look like:
Because the investigators visited an admittedly specific group of institutions that were already raising red flags for the Title IV program, advocates for for-profit colleges will almost certainly challenge the report's findings (as they have done in response to many newspaper reports and other investigations), arguing that the GAO cherry-picked institutions where data from the U.S. Department of Education already hinted at potential improprieties, and that the institutions cited represent "bad actors," not the sector's norm.
The Senate Health, Education, Labor and Pensions Committee has scheduled a hearing, complete with undercover video, for tomorrow to discuss the report's findings.
What are your thoughts? What should be done to regulate for-profit colleges? Weigh in below.
Related
Popular in the Community