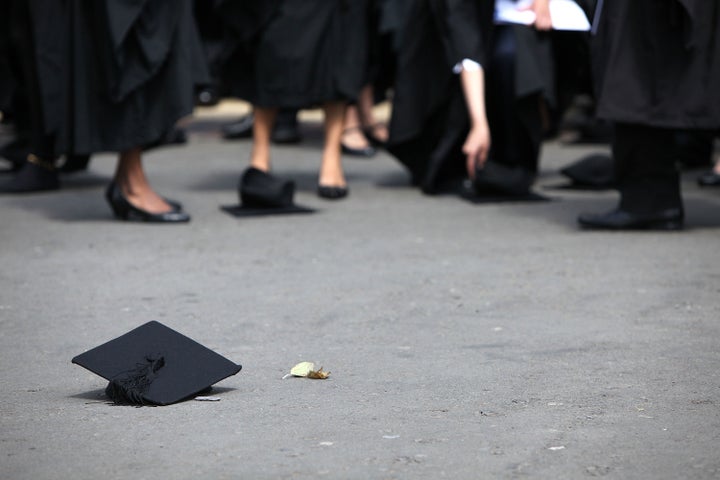 Top prosecutors in 10 states have convened a joint investigation into potential violations of consumer protection laws by for-profit colleges, Kentucky Attorney General Jack Conway (D), who is leading the multi-state effort, said in an interview with The Huffington Post.
The combined investigation only began within the past two months, but it comes after several state attorneys general launched individual probes of deceptive recruiting practices and possible misrepresentations to recruits regarding federal financial aid dollars.
The multi-state probe is the latest sign that rapidly rising enrollments and an increased reliance on federal student aid dollars by for-profit colleges are attracting greater scrutiny of the industry.
The for-profit higher education industry, which includes a vast swath of colleges ranging from the more than 400,000-student University of Phoenix to small mom-and-pop beauty schools, is facing intense scrutiny from the federal government due to growing federal student loan default rates at many schools. Although only about 10 percent of college students nationwide attend such for-profit institutions, the schools account for nearly half of all student loan defaults, leaving the government to pick up the tab.
"A lot of people who are in Washington right now want to run around talking about fiscal responsibility," said Conway, who issued subpoenas to six for-profit schools in Kentucky last year, seeking information on job placement claims made to prospective students and management of financial aid dollars. "Well, making certain that $25 billion in federal education dollars doled out is being spent in a way that appropriately trains people and prepares them for job opportunities that are out there … That, to me, is a fiscal responsibility issue."
Conway confirmed that 10 states so far have signed on to the multi-state working group. He declined to name the other states, but representatives for Attorneys General Tom Miller of Iowa (D), Lisa Madigan of Illinois (D) and Pam Bondi of Florida (R) confirmed that they are participating in the investigation.
A spokesman for the Association of Private Sector Colleges and Universities, Bob Cohen, said in a statement that the organization's schools are "committed to putting students first" and enforcing existing federal and state laws.
"We support a dialogue with the attorneys general that is based on hard facts, on principles fairly applied to all, and is not a product of ideology, innuendo or anecdote," the statement said. "We firmly believe such a conversation will demonstrate that there is no systemic, sector-wide issue here."
At this point, Conway said, the primary goal is to share information and compare notes about violations of consumer protection statutes. But he said it is possible that the participating states could outline a joint agreement to require such schools to adhere to certain industrywide standards.
"There need to be guidelines for information on cost and student loan debt provided to the students before they sign up, and we need to make sure that these schools reform the way they target and recruit potential students," Conway said.
He said the investigation so far involves civil violations, not criminal activity. But he did not rule out a criminal prosecution if investigators discover more information.
There are precedents for multi-state settlements with state attorneys general, most notably in litigation against tobacco companies and in an agreement reached with state attorneys general and social networking sites meant to protect children against sexual predators.
In 2008, 11 states reached an $8 billion settlement with Countrywide Financial to settle predatory lending allegations. And state attorneys general and the Obama administration are negotiating with the nation's five largest mortgage companies to settle accusations of improper foreclosures and violations of consumer protection laws.
"If you've got a school negotiating with 10 attorneys general, they snap to much faster than if they're dealing with just one," Conway said.
Conway noted that unlike the tobacco industry, which was concentrated in a few major corporations, there are many smaller, independently-owned colleges throughout the country.
The Department of Education has stepped up its scrutiny of for-profit colleges in the past year, proposing stronger federal regulations regarding bonuses or raises given to recruiters based on enrollment numbers. The department has also drafted rules regarding student loan accountability, which could cut off funding to programs with a track record of enrollees failing to pay back student loans and facing high debt loads.
The industry has mounted an aggressive, multimillion-dollar lobbying campaign against the student loan regulations, saying they unfairly target for-profit colleges and would restrict college access to low-income students who attend such schools in large numbers.
The multi-state investigation comes as the Department of Justice is also stepping up its involvement in litigation against for-profit colleges. This week, Education Management Corp. of Pittsburgh, the second-largest publicly traded college corporation, acknowledged that the U.S. Attorney of Western Pennsylvania had intervened in a civil case that had been brought against the company.
Other states have also intervened as parties in the case against Education Management Corp., which owns schools ranging from The Art Institutes to Argosy University.
In a filing with the Securities Exchange Commission, the corporation noted, "The case alleges that the company's compensation plans for admission representatives violated the Higher Education Act." The company said it plans to "vigorously defend itself."
Related
Popular in the Community