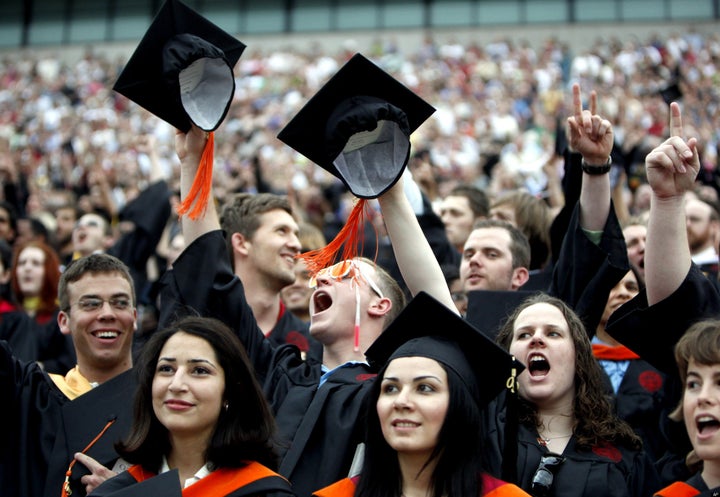 A bipartisan group of House lawmakers introduced a budget amendment this week that could make it easier for for-profit colleges to saddle students with debt they cannot repay.
The proposed budget amendment -- one of more than 400 introduced this week -- is the latest front of an intense war being fought over the Department of Education's "gainful employment" rules, designed to gauge whether for-profit colleges and some community college programs are setting up students for jobs that will allow them to repay their debts.
The amendment seeks to dismantle Department of Education regulations that were intended as consumer protection measures. The Department's goal has been to crack down on programs that aggressively recruit students to pursue degrees that do not prepare them for adequate employment after leaving the school.
The regulations come amid increasing evidence that for-profit colleges, many of which are owned by publicly traded corporations, are leaving students with high levels of debt compared to the wages they earn after graduation.
Average tuition at for-profit schools is nearly twice that of the in-state tuition at four-year public colleges, and more than five times the average tuition at community colleges, according to a Senate report released last year. And recently released data from the Department of Education show that a quarter of all students enrolled at for-profit schools defaulted on federal student loans within three years - more than double the rate of students at non-profit institutions.
Individual programs that don't comply with the proposed rules could be restricted from tapping into federal student loan and grant dollars. For many for-profit colleges, this revenue is crucial; some institutions derive more than 80 percent of revenues from federal education aid money.
Lobbyists for the for-profit education industry have assailed the proposed rules, mounting an aggressive advertising campaign that casts the regulations as a broad government overreach that will limit students' access to college.
In a "call to action" e-mail sent out over the weekend by the Association of Private Sector Colleges and Universities, an industry trade group, members were given a script to call their Congressmen to explain how the rules would have a "devastating and broad impact" on students who attend for-profit colleges.
John G. Sperling, founder of the University of Phoenix and the executive chairman of The Apollo Group, which owns the university, wrote letters to members of the House this week declaring that the rule "denies access to millions of students" and "fails to achieve a proper balance to preserve free enterprise."
Industry representatives also question why all colleges should not be subject to the same oversight.
"For-profit colleges and universities are working with some of the most economically disadvantaged and non-traditional students, trying to find them an alternative way to receive a college education," said Penny Lee, managing director of the Coalition for Educational Success, another industry group.
As drafted, all of the rules would allow programs to remain fully eligible even if less than half of students are repaying their loans at a minimal rate.
Sen. Tom Harkin (D-Iowa), a critic of for-profit colleges who has held a series of hearings probing the industry throughout the past year, described the regulations as "modest."
"These standards are not onerous or unreasonable," Harkin said. "They are simply designed to weed out the very worst programs ... I'm disappointed that any member of Congress would choose to turn a blind eye to millions of taxpayer dollars being wasted every year."
The Department of Education has still not finalized the rules and released them to the public. The budget amendment, sponsored by Rep. John Kline, R-Minn., and supported by Democratic Reps. Alcee Hastings of Florida and Carolyn McCarthy of New York, would prevent the department from issuing or enforcing any of the regulations regarding student debt burdens through the end of the fiscal year in September.
The for-profit college industry has been under fire due to evidence of deceptive and aggressive recruiting tactics and high student loan default rates compared to public and private non-profit colleges. Students attending for-profit colleges make up less than 15 percent of enrolment nation-wide, but comprise nearly half of all student loan default rates.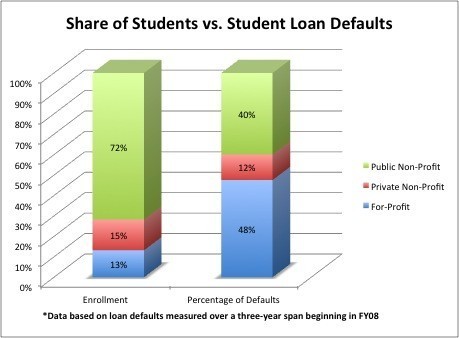 As drafted by the Department of Education, the gainful employment regulations would measure student outcomes in two ways: by determining whether students are repaying their loans over time, and by gauging the overall burden of student loan debt compared to a graduate's income.
The tests would be done on a program-by-program basis, meaning only specific courses and curriculum -- not entire schools -- would face sanctions.
Specifically, a program could still remain fully eligible for access to federal student aid money as long as 45 percent of students are paying down the principal on student loans (meaning interest, plus one dollar every year). If a program cannot meet that test, it could still remain fully eligible as long as overall student loan debt accounted for less than 20 percent of graduates' discretionary income, or less than 8 percent of total income.
In order for a program to be completely shut out of federal student loan and grant programs, more than two-thirds of students would have to be unable to pay down their loans, and student loan debts would need to represent more than 30 percent of discretionary income for graduates and more than 12 percent of total income.
In discussing the rule over the past year, the Department of Education estimated that 16 percent of programs at for-profit colleges could lose eligibility to federal student aid money.
Rules requiring vocational schools to prepare students for "gainful employment in a recognized occupation" have been on the books since the 1970s, but there has been no official definition of what the term actually means. Under the law, the rules would apply to for-profit colleges and some community college certificate programs.
The American Association of Community Colleges supports the gainful employment rule.
Popular in the Community