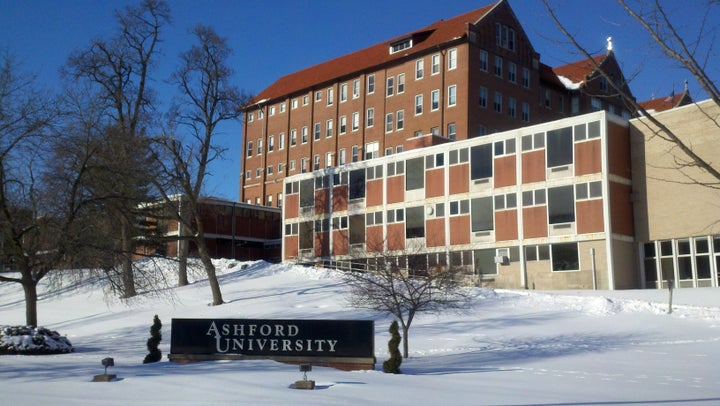 In just seven years, Ashford University has grown to be one of the nation's largest for-profit colleges, morphing from a 300-student Catholic school in Iowa into a massive online institution serving more than 90,000.
Ashford's explosive growth was a product of shortcomings in the collegiate accreditation system, according to critics: A California corporation purchased an accredited, near-bankrupt Iowa college in 2005 and used it as a platform to access hundreds of millions of dollars in federal student aid.
Now Ashford is at risk of losing its accreditation, a scenario that would jeopardize the school's ability to tap into federal student loans and grants -- the source of more than 85 percent of its revenues. In the week since Ashford's parent company announced that a regional consortium of colleges had denied the school's bid for new accreditation, the company's stock has plummeted more than 50 percent.
The review team with the Western Association of Schools & Colleges found that Ashford was not investing enough in its academic programs, devoting significantly more resources toward new-student recruitment than educating its current students. The report found the school suffered from an "under-allocation" of faculty and staff, leaving the school unable to adequately promote student success.
Although Ashford's student population is much larger than major state universities such as Ohio State and the University of Texas, it has only a few dozen full-time faculty members.
"A core of about 50 full-time faculty members, most recently hired, for the entire online division of more than 90,000 students, is not sufficient to provide leadership and oversight of an academic enterprise the size and complexity of Ashford," the accreditors concluded.
The report from the western accrediting association mirrored many of the findings from a HuffPost investigation into Ashford last year, which revealed a breakneck sales culture where recruiters were pressured to enroll as many students as possible in a quest to capture federal student aid revenues. The denial of Ashford's bid also points to a tightening of the college accreditation system, which has long been criticized by members of Congress and student advocates as a rubber-stamp regulatory process that is ill-suited to protect taxpayer investments in higher education.
In being denied by the accrediting association, Ashford also risks losing its current accreditation with a Midwest consortium, which has placed the school under more intense scrutiny in the last week. Ashford was seeking the new accreditation because the majority of its operations are at a corporate headquarters in San Diego, not the ground campus in Iowa.
Officials with Bridgepoint Education Inc., the San Diego corporation that owns Ashford, declined to comment beyond a statement laying out Ashford's plans to submit several reports over the next few months to remain accredited.
In a news release from last week, the company said it was "disappointed" in the decision. Ashford officials are planning to appeal and re-apply for accreditation.
Among other findings, the western accreditors pointed to an unusually high dropout rate at Ashford: Between fall 2007 and fall 2011, more than 50 percent of 240,000 students enrolled in the university had withdrawn -- a level of attrition that the reviewers found to be "not acceptable."
The review team also pointed to the "relative underfunding of the academic program compared to an emphasis on student recruitment and enrollment- and revenue-growth."
An analysis of staffing showed a disparity between the number of admissions staff and the number of academic advisors: Each admissions counselor was responsible for an average of 32 students, while each academic advisor oversaw an average of 300 students.
"That size and scale -- 90-plus thousand students -- really requires what we feel should be a more substantial infrastructure," said Ralph Wolff, president and executive director of the senior college commission of the Western Association of Schools & Colleges. "The disproportion between the recruiters and academic support, on its face, did not suggest that there was an adequate primacy of the educational mission."
U.S. Sen. Richard Durbin (D-Ill.), who has pushed for stronger regulations of for-profit colleges, commended the association for its "thorough review" of Ashford's programs in a letter last week.
"Accreditation agencies such as yours serve as the gateway to federal funding, and students rely on the seal of approval you provide," Durbin wrote. "Your decision regarding Ashford University's accreditation status demonstrates how our accreditation system should work."
Over the past week, Bridgepoint has been in damage-control mode, issuing a series of public releases and internal memos to staff stressing that the school is still accredited with the Midwest organization, the Higher Learning Commission. Management sent out an e-mail last week listing "frequently asked questions" about the accreditation problems, but it contained only a handful of basic responses that staff were supposed to provide to students, according to a copy of the e-mail obtained by The Huffington Post.
Many hypothetical questions listed in the management email, such as "How does this affect me as a student?" and "What if I'm not finished with my degree and we lose accreditation?," had no answer.
A current employee who works in Ashford admissions said there have been an overwhelming number of questions from students about how the accreditation denial could affect their future. The employee said staff have been frustrated at their inability to be open with students; instead, they have to give "the same canned answer" every time.
"If you have a student digging and asking a lot of intelligent questions, all you can do is regurgitate the same thing over and over again," said the employee, who declined to be identified because of a company policy that prohibits employees from speaking to the media.
Maintaining accreditation is a key requirement for colleges to be eligible for federal student loan and Pell Grant dollars. For Bridgepoint, owning an accredited institution such as Ashford has allowed executives to more than double corporate revenues over the past two years and engineer an initial public stock offering in 2009 worth $142 million.
In the year the company went public, Bridgepoint's chief executive officer, Andrew S. Clark, received a total compensation package worth more than $20 million, according to securities filings.
At a Senate hearing last year, Sen. Tom Harkin (D-Iowa) recounted Ashford's explosive growth, arguing that executives had exploited regulatory weaknesses in the accreditation system.
"From a strictly moneymaking perspective, what I have described is a highly successful model," Harkin said at the time. "But I must say from an educational perspective, from a perspective of public monies and disadvantaged students, and from an ethical perspective, I think it's a deeply disturbing model."
Questions about Ashford's accreditation have been looming for years.
In 2005, Bridgepoint purchased the small liberal arts college in Iowa called Franciscan University of the Prairies, which was struggling after years of declining enrollment. For decades, the Higher Learning Commission, the regional consortium of schools headquartered in Chicago, had accredited the Iowa college.
There was a brief review after Bridgepoint purchased the school, and a full evaluation visit in 2006. But the accreditation was allowed to continue under the new ownership.
Bridgepoint changed the school's name to Ashford University, and soon began rapidly recruiting for an online division that was based largely out of the corporate headquarters in San Diego.
Two years ago, the Higher Learning Commission passed a new set of rules requiring schools to have a "substantial presence" in the 19-state region that stretches from Arizona to West Virginia. Because most of Ashford's operations were based in California, not Iowa, the school began pursuing an alternate accreditation from the Western Association of Schools and Colleges.
After a nearly two-year review process and a site visit this spring, the western association denied Ashford's bid for accreditation earlier this month.
The accreditation denial has triggered additional scrutiny from the Higher Learning Commission, which has put Ashford on "special monitoring status."
Within 30 days, Ashford administrators must submit a report to the Higher Learning Commission outlining why the school should remain accredited, given the negative findings from the western association. School officials must schedule another site visit with accreditors by early September. Based on the new evaluation, the Higher Learning Commission board will decide by next February whether to continue Ashford's accreditation, issue sanctions or withdraw accreditation.
Ashford could also face "possible termination of status" if the school has not proved it is complying with the commission's rule on geographic presence by Dec. 1, according to a letter the commission sent Ashford last week.
Current employees in academics and admissions said they have long been frustrated with the academic shortcomings identified in the report from the western accrediting association. The report noted that many students received limited feedback in online discussion forums that were a critical part of many classes.
"Faculty responses to required student posts were often limited to a few words of encouragement and lacking in substantive exchange between student and teacher," the report read.
An Ashford teaching assistant said the limited interaction reflects a disparity in resources for students, the majority of whom struggle with basic writing and reading comprehension.
"You'll have 70 students, and one person grading," said the teaching assistant, who declined to be identified for fear of retribution from Ashford. "There's no way that you can give those students the individual attention they need."
The current admissions employee said many long-time employees were pleased that the accreditors were pushing Ashford to improve. But the employee was uncertain how the school would be able to meet the standards and still provide the returns desired by investors.
"I think it would be an enormous cultural shift," the employee said. "In order to meet the criteria that that they have set forth, it would slow down our enrollments. And that's what it's all about, right? The investors want to see how many new enrollments you have. There's a complete conflict there."
WATCH a tour of Ashford's campus:
<0--4054--hh>0--4054--hh>
Calling all HuffPost superfans!
Sign up for membership to become a founding member and help shape HuffPost's next chapter