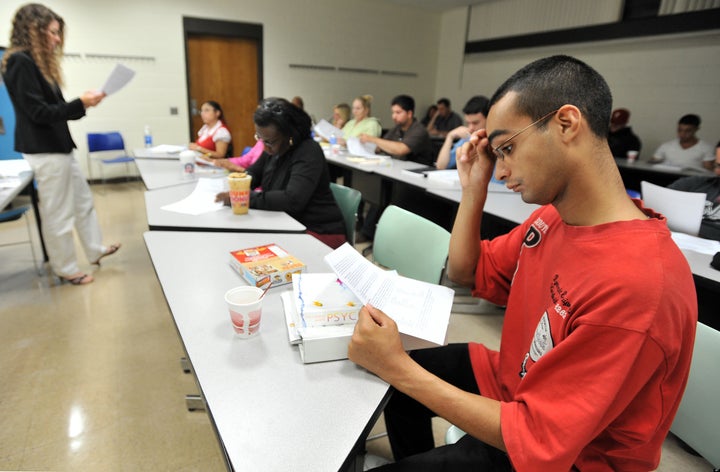 Many of the large corporations that own for-profit colleges are increasingly issuing their own in-house private loans to students -- even though some schools expect more than 50 percent of such loans to go into default, according to a report released this week by the National Consumer Law Center.
Through the eyes of those who run for-profit schools, the risky sideline lending business enables them to satisfy a federal law that requires at least 10 percent of a school's revenue to come from sources other than federal financial aid. By complying with the 10-percent requirement, schools can then access the lucrative 90 percent of revenue that comes from the federal government.
Federal student-aid dollars have been the lifeblood of the for-profit education sector, allowing the industry to more than triple the number of student enrollments over the past decade -- far outpacing the growth of private and public traditional universities. That growth has come amid questionable outcomes for its students, who default on student loans at twice the rate of their counterparts at public universities.
Several of the schools in the for-profit sector derive more than 85 percent of their revenues from federal student aid, putting them perilously close to the 90-percent threshold and placing schools at risk of losing access to the wellspring of federal aid. Executives at for-profit colleges are often quizzed about compliance with the rule during conference calls with investors, and schools take great pains to satisfy the 10-percent requirement.
Private loans have traditionally offered a way for schools to beef up the 10 percent of revenue in the non-federal category, according to the report. But since the credit crisis began in 2007 and '08, third-party lenders such as traditional banks and student lending giants like Sallie Mae have been largely unwilling to lend to for-profit school students, citing the high default rates and bad credit scores for the typically lower-income students who attend such institutions.
So several schools have stepped in with their own loan programs, many of which lack the fixed-interest rates and more flexible repayment options that come with federal student loans, according to the report.
"School executives could have viewed the pull-out of the third-party creditors as a warning sign that lending without regard to repayment caused significant harm to their students," reads the report by the National Consumer Law Center, an advocacy group that works with low-income populations. "Instead, many proprietary school executives chose to create or expand institutional loan products ... even though their students were already struggling with student loan debt."
Most federal student loans are capped at rates of 6.8 percent or lower. For a newly created private loan program at ITT Technical Institute, rates can range anywhere from 4.75 percent to 14.75 percent interest, depending on a student's credit score. Interest rates can adjust over time, and can range as high as 25 percent, according to ITT documents in the report.
DeVry offers loans with 12 percent annual interest that require students to make payments while they are enrolled, according to the company's loan documents. The remainder of the balance is due within a year after graduation, and cannot be deferred.
Supporters of the for-profit sector don't dispute that internal lending has increased since the credit crisis. But they argue that such loans are necessary to fill in the financial gap for students who cannot afford the cost of school on their own.
"We believe that students should have an option to go to school," said Harris Miller, president and chief executive of the Association of Private Sector Colleges and Universities, a lobbying group for the industry. "We're willing to take a chance on students. Unfortunately, many private lenders are not willing to do that today, unless you're already upper-middle-class, which is not where most of our students are."
The so-called "90/10 rule" has been a flashpoint in the debate on the for-profit education sector. Critics of the industry argue that the regulation creates incentives for schools to game the system by increasing tuition to a point where students will have to come up with out-of-pocket expenses to satisfy the 10-percent category.
The Consumer Law Center report asserts that schools are satisfying the non-federal income by increasing such institutional loans, even though some institutions expect more than 50 percent of the loans to eventually default.
"The schools seem to view these loans more as 'loss leaders' to keep the federal dollars flowing," the report states. "However, the view from the student perspective is much different. Students do not care if the high default rates help the companies maintain high tuitions and present a more attractive front to investors. Each charge-off represents an individual who cannot repay a debt and who may be facing aggressive collection tactics."
Scrutiny of the for-profit education sector has increased in recent years, as evidence mounts that many institutions are leaving students with debts they cannot afford to pay, given the low-wage jobs they tend to attain after graduation. For-profit schools enroll about 12 percent of students nationwide, yet the sector takes in nearly 25 percent of all student aid dollars and is responsible for 43 percent of student loan defaults.
Average tuition at for-profit schools is nearly twice that of the in-state tuition at four-year public colleges, and more than five times the average tuition at community colleges, according to a Senate report released last year.
For-profit schools have argued that the higher proportion of student loan defaults is an outgrowth of the students they tend to attract: a lower-income population that, according to the industry, is often overlooked by traditional nonprofit colleges.
Critics point to the extraordinary growth of the industry, largely at the expense of taxpayers, despite the questionable outcomes and high debt loads for students. Average annual profits for the for-profit sector grew 81 percent between 2005 and 2009, according to a report last year by the Senate Health, Education, Labor and Pensions Committee.
Schools in the for-profit sector run the gamut from specialized course offerings such as Le Cordon Bleu College of Culinary Arts, run by the publicly traded Career Education Corp., to the mostly online University of Phoenix, owned by the Apollo Group.
Deanne Loonin, the staff attorney at the National Consumer Law Center who wrote the report, noted that much of the information on private loans to students granted by colleges was difficult to obtain. Most of the data was limited to what was disclosed in quarterly reports filed with the Securities and Exchange Commission and in earnings calls with investors.
The report mentioned Corinthian Colleges Inc., which runs Everest College, which has more than 100 campuses across the U.S. and Canada. In 2007, the company took in 13 percent of its revenues from private loans - mostly from Sallie Mae, one of the nation's largest student lenders.
But Sallie Mae shut down lending to students at Corinthian and many other for-profit schools in 2008, because most of the potential borrowers did not represent good bets. So the school has ramped up internal student lending ever since, even though executives at the company in 2009 told investors on an earnings conference call that they expected default rates of more than 50 percent on such loans.
Despite the anticipated high default rates, schools are still able to count some revenues from internal loans toward the 10 percent category to comply with federal rules. Congress passed a temporary measure in 2008 that allowed schools to count a portion of such loans as non-federal revenues through July 2012.
Corinthian executives have also mentioned the possibility of increasing tuition to comply with the 90/10 rule. The idea is that increasing tuition would create a larger gap between the total cost of the program and what students are eligible for from federal financial aid programs -- thus driving students toward the college's in-house loans.
In a November conference call, former chief executive Peter Waller said the company was "calmly evaluating whether to institute a substantial price increase in the third quarter of fiscal 2011." He noted that "we do not believe such a price increase is in the best interest of our students," according to a transcript of the call.
Waller resigned later in November as chief executive. A spokesman for Corinthian, Kent Jenkins, said the loans offered by the company have the same interest rates as federal student loans - a maximum of 6.8 percent interest - and are intended to allow low-income students with very few other borrowing options to attend school.
He called the report from the National Consumer Law Center "an advocacy document" and noted that the group has supported tighter regulations on for-profit colleges.
Jenkins also noted that the 90/10 rule created a "catch-22" for for-profit schools, discouraging schools from lowering tuition in order to comply with the 10 percent requirement.
"We can't lower tuitions because we would simply be in further violation of the requirement," Jenkins said. "We're in a position where our program may be about the cost of a year's worth of financial aid for some students. So in fact, the amount of student loans may be 100 percent of the cost of the program."
A spokesman for DeVry, which was also mentioned in the report, said the company's loan programs are a "valuable service" for students, and that less than a third of DeVry's students carried a balance after the first year.
Miller, who heads the lobbying group for the for-profit sector, said he agreed that the 90-percent regulation often created "perverse incentives" for schools to raise tuition in order comply with the rule.
"It's creating a disincentive to control costs," Miller said. "You're incentivizing a school to raise tuition, not because they actually need to raise tuition but because they need to create a gap between the maximum student aid a student is eligible for, and the tuition."
Related
Popular in the Community