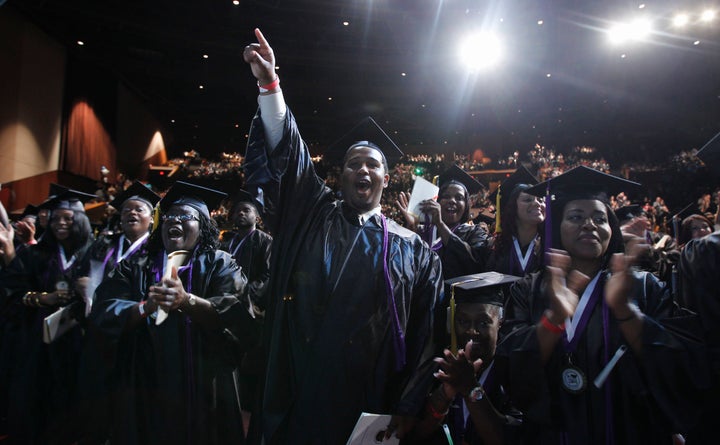 For-profit colleges devote less than a third of what public universities spend on educating students, even though the for-profit institutions charge nearly twice as much as their public counterparts for tuition, according to new federal government data released Thursday.
Students attending bachelor's degree programs at for-profit schools are also much less likely to graduate than students who attend public universities or private non-profit schools, concludes the report from the National Center for Education Statistics. One in five students graduate from for-profit bachelor's degree programs within six years, compared to more than half of students at public universities.
The new federal data lands amid fierce debate over the practices of for-profit colleges, which confront the stiffest government scrutiny in decades. The Obama administration has been crafting new rules aimed at preventing schools from promising more than they can deliver, in response to reports that many tout their training programs as stepping stones to lucrative careers only to set up students up for jobs whose wages will rarely keep pace with their resulting debt burdens. The for-profit industry relies heavily on federal student aid as part of its business model, but the industry is responsible for an increasing number of defaults in the federal student loan program.
The Department of Education is expected to finalize the new rules within the next few weeks. The rules could limit federal student aid money flowing to programs at for-profit schools and some non-profit vocational programs that yield too many graduates who are unable to pay off their debts.
Congress requires the Department of Education to publish the "Condition of Education" report every year. But this year, the government took a closer look at trends in higher education, analyzing statistics pertaining to students across different college sectors.
Undergraduate enrollment has skyrocketed overall throughout the past decade, but some of the fastest growth has occurred at for-profit schools. Publicly traded education companies such as Education Management Corp. and the Apollo Group, which owns University of Phoenix, have expanded online offerings and marketed aggressively to older students who may not have attended college in the past.
"One thing that kept jumping out is that the universe of postsecondary education has really changed over the last decade," said Jack Buckley, commissioner of the National Center for Education Statistics. "We thought it was a good time to highlight it."
Although for-profit schools enroll about 10 percent of the nation's college population, 45 percent of students who defaulted on their loans attended such institutions.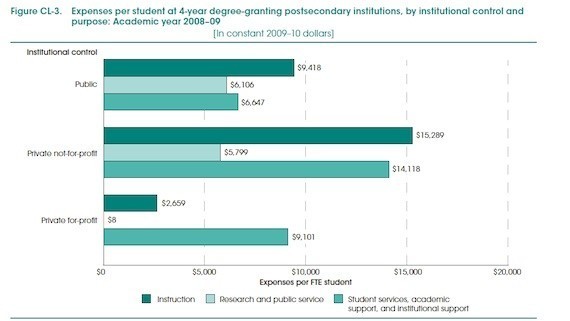 Some of the most striking statistics in Thursday's report dealt with the amount of money institutions spent on teaching students. On average, for-profit schools spent $2,659 per student on instructional costs during the 2008-09 school year, compared with $9,418 per student at public universities and $15,289 per student at private non-profit colleges.
Meanwhile, the average cost for an undergraduate student at a for-profit college was nearly $31,000, after factoring in grants received. The average cost for private non-profit colleges was $26,600, while students at public universities paid on average $15,600.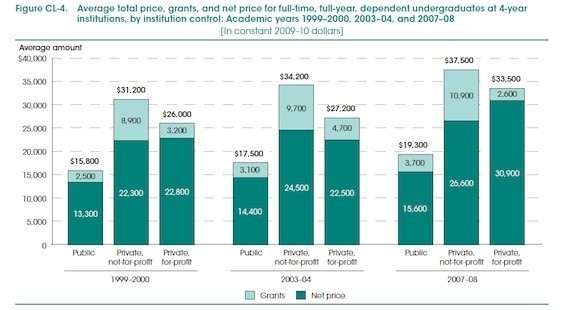 Graduation rates for four-year degree programs were markedly lower at for-profit colleges, 22 percent compared to 65 percent at private non-profit colleges and 55 percent at public schools.
However, for-profit colleges had much higher graduation rates for two-year degrees, where 58 percent of students graduated compared to 21 percent of students at public two-year schools. But students at two-year public colleges borrowed much less to pay for school than students at two-year for-profit schools.
On average, only 21 percent of students took out loans at two-year public colleges, while 78 percent of students at two-year for-profit schools took out loans -- and at nearly twice the expense.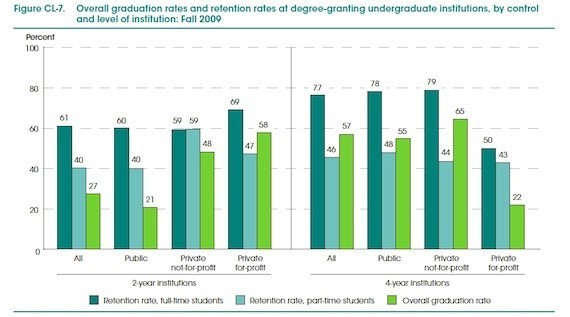 The report also shed light on another fundamental difference between for-profit schools and other colleges: money directed toward research.
On average, public universities and private non-profit schools spent about $6,000 per student toward research, compared to $8 per student at for-profit institutions.
Many of the smaller career schools in the for-profit college sector offer classes in subjects ranging from cosmetology to auto repair to cooking, meaning a research faculty would not be practical. And at larger schools that grant degrees, such as the University of Phoenix and Kaplan University, adjunct professors spread out across the country teach many of the classes.
Related
Popular in the Community