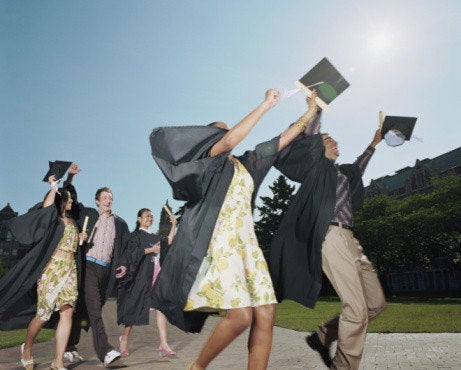 Students at for-profit colleges are more than twice as likely to default on federal loans as their peers at public institutions, according to new data released Monday by the Department of Education that also shows the highest percentage of students defaulting on loans in more than a decade.
The overall student loan default rate increased from 7 percent last year to 8.8 percent -- the highest rate since the government released similar data in 1999. An outsized share of that increase came from the for-profit college sector, which had both the highest percentage of defaults and the greatest increase in defaults, compared to public universities and private nonprofit schools.
Defaults at for-profit schools jumped from 11.6 percent to 15 percent this year, as opposed to an increase of 6 percent to 7.2 percent at public institutions and 4 percent to 4.6 percent at private nonprofit schools, raising questions about the degree to which for-profit schools are preparing students for careers that will allow them to pay off debts.
Because the government must track loan repayment over two years, Monday's data represents the first full assessment of students' ability to repay college loans in the Great Recession. And the numbers were bleak: the overall student loan default rate increased at the highest rate in two decades.
"We do think the economy is a big factor in the growth of these student loan default rates," said James Kvaal, a deputy undersecretary of education. "Another trend worth highlighting is the growth in for-profit colleges. Many of those colleges offer excellent, innovative programs, but we do also see disproportionate default rates among students who are enrolled in those programs."
For-profit colleges have been conspicuous beneficiaries of the economic downturn, as many of the publicly traded corporations that own such institutions expanded enrollments rapidly as legions of unemployed Americans looked to college as a way to improve their fortunes.
Because of the high costs, students at for-profit colleges borrow at much higher rates than those who attend public or private nonprofit schools. According to an analysis of federal education data by The Institute for College Access and Success, 92 percent of students at for-profit colleges took out student loans in the 2007-'08 school year, compared to 27 percent of students at public colleges and 60 percent at private nonprofit colleges.
For-profit colleges have also aggressively targeted minority students. Black and Hispanic students make up 28 percent of undergraduate students nationwide, but they represent nearly half of all students in the for-profit college sector.
"When you see 15 percent of borrowers at for-profit colleges are defaulting, its important to remember that almost all students at those colleges are borrowing, so that shows a much more significant problem in that one sector," said Debbie Cochrane, program director at the Institute of College Access and Success.
Nearly half of all student loan defaults measured by the Department of Education could be attributed to students at for-profit colleges, even though students at such schools represent less than 28 percent of all borrowers.
The federal government measures student loan default rates as a way to gauge student success, and to determine whether certain schools should be eligible to receive federal student aid dollars.
Student loan debt is among the most difficult to discharge, persisting beyond even bankruptcy. Borrowers in default on student loans can be subject to wage garnishment as well as deductions from federal income tax refunds, and they are ineligible to receive federal student aid in the future.
"What is really sad about this is that most of these people are done -- this is their last chance, because they have now defaulted," said Anthony Carnevale, director of Georgetown University's Center on Education and the Workforce. "That will follow them to their grave. You can default on your house, but you can't default on a student loan."
The Department of Education data released Monday is a snapshot of students over two years: the government tracked those who began repaying loans between October 2008 and September 2009, and measured whether they defaulted on those loans before October 2010. A loan is considered in default if no payment has been made after 360 days.
In a statement, Brian Moran, the head of the Association of Private Sector Colleges and Universities, which represents for-profit colleges, said he was "disappointed" to see the data but noted, "we believe that the default rates will go down when the economy improves and the unemployment rate drops."
"Despite today's disappointing news, we should remain focused on the overarching missions, which is to help individuals rise as high as their talent, ability and ambition will take them," Moran's statement read.
Under current regulations, schools that have student loan default rates in excess of 25 percent for three consecutive years can face sanctions or lose access to federal student lending programs. Five schools were subject to sanctions this year, four of which were for-profit schools.
Beginning in 2014, the Department of Education will start to analyze student loan default rates over three years, as opposed to the current two-year window. Data from the Department of Education shows that many more students default in the third year after entering loan repayment. And some schools have actively managed their default rates by putting students into loan deferment or forbearance plans that prevent defaulting within the two-year window, but do little beyond that timeframe.
"That's a good thing if that helps those students manage their student loan responsibilities, but in some cases it may serve just to delay the default and increase the amount of the loan," said Kvaal, the deputy undersecretary of education.
Related
Popular in the Community