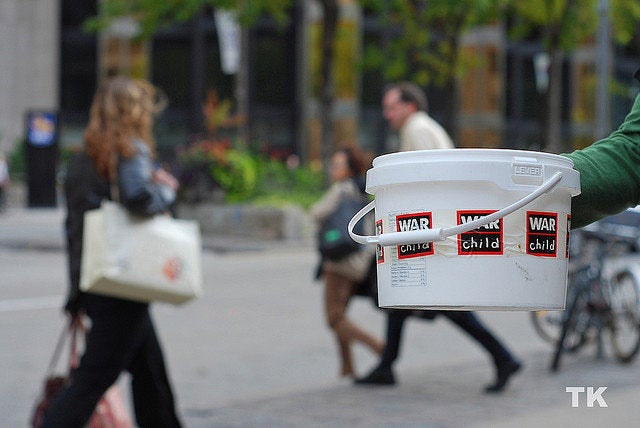 Thirteen charitable organizations raised more than $1 million each in California by hiring for-profit fundraisers last year but got back 10 percent of the money or less, according to newly released data from the state attorney general.
Some prominent charities – such as Amnesty International, Save the Children Federation and Defenders of Wildlife – actually lost money in the fundraising campaigns run by for-profit companies. Charity watchdogs say many such organizations might have good reason to take an initial loss in cultivating new donors. The charities point out that the numbers don't show future revenue from donors who continue to give.
Other organizations, often representing popular causes like support for police, firefighters or veterans, get poor ratings from charity watchdogs for doing little charitable work and hiring fundraisers notorious for taking the vast majority of donors' money.
Overall, for-profit fundraisers collected $362.9 million in California last year, of which 44 percent went back to charities, according to the attorney general's latest report. Some organizations got back much less.
Amnesty International, for example, raised $1.2 million through telemarketing and on-the-street soliciting, but was left with a negative balance of $105,913. The organization's investment in recruiting new donors and encouraging past donors to give again eventually will pay off, said Vivianne Potter, Amnesty's managing director of direct response. Plus, the fundraising efforts spread the group's message.
"There's a lot of value that can't be measured in this financial report," Potter said. "They are very, very frustrating because they give such a very narrow slice of information. When you look at these numbers without any of that background, it looks preposterous, but it's not."
"We're not foolishly spending their money," Potter added. "And these fundraisers are not rip-offs. They do great work for us."
Save the Children raised $2.8 million through for-profit fundraisers and ended up with a negative balance of $1.7 million. But that effort signs up many new donors who end up giving monthly for 4.4 years, on average, said Robin Van Etten, senior director for individual giving. The break-even point usually happens after 24 months, she said.
"It actually has a very solid return on investment, and if it didn't, we wouldn't invest in it," she said.
To the Natural Resources Defense Council, signing up donors through telemarketing is not only cost-effective in the long run, but it also provides a current membership list that helps with environmental advocacy, said spokeswoman Jenny Powers.
Defenders of Wildlife uses for-profit fundraisers to convert occasional donors into monthly ones. "It's a fairly common practice among nonprofits and one we use successfully across the country," said spokesman Will Lutz.
The American Society for the Prevention of Cruelty to Animals received 6.7 percent of the $6 million it raised with for-profit fundraisers in California. But it's important to consider the overall picture, said spokeswoman Elizabeth Estroff. Nationwide, the group's professional fundraisers gave back 46 percent of the money they raised, she said. In all, the group raised $119.7 million last year and spent 73 percent on charitable programs.
Belinda Johns, senior assistant attorney general for the charitable trusts section, agreed that charities can legitimately spend money on fundraising campaigns that yield little up front. The state can't regulate what percentage charities receive, so it's up to the donor to figure out whether money is being wasted.
"Our consistent message, which is very hard to get out, is you've got to pay attention," Johns said.
Children International reported bringing in $3.4 million through on-the-street solicitors, but ended up with a loss of $3.9 million. The $7.3 million total cost was for a nationwide campaign, not just California, said spokeswoman Dolores Kitchin. As donors continue to give, she said, the organization eventually gets a 300 percent return on the effort.
"Contributors who have joined Children International through this campaign are making a substantial difference in the lives of children around the world," Kitchin wrote in an e-mail.
The street soliciting that many prominent charities use can be an effective way of reaching young people, but it's also problematic, said Daniel Borochoff, president of CharityWatch.
"You shouldn't be giving your credit card to people out on the street," he said. "You should go home and research it, think about it, consider your options."
More problematic are organizations that routinely give away most donor money to professional fundraisers. Some groups, Borochoff said, see the small cut they get as "easy money."
CharityWatch, for example, gave bad ratings to the Firefighters Support Foundation, Woman to Woman Breast Cancer Foundation and American Federation of Police & Concerned Citizens, each of which raised money in California last year. None of the groups responded to requests for comment.
"Anything that's a really popular cause, as a donor, you have to be really careful that it may be more of a business opportunity for people to make money," Borochoff said.
The Woman to Woman Breast Cancer Foundation hired three companies to raise $6.9 million last year. The charity received 6.8 percent of the money.
Most of that was raised by Community Support Inc., a Wisconsin company specializing in mail and phone solicitations. In 2009, then-Attorney General Jerry Brown sued Community Support, as well as a charity that hired it, for misleading donors. Fundraisers told donors that 80 to 100 percent of their donations would go to the charity, when in reality only 10 to 11 percent did, according to the suit.
In a settlement with many states, Community Support agreed to restrictive conditions on its fundraising and to pay $200,000. More recently, the company withdrew its registration to raise money in California.
Maryland-based Trees for the Future has an entirely different fundraising arrangement. Sutter Home Winery in Napa Valley donates a small amount to the charity for every bottle of Trinity Oaks wine it sells. Trees for the Future sends tree seeds and training to developing countries to help with rural development, according to Interim Executive Director David Tye.
"Trinity Oaks has helped to plant approximately over a million and a half trees in developing countries around the world," Tye said. "I think it's been great for both them and us."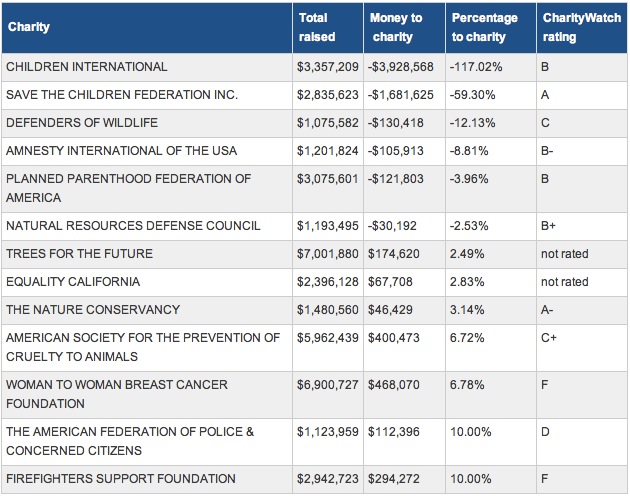 Will Evans is an investigative reporter for California Watch focusing on money and politics. Find more California Watch stories here.
Support HuffPost
The Stakes Have Never Been Higher
Related
Popular in the Community