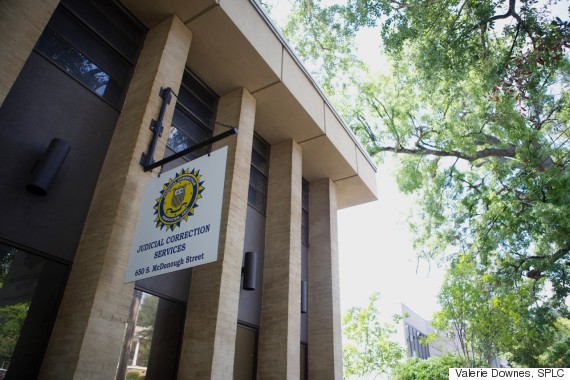 The pitch is simple: For no cost, a private company will help collect fines and fees owed to cities. These for-profit firms, called probation services companies, don't charge cities anything.
Instead, these companies put citizens who can't afford to pay fines, such as traffic tickets, on payment plans that slam them with exorbitant fees, and then illegally threaten people with jail time if they fail to make payments, according to a federal lawsuit filed Thursday by the Southern Poverty Law Center.
The lawsuit alleges that an Atlanta-based company called Judicial Correction Services (JCS) and the city of Clanton, Alabama, violated federal racketeering law and Alabama state law by putting citizens on what is known as "pay-only probation" -- basically, threatening citizens with jail time if they can't pay fees and fines.
According to the lawsuit, Clanton resident Roxanne Reynolds was put on a payment plan with JCS because she couldn't pay $1,632 in traffic tickets, court costs and a failure-to-appear fine. A mother of three and already struggling financially, Reynolds fell behind on her payments after she was diagnosed with multiple sclerosis and had to miss three straight months of work at her job at an auto-parts plant.
Reynolds eventually paid her debt to Clanton, but it took her 15 months and cost her four days in jail and $610 in fees paid to JCS, according to the suit.
The monetary toll was huge, but so was the emotional burden, Reynolds told reporters in a conference call arranged by the SPLC on Thursday. "Every time I left the JCS building I was so scared that I would break down and cry," she said.
Essentially, Reynolds had funded the collection of her own fines by paying a private, for-profit company 37 percent more than she owed to the city, according to the suit. Reynolds' experience is an example of what the fine-collection industry calls the "offender-funded model" of fine collection.
JCS initially declined to comment on the case, but asked The Huffington Post to call it back. HuffPost left a message that was not returned and attempted to leave additional messages, but the company's voice mailbox was full. The law firm representing the City of Clanton did not respond to a request for comment.
The SPLC suit says JCS created plans with minimum monthly payments of $140, $40 of which were fees paid directly to JCS.
The fees collected, the SPLC said, always had priority over the municipal fine. If a citizen could only make a partial payment one month, JCS collected its full $40 fee, according to the suit, and the city got whatever was left.
And if citizens couldn't pay enough to cover JCS' fees, the company threatened them with jail time, the suit says, in violation of state and federal law.
JCS regularly suggested that it operated under the power of the government, according to the suit. Under its contract with the city of Clanton -- which JCS won without a public bid in 2009 -- the company's employees get to call themselves "probation officers," according to the suit. On the conference call with reporters, SPLC lawyer Sam Brooke said that JCS employees would walk into meetings with people who couldn't make payments wearing handcuffs on their belts.
A 2014 Human Rights Watch report estimated that more than 1,000 court systems across the U.S. use the same privatized fine and fee collection systems.
Municipal use of private companies to collect the fines appears to be on the rise due to many cities' increasing strapped finances. Smaller budgets can mean that when cities look to raise funds, they don't have the resources to collect those fines themselves. Overall, however, strong historical data about the use of these practices does not exist because these private probation companies largely deal with city or county courts and are generally not transparent with their business practices.
The number of individual cases assigned to private probation services companies by those court systems is staggering. The New York Times' Thomas Edsall noted that the HRW report found that in "Georgia in 2012, in 'a state of less than 10 million people, 648 courts assigned more than 250,000 cases to private probation companies.'"
Popular in the Community