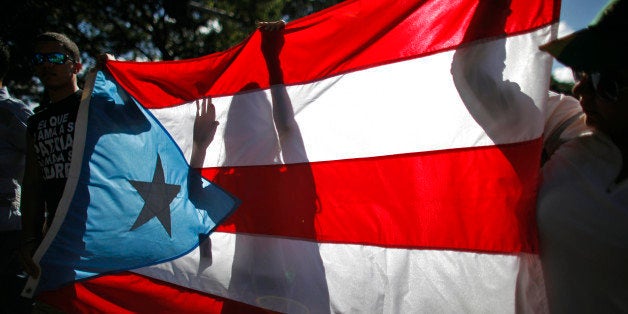 The press has turned its attention to Puerto Rico in the wake of the recent claim, made by the island's governor, that Puerto Rico cannot pay all of its $72 billion in outstanding debts. Much of the analysis is simplistic and superficial. This is unfortunate, because skewed media coverage can cause policymakers and members of the American public -- some of whom are being introduced to the subject of Puerto Rico for the first time -- to draw erroneous conclusions.

To properly assess the situation, one should ask and answer three questions. First, what, exactly, is Puerto Rico? Second, what are the main causes of the economic crisis in Puerto Rico? And third, what steps should be taken, in both Washington, D.C. and San Juan, to empower Puerto Rico to manage this crisis and, ultimately, to prosper?

Puerto Rico is a territory of the United States. This is not a unique or special political status; it is the same status that four other smaller U.S. jurisdictions have, namely the United States Virgin Islands, Guam, the Northern Mariana Islands, and American Samoa. Puerto Rico is not a sovereign nation. Nor is Puerto Rico a "commonwealth," a word that is frequently used by the press but one that is devoid of meaning.

Puerto Rico's 3.5 million residents are American citizens who carry U.S. passports and can move to the states for the price of a one-way plane ticket. Indeed, over 4,000 of my constituents are now exercising this right every month. Island residents have served in the American military in large numbers since World War I. Nine service members from Puerto Rico have won the Medal of Honor. A mostly Puerto Rican unit of the U.S. Army, the 65th Infantry Regiment, was recently awarded the Congressional Gold Medal for its combat performance in the Korean War.

Under the U.S. Constitution, the federal government has nearly absolute power over its territories. Over the years, Congress has delegated to Puerto Rico about the same authority over local matters that the states possess under our system of federalism. For example, in the 1950s, Congress authorized Puerto Rico to draft a state-like constitution and then approved that constitution. Like the states, Puerto Rico has three branches of local government -- a popularly-elected governor, a bicameral legislature, and a judiciary. Every federal agency has a presence in Puerto Rico. Federal law is supreme in Puerto Rico, interpreted by federal judges nominated by the president, confirmed by the Senate, and enjoying lifetime tenure.

Accordingly, if you see an article describing Puerto Rico as an "island nation" or "a Caribbean country" -- perhaps you ought to stop reading. The reality is that the economic challenges that Puerto Rico confronts are as "American" as those faced by California in the early 2000s or by Detroit in 2013.

Puerto Rico is essentially a U.S. state, with two critical differences. My constituents cannot vote for president (although they do participate in presidential primaries), have no U.S. senators, and have one delegate in the U.S. House of Representatives, a position I have held since 2009. I can introduce bills and vote on the committees to which I have been assigned, but I cannot vote on the floor. Puerto Rico thus lacks the most fundamental feature of American political life: democracy.
In addition, Puerto Rico is denied equality. As a territory, it can be -- and often is -- treated worse than the states under federal spending and tax credit programs. I enumerated some of the more egregious disparities in a recent op-ed in The New York Times. Puerto Rico is deprived of billions of dollars annually -- money that could be flowing through our local economy -- as a result of this unequal treatment.

If you genuinely want to understand why Puerto Rico is mired in a crisis, but you disregard or downplay the lack of political and civil rights in the territory, then you are missing a core point. As a result of mismanagement by territory officials, Puerto Rico's problems have grown worse in recent years (and therefore attracted more media attention), but it is important to underscore that these problems are longstanding and structural in nature.
If you look back 10, 20, 30 or 40 years, you will see that Puerto Rico has invariably lagged far behind the states (and states, not foreign nations, are the appropriate point of comparison for a U.S. territory) based on every economic metric, including unemployment, poverty rate and average household income. Puerto Rico has a debt problem because our government has over-borrowed, and the main reason our government has over-borrowed is to compensate for the lack of federal economic support. In this sense, inequality has bred irresponsibility.

Both of these factors -- lack of equal treatment at the federal level and lack of discipline at the local level -- must be addressed if Puerto Rico is to achieve economic growth and stem the outflow of island residents to the states. Given my current role as Puerto Rico's representative in Washington, let me briefly focus on the reforms that should be made at the federal level to assist Puerto Rico.

I am a strong supporter of statehood for the territory, which is the only way to guarantee full equality for my constituents. In 2012, the government of Puerto Rico held a referendum in which voters expressed opposition to remaining a territory and expressed a preference for statehood. The federal government responded by enacting legislation to enable Puerto Rico to hold the first federally-sponsored vote in history, so we can finally resolve this issue. I expect that this vote will occur in 2017, that voters will reaffirm their desire for statehood, and that Puerto Rico will petition Congress to enact a law admitting Puerto Rico into the Union.

Until Puerto Rico becomes a state, as I am optimistic it will, there is no reason why Congress and the President should not take meaningful steps to improve the territory's treatment under federal programs, including health programs like Medicaid and Medicare, programs like the Earned Income Tax Credit that encourage work in the formal sector, and other social safety-net programs that currently exclude or shortchange Puerto Rico. Congress should also enact my legislation to empower the Puerto Rico government to authorize its insolvent municipalities, specifically its public corporations, to seek relief under Chapter 9 of the federal bankruptcy code, a power that Congress has granted to all state governments.

In general, proposals designed to narrow the gap between Puerto Rico and the states should be embraced, while proposals that seek "special" treatment for Puerto Rico should be viewed with skepticism. Too often, efforts to provide Puerto Rico with different treatment, even if well-intentioned, ultimately harm rather than help the territory. The American citizens of Puerto Rico seek and deserve equality, nothing less and nothing more.
Rep. Pedro R. Pierluisi, a Democrat, is Puerto Rico's delegate in Congress.
PHOTO GALLERY
Outspoken State Lawmakers
Calling all HuffPost superfans!
Sign up for membership to become a founding member and help shape HuffPost's next chapter