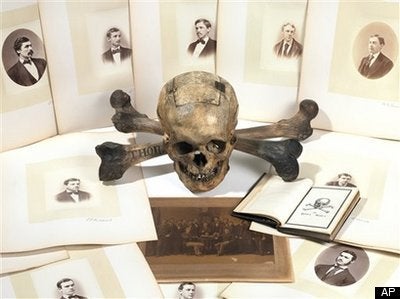 In 1917, Margaretha Zelle, the spy better known as Mata Hari, was executed by firing squad. Her skull became part of the collection at the Museum of Anatomy in Paris. In 2000, the museum's archivists discovered that the skull was missing, probably stolen. The case remains unsolved.
I wondered: Why would anyone steal a skull? Or even want one?
Little did I know. Skull collecting is a veritable subculture. One man's macabre relic is another man's Barry Bonds seventy-first home-run ball.
And craniomania is nothing new.
In Cranioklepty (Unbridled Books, 2009), author Colin Dickey explains: "From 1790 to the mid-nineteenth century, interest in phrenology sparked a bizarre and intense fascination with the human skull, and in particular the skulls of great men."
It drove other men to skullduggery, literally. Notable victims include composers Franz Joseph Haydn and Wolfgang Amadeus Mozart, and English philosopher Thomas Browne. According to Dickey, Browne stands as an icon in the history of cranioklepty because of his concern over the desecration of his final resting place. "Who knows the fate of his bones, or how often he is to be buried?" Browne wrote, adding, "To be gnawed out of our graves, to have our skulls made drinking-bowls, and our bones turned into pipes to delight and sport our enemies, are tragic abominations."
In the course of my investigation of this realm, I learned that Ludwig van Beethoven's skull is for sale.
The seller is California businessman Paul Kaufmann, who first became aware that his family possessed the item in 1990. While searching among his late mother's possessions, he happened on an ancient, pear-shaped box labeled "Beethoven."
Years of investigation by historians and scientists make a compelling case that the box was labeled accurately. Exhibit A: Kaufmann's great-great uncle was a physician closely involved in the 1863 exhumation of Beethoven (and Franz Schubert) largely for scientific study; according to several accounts, the physician kept Beethoven's skull. Exhibit B: Tests of existing strands of the composer's hair point to a DNA match. For Exhibits C through Z, see Dickey's book.
In 2005, Kaufmann loaned the skull, which is in fragments, to the Ira F. Brilliant Center for Beethoven Studies at San José State University, so that tests might be conducted to learn about Beethoven's medical condition and cause of death.
Now Kaufmann would like to find a permanent home for the skull. "The objective is to share it with the public," he told me. "In my heart it should be in a museum." He also hopes that a compatible institution will pay in excess of $100,000.
According to Dickey, Brilliant Center director William Meredith, and other experts I spoke to, it's difficult to place a cash value on the skull, though Kaufmann may meet his goal at auction. In 1978, a skull purported to belong to theologian Emanuel Swedenborg sold at Sotheby's for $3,200. Earlier this month, Christie's planned to auction a skull that had been used as a ballot box by Yale's secret Skull and Bones society. Before withdrawing the item due to a title claim, the company estimated it would sell for $10,000 to $20,000.
Kaufmann told me that Sotheby's turned him down, reluctant to again deal in body parts. (I've been in touch with Sotheby's officials but have yet to receive a comment.) But a prominent British vendor, whom Kaufmann preferred not to name, is eager to conduct the sale. Christie's may be a contender as well. A Christie's spokesperson, Erin McAndrew, told me via e-mail: "Christie's policy is in keeping with applicable local and federal laws in each jurisdiction in which we sell. Every item is considered on a case by case basis in accordance with that policy."
"Out of respect for the dignity of Beethoven," Dickey says, "I think most people would be happy to see [the skull] go to some resting place." An obvious choice would be Vienna's Central Cemetery, where the rest of Beethoven's body is interred.
While agreeing that the skull deserves to be treated with reverence, Meredith questions reinterment, at least in the short term. "Is it kept as something that will help us understand the person better, or is it kept as a souvenir? People often willingly leave their body parts to science so as to advance medical knowledge and understanding. Beethoven specifically asked his doctor to reveal to the world what his medical condition was."
For now, Kaufmann asks interested parties to e-mail him at skullbet@yahoo.com. And there is new meaning in the Chuck Berry lyrics "Roll over Beethoven and tell Tchaikovsky the news."
Related
Popular in the Community