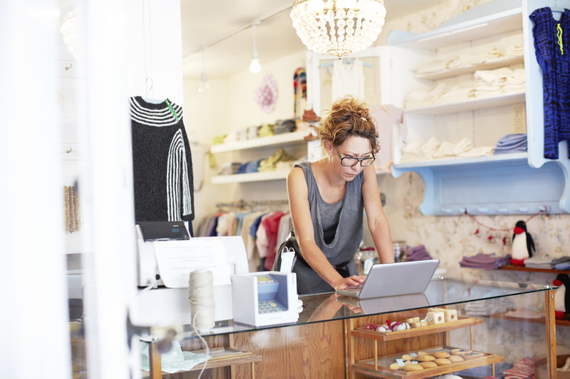 It hasn't always been easy for small businesses to get bank money.
The problem? Their inability to satisfy traditional bank underwriting guidelines.
In "The Credit Cleanup Book" I outlined this lengthy criteria, which typically includes: three years of tax returns, financial statements, Articles of Incorporation and tax IDs, a clear ChexSystems record, personal credit reports, and general proof of liquidity... did I mention liquidity?
Businesses live and die by it. Growing up the daughter of small business owners, and for anyone who's owned a small business, we can certainly attest to the daily anxiety of taking in enough cash to pay vendors, overhead and employees -- and hope there's enough left for ourselves and a rainy day.
With 23 million small businesses in the U.S., according to sba.gov, there's certainly a market ripe for the taking. After all, as the economic backbone of America small businesses generate almost half of the country's private GDP and retail sales and create on average two-thirds of net new jobs annually, according to SBECouncil.org.
Despite this, they often struggle to stay liquid and further, to obtain growth capital.
What's a small business to do?
Back in the day, a small business might turn to a bank. But in attempts to qualify for financing, it faced a dilemma where it was either too new to show satisfactory history on the books, or not making enough money to meet minimum revenue thresholds.
Banks err on the side of caution when underwriting, and post-recession they haven't exactly loosened guidelines.
Nowadays, small businesses can go online for short term capital. Just like every other industry that's being shaken up by technology, so is financial services and in particular, traditional SBA financing.
Online lending companies, armed by a combo of traditional underwriting and new proprietary data science, are ready to supply working capital so small businesses can get back to doing business as usual. They're not banks but work like them, and they're well-funded by investors and institutions who have bet on their success.
Get by with a little help from your peers
Last October, I wrote this primer on peer-to-peer (P2P) lending as an alternative to consumer credit card debt, and as a place to obtain short term funds. If you're unfamiliar with how P2P lending works, read there first for the how and why.
Unlike P2P leaders Lending Club and Prosper, who have historically catered to consumers, Funding Circle provides loans exclusively to small businesses.
After being rejected 96(!) times for a $100,000 small business bank loan for his gym business, Sam Hodges realized the potential market of small businesses in need of financing. Hodges then co-founded what is now Funding Circle.
"What we're creating is an entirely new marketplace exclusively for small business owners to gain access to fast and affordable financing to grow their businesses," Hodges said.

The initial process is similar to other P2P lending engines: apply online, submit information, receive a pre-approval. With Funding Circle, businesses may then be expected to submit 2 years of tax returns showing at least 1 year in profit. On average, Funding Circle's clients have 10 employees, have been in business 8 years, and are making $1 million to $2 million in annual revenues.
Average loan sizes are $130,000 but the max loan amount is $500,000, payable over 1 to 5 years, at rates from 5.9 percent up to 20.9 percent depending on payback terms and risks. Of course, these are fixed loans with no prepayment penalties. More rate info can be found here.
Since its inception in the UK in 2010, the company has lent roughly $800 million, funded by individuals, investors, and even the British government, to over 7,000 businesses globally. Loan payback default rates are currently less than a 2 percent -- chalk it up to savvy credit risk modeling.
Funding Circle's goal isn't to replace banks; in fact, it has partnered with Santander and RBS to retrieve small business referrals that may not fit the banks' credit criteria. It's not the only P2P lender making lucrative partnerships.
Fresh off its IPO, Lending Club's recent alliance with Chinese e-commerce giant Alibaba opens its P2P platform to millions of U.S. small businesses. In a Financial Times report, CEO Renaud Laplanche said, "Our small business lending platform strategy is to form a number of partnerships with companies that have millions of small business customers...The Alibaba platform is the perfect partner... they have millions of U.S.-based small businesses that are buying on Alibaba.com."
Another online small business lender to check out? Kabbage.
Stay on top of cash flow.
Small businesses now also have a "simple way to fix their cash flow by advancing payments for outstanding invoices," claims Fundbox.
Focusing on B2B companies, Fundbox helps vendors and suppliers upfront by advancing money on invoices with longer payment terms -- say 30 or 60-day net -- so they don't run out of cash while waiting on cash. To get started, businesses create a Fundbox account and link their bookkeeping app software from Quickbooks, Freshbooks, and others.
Fundbox then peeks at business records, applies data magic (read: underwrites) and determines almost instantly whether it can help. During the process, a company's general discipline, cleanliness of books, bill payment history and other criteria is reviewed. If approved, clients then select the invoices they want satisfied, Fundbox pays the invoices on the same or next business day, and clients repay the amounts back over 12 equal weekly payments.
Average credit lines are $7,500 and typical clearing fees are $52 to $72 on a $1,000 invoice. Clients can pay invoices back early with no penalty and are refunded for what they don't need.
"We are a data science company first, solving a very real problem of invoices not being paid on time, which we understand puts a lot of pressure on small businesses," said Fundbox CEO Eyal Shinar. According to Shinar, of the $70 trillion exchanged between businesses, roughly 10 percent is left to outstanding invoices.
Clients are also rewarded for loyalty. "We don't care if the amount is $100 or $25,000; it costs us the same to underwrite both. The more you use Fundbox, the more comfortable we are with you and the better your clearing fees are further down the road."
As online lending marketplaces grow, so will scrutiny on their business operations, revenues and how they're regulated. They pride themselves on transparency and low-risk data models, which have resulted in low payback default rates from the hundreds of borrowers funded. In the meantime, if you're a small business owner in need of short term working capital or waiting too long to get paid, then these bank alternatives are worth having a look.
Related