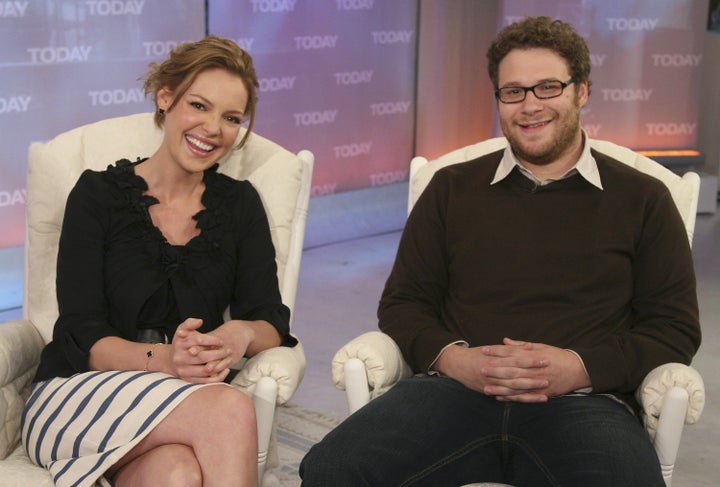 By now, everyone is familiar with the ballad of Katherine Heigl and Seth Rogen, the two former "Knocked Up" co-stars who had a very public falling out.
The feud all started when Heigl told Vanity Fair that Judd Apatow's 2007 film was "a little sexist" for its portrayal of women. 
The actor recently opened up about his dispute with the actress in an interview with Howard Stern on Monday. 
"We just heard that she didn't like it and that it seemed like she didn't have a good experience making it," the 34-year-old said. "As someone who's an egomaniac, I just get hurt by that, so I just thought, like, 'Oh, she must fucking hate me.'" 
Rogen also told the shock jock that he felt blindsided by Heigl's comments at the time, because he thought that he and the "Grey's Anatomy" actress meshed well during filming. 
"As we were making the movie, honestly, I was like, 'I would make a dozen movies with her," the actor said. "Like, I would be whatever the shitty version of Tom Hanks and Meg Ryan is. I thought we had a great dynamic, people seemed to like it, we were funny together, [and] I was having a very good time." 
Rogen said he never got the call. Still, he doesn't harbor any ill will toward Heigl.  
"I respect the fact that maybe, that perhaps she realizes it has hurt her career, and I don't want that to have happened to her at all," he said. "Because I've said a thousand stupid things, and really like her. And I don't want that to have happened to her at all. Especially if she is being honest, the only people who, in this situation, should in any way take anything from it is me and Judd. Because we are the ones she was talking about. For other people to not work with her because she didn't like her experience with us is crazy."
Perhaps most surprising about this interview is the continued narrative that Heigl must apologize. She shouldn't have to. In 2016, Heigl's comments would've spawned dozens of think pieces in support of the actress. And looking back, her comments about "Knocked Up" aren't nearly as offensive as one might think. 
"It paints the women as shrews, as humorless and uptight, and it paints the men as lovable, goofy, fun-loving guys," Heigl said at the time. "It exaggerated the characters, and I had a hard time with it, on some days. I'm playing such a bitch; why is she being such a killjoy? Why is this how you're portraying women? Ninety-eight percent of the time it was an amazing experience, but it was hard for me to love the movie."
Sounds like she was right on the money. 
Listen to Rogen's entire interview with Stern below: 
REAL LIFE. REAL NEWS. REAL VOICES.
Help us tell more of the stories that matter from voices that too often remain unheard.
BEFORE YOU GO
PHOTO GALLERY
Celebrity News & Photos