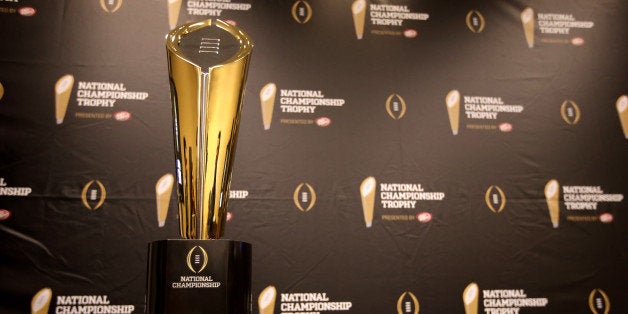 She didn't set out to be first.
Growing up, the fabric of sportscaster, Rachel Baribeau's, story was woven with sports. With two brothers who played everything from basketball to archery, a grandmother who was a diehard Atlanta Falcons and Auburn football fan and a stepfather who took the time to teach her the ins-and-outs of football, perhaps it's no surprise that Baribeau's career led her to sports.
Working in sports may have been the natural career route for Baribeau. Yet, getting where she is today--with roles as a sideline reporter for the ACC Network and the first female host on SiriusXM's College Sports Nation--was no easy feat.
When you ask Baribeau how she got to where she is today, there are two things that become clear. First, her success is largely the result of her hustle. Second, she's been on the forefront of some exciting opportunities for female sportscasters.
After graduating from Auburn University with a degree in radio, television and film, Baribeau moved to Columbus, Ga. to begin building her career. While she had industry internships in college, Baribeau would find that paving her way through the professional world upon graduation required grit, persistence and determination.
Unable to initially find a full-time paying job, Baribeau spent her nights selling log homes for her parents' business and her days sideline reporting for the Columbus Wardogs arena football team. She event spent a summer becoming the first known woman to participate in a professional football team's training camp to show her desire to learn everything about the sport she wished to cover. "In many places, 'hustle,' is seen as a bad word. In this industry, though, hustling is a beautiful thing," Baribeau noted as she discussed her early days as a professional sports broadcaster.
Soon enough, Baribeau's hustle paid off. DJ Jones, a former University of Georgia football player, hosted a radio show on a Columbus sports radio station. When she was 24 years old, Jones gave Baribeau her first opportunity to co-host a radio show. "That was ballsy of him. I look back and realize I didn't know a lot then. Sure, I knew a lot for being that age, but it was still a bold move by DJ," Baribeau said.
Co-hosting with Jones ultimately led Baribeau to receive her own show on an ESPN radio affiliate station in Columbus. However, for all of her hustle, the opportunity was short lived. "I had a radio show for two-and-a-half years, until the economic downturn in 2009. They told us they couldn't afford to pay us anymore. I went home and for two days, cried in my Cheerios," Baribeau recalled.
With her dream to be a sportscaster seemingly dashed, instead of choosing to give up on it, Baribeau opted to do what she'd always done before: Hustle. "I went to work managing a hair salon. However, I said, 'I'm a sportscaster.' I called everyone I knew and asked if they'd keep me on the radio, so my name would stay out there," she explained.
Along with making guest appearances on radio shows, Baribeau bet on herself in 2009 and took a few days off from her job at the hair salon to cover SEC Media Days. "I went and worked as if I had a job. However, my job was to get my next job. I worked like a madwoman. If the meeting started at 7 a.m., I was there at 6:30.," she explained.
For Baribeau, hustling once again paid off. "On the last day, I got a tap on my shoulder. A guy said, 'I've been watching you, and you're spectacular.' He asked if I'd come to Tuscaloosa and work for the Tuscaloosa News to cover Alabama football for its web division," Baribeau said.
While sportscasting was her dream, the decision to accept the position didn't come immediately for the Auburn graduate and lifetime Auburn football fan. "I was an Auburn girl and this was like going into enemy territory," she remarked.
However, Baribeau saw the bigger picture career-wise in accepting the position. "It was a clear delineation for me as to whether I wanted to be a fan or an objective reporter. If you go into the other team's foxhole, you become an objective reporter," she explained.
Going into the other team's foxhole not only brought life back to Baribeau's sportscasting career, but it also prepared her for the next opportunity she is about to embark on. On Monday, Baribeau will become the first in-game host of a College Football Playoff National Championship Game. For Baribeau, though, this isn't her first rodeo in covering a college football national championship. While working for the Tuscaloosa News, she covered two national championships won by the Crimson Tide and in the meantime, learned a thing or two from arguably the greatest college football coach in the 21st century. "Covering Nick Saban made me a better reporter. If you don't have your ducks in a row and facts straight when you go in to interview him, he'll make you pay," Baribeau said.
Hosting the in-game show for the inaugural College Football Playoff National Championship marks another first for Baribeau and her career. Yet, for all of the hustle and preparation that's gotten her to this point, she is not unaware of the moment's place beyond her career. "I never set out to be the first at anything. There was never a thought in my head to be first; rather, I was just trying to survive and love what I do. I love history and I love the history of the game of football. I love where the history of the game is going. This national championship is historic. When I started my career, I never thought we'd see a playoff in college football. The convergence of history and the reality of this and the sweeping change we're going through in college football is the stuff kind stuff they're going to write about in the history books. We're living it right now--that's unfathomable and exciting, and makes my participation in the first one that much more exciting," Baribeau remarked.
REAL LIFE. REAL NEWS. REAL VOICES.
Help us tell more of the stories that matter from voices that too often remain unheard.