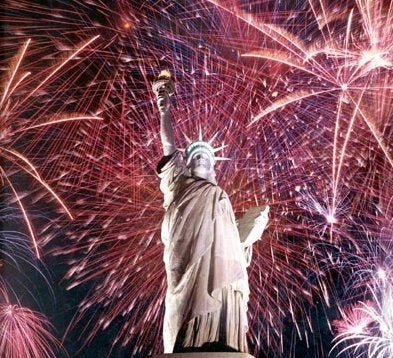 "I am a patriot
And I love my country
Because my county is all I know
And I ain't no communist
And I ain't no capitalist
And I ain't no socialist
And I ain't no imperialist
And I ain't no democrat
And I ain't no republican
I only know one party
And it is freedom
And the river opens for the righteous
Someday"
During the last years of the Bush Administration, rocker and activist Jackson Browne took to singing Little Steven's above song at many of his concerts. His point, I think, is clear -- he was challenging the conventional idea of patriotism with one of his own -- one where patriotism basically means one thing -- a "real" form of patriotism that doesn't care a whit for anything but extending the bounds of freedom and doing the righteous thing.
People practice this type of patriotism every day. It's not generally the kind of stuff that makes the news, however.
It's not the empty gesture, or the flag waving patriotism that we've been taught is the only form of patriotism. It moves, it breathes, it takes action because action needs to be taken. It's real, authentic.
"When you're solving real problems in the country, partisan politics matter less," says Kiernan.
Kiernan pounded the pavement throughout the country, looking for those who were working to solve problems simply because they saw a need and responded. They wanted a better America, and they were willing to work for it, ground level.
And he found plenty of this patriotism. There are over 60 groups and individuals mentioned in the book.
Majora Carter, now a fairly well known MacArthur "genius" and environmental justice advocate who heads the Majora Carter Group, is one of the people profiled. Born and raised in the South Bronx, Ms. Carter's community bore more than its fair share of environmental burdens -- like handling 40 percent of the commercial waste of NYC. The South Bronx, for many, had become nothing more than a dumping ground -- a place where mostly low income people of color had no clout, little hope, and few champions. She began her journey as a volunteer for one non-profit, eventually started her own, hired staff, and started to show that good jobs and a good environment could go hand in hand.
The Innocence Project was founded by Barry C. Scheck and Peter J. Neufeld at the Benjamin N. Cardozo School of Law at Yeshiva University. Their idea was that, with the inception of DNA testing, they could help prisoners who were innocent to finally prove it. To date, 255 people in the United States have been exonerated by DNA testing, including 17 who served time on death row.
Those are just a couple of examples that are given major ink in the book.
Many of the individuals profiled in the book started out to fix one thing -- finding a cure for a sister's disease, making a community less toxic and more livable, establishing a clinic for those with unmet health needs. What's interesting is that most of these folks couldn't really keep it to themselves. In time, they needed to expand their reach, to organize others in order to do all the work necessary. Whether they realized it or not at the time, the simple act of wanting to fix something turned into a grand organizing task that brought more and more people into the process; more people turned into authentic patriots.
Kiernan says that since the book has been released, he has had the opportunity to speak before many groups. And his biggest surprise was how hungry people are for this kind of information and the extent to which the kind of patriotism and patriots found in the book appeal to everyone. It transcends partisan politics.
I could have told Kiernan that this would happen. Most people instinctively want to help and, importantly, they absolutely have to have hope. In a country where we are still fighting two wars, where the economy is at depression levels and one of the most catastrophic environmental disasters continues in the Gulf, people really need to know that good things are happening and that they, too, can make them happen.
Look, for example, at what "regular" people did after Katrina. Literally thousands of people made their homes available to those leaving New Orleans through a project started by the organization MoveOn. They put up a website called HurricaneHousing.org, where people who had beds, rooms, or anything for Katrina evacuees could post them. They posted by the thousands. And those who housed people said they felt, well, good. That's the other little secret. Doing something good actually makes you feel good as well, and you often find a world you didn't know existed. It also connects you in a very basic way to your neighbors, your community and your country.
So maybe you are an authentic patriot or would like to become one?
Kiernan doesn't stop at just the book. He has started something called the B1 campaign which hopes to "empower all Americans over the age of 10 to participate in some endeavor that serves the public good." Find more about that here.
You can also see Kiernan talk about the book and the notion of patriotism on the Fox news program "Happening Now today, Friday, July 2nd, during the noon-1pm hour.
"...And the river opens for the righteous ... Someday"
Related
Popular in the Community