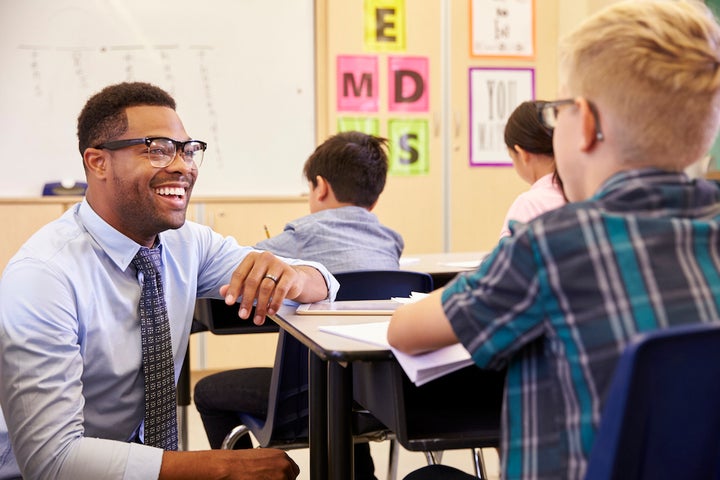 Today, the educational environment is plagued by teacher shortages and uncertainty; our top priority should be building a strong pipeline of talented educators committed to preparing students for success. In the midst of a changing education climate, many people are leaving their jobs in search of a career with purpose and intrinsic reward where they feel impactful on a daily basis. Known as career changers, these dedicated educators make the switch to the classroom to fulfill a need in their communities and in their hearts.
According to a recent University of Phoenix College of Education survey, one in three (34 percent) K-12 teachers nationwide say they changed careers to join the teaching profession, with 36 percent of career changers coming from a business and management background. When asked why they made the switch to teaching, 36 percent said they had always wanted to be a teacher.
Career changers bring diverse skillsets and unique hands-on experiences from previous roles that often enhance the student learning experience. Across the nation, K-12 educators surveyed agree that there are strong benefits of having career changers in the classroom, including bringing "real world" applications for subjects being taught (64 percent), fresh ideas (48 percent) and more teacher diversity (46 percent). Our recent statewide efforts should be focused on encouraging professionals looking to make a career change to take that crucial first step toward entering the classroom, including profiling and celebrating the successes of our current educators and highlighting the benefits of transitioning to a career in education.
The importance career changers make in the classroom cannot be overstated. For those considering career changing into the classroom, here are some tips on how to be best prepared for a career in teaching:
Seek educator preparation that provides strong teaching practice knowledge. Teacher effectiveness relies on a deep study of the complexities that accompany being an effective educator. Finding a preparation program that helps aspiring educators grow and refine their craft is helpful for long-term success in a classroom setting, and is especially beneficial during the first few years in the profession.
Choose a school that is willing to invest in your efficacy and retention through strong induction programs designed to support first- and second-year teachers in areas critical to long-term success. This includes classroom management, lesson planning, instruction and assessment, all essential skills for any educator. Forty-one percent of K-12 teachers cite strong new teacher induction programs as a way to grow the teacher talent pipeline, as supported educators who hone key educator skills early in their career are set up to do well early on.
Identify a personal and professional support system, such as an experienced colleague and/or support from a professional organization. During my first year of teaching, I had dedicated time with my school's English department chair every day where we would go over what I had experienced in class, and discuss best practices for what I could try the next day. Having a seasoned educator providing regular feedback made me feel more comfortable and more effective than I would have on my own, and I highly encourage all educators to seek out the same level of support.
It is our responsibility to do what we can to help our teachers and students be successful, and this includes supporting career changers as they make the switch to the classroom. If you are interested in becoming a teacher, I would encourage you to look at your goals and respond to what you see. If you experience the call, answer it. Make a difference in the lives of young people. Become a teacher.
Calling all HuffPost superfans!
Sign up for membership to become a founding member and help shape HuffPost's next chapter