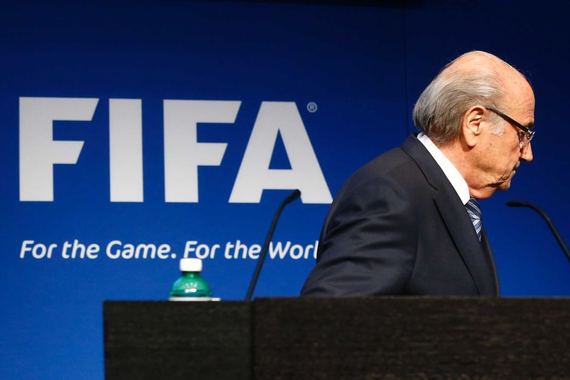 On the morning of May 27, 2015, Swiss authorities in coordination with the FBI arrested seven international high-ranking football officials at a Zurich hotel. Hours later, the U.S. Justice Department announced it was bringing charges against nine FIFA officials and five others for a range of serious criminal offenses including racketeering, wire fraud and money laundering conspiracies.
On the same day, authorities conducted a raid on FIFA's headquarters and announced their own criminal investigation into "irregularities" in the awarding of the 2018 and 2022 World Cups to Russia and Qatar respectively, targeting allegations of "corrupt behavior and money laundering."
Whatever the outcome of these investigations, it is clear that football's governing body -- first established over 110 years ago -- is in the midst of a legal, commercial and public relations crisis. For any organization, public, private or not-for-profit, to find itself in such a position is a sign that serious mistakes were committed, to say the least. There can be no doubt that FIFA's corporate governance processes, which 209 football associations across the world have put their trust in, have been grossly inadequate to allow such a situation to unfold.
This should be a cautionary tale for businesses everywhere on the need for transparency, accountability and anti-corruption measures that can give their stakeholders confidence in their practices and trust in their outputs.
Specifically, I believe there are a number of important lessons that can be learned from what has already emerged from the ongoing FIFA scandal:
First, the scene for good or bad governance always is set at the top. When senior executives of any organization are personally implicated in alleged corruption, alarm bells should be ringing about the kind of corporate culture that has been allowed to develop on their watch.
Second, a lack of transparency does not just limit an organization's ability to prevent governance failures. It also limits its ability to defend itself against allegations of corruption and maintain the trust of its stakeholders. When FIFA appointed the former U.S. Attorney for the Southern District of New York, Michael Garcia, to conduct a review of the ethics of the 2018 and 2022 World Cup bidding processes, it inadvertently scored an own goal with the treatment of his 350-page findings by announcing they could not be made public for "legal reasons." Subsequent public pressure compelled FIFA a few months later to publish a 42-page summary, which was described by Garcia himself as "materially incomplete" with "erroneous representations of the facts and conclusions," and left many wondering what the organization had to hide. Garcia subsequently resigned as FIFA ethics investigator in protest.
Third, when organizations have an international footprint, their activities in one market are often subject to the jurisdiction of regulators in another. In the FIFA example, the defendant's' use of the American banking system, in addition to the hosting of meetings in the United States to plan their alleged activities, in part gave the US Department of Justice the authority it needed to facilitate their arrests in Switzerland.
Fourth, governance failures at one institution can have far-reaching impacts on its stakeholders and their reputations. The allegations leveled at FIFA last month have put immediate pressure on large sponsors such as Visa, Adidas, Coca-Cola, McDonald's and Hyundai to take action. In good times and bad, their reputations are tied to that of international soccer. Even Interpol has distanced itself from the troubled soccer body, suspending a 10-year Euro 20 million partnership it established with FIFA in 2011 under the banner of "Integrity In Sport."

However, at a more basic level, I believe these events also offer an important lesson for the rest of us about the cost of accepting that certain things cannot be changed. You might call this a kind of apathy tax. After all, questions over the integrity of global soccer are not new. If even half of what has been alleged in recent years turns out to be true, how and why was this allowed to continue for so long?
We may argue that it was out of our hands, but it is becoming increasingly apparent that consumers and other stakeholders often have much more power than they think to hold organizations to account and bring about change within high-profile institutions. The #NewFIFANow campaign established in January 2015 is one example of how creative campaigning, and the effective use of social media can apply pressure to stakeholders (in this case, sponsors and national soccer associations) and go a long way in helping to shine a light on issues of concern and necessitate remedial action.
Good governance is a culture as much as it is a practice. It is a set of beliefs as much as it is a set of rules. The current crisis engulfing global soccer demonstrates how all of us, particularly in business, must always be vigilant about our own governance practices and those of the institutions we put our trust in. When the culture of any organization is allowed to spin out of control, there is no telling if things will ever be the same again.
__________________________________
Calling all HuffPost superfans!
Sign up for membership to become a founding member and help shape HuffPost's next chapter