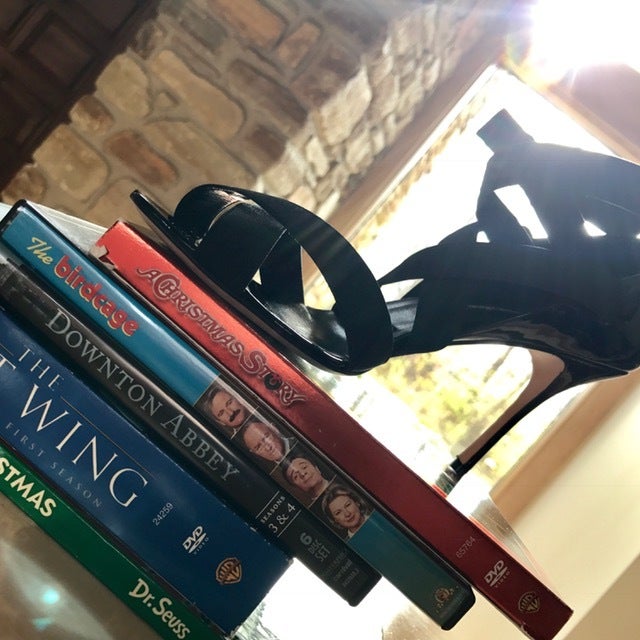 Here are 7 Mantras, favorite philosophical nutshells, in no particular order, taken from the entertainment world, where one can also learn a useful thing or two.
From: A Christmas Story (film) 1983
As written on the chalkboard during Ralphie's classroom reverie
It is a life long ego quest, to have that A+++++ moment, when a random or select other think as highly of you and/or your work as you do…. Admittedly or not, we waffle between faux piety and honest arrogance most of the time, playing chase with our idealized selves and carrying on with this n that so as to show the world what we (like to think we) are. How lovely it is when then an accolade is honestly earned, for it signifies not only a job well done, but the presence of good will that permits one to be genuinely happy for another. It is a golden moment when the spit-shine of self-actualizing endeavor is reflected back. In our good-grade-beholden, blue ribbon favoring society, this tip-top accolade is perfectly represented with the simplest, and first, Alpha character – and a whole lotta pluses.
I just want someone to like me best!
From: The Bird Cage (film based on the 1978 French release) 1996
Dianne Wiest as Louise Keeley
Humans are social creatures, needful of many years' nurturing and hence biologically wired for long-term commitment and attachment, which help explain our everlasting quests for Happily Ever After. It is why both love/in love and fairy tale yearnings don't go away, despite anti-princess efforts of certain parents, radical progressives and cads alike. Our very existence is the fulfillment of Need and Want Personified. We relentlessly seek the ultimate approval and/or ultimate pairing, which is not "just" love, but love, singled out (that blue ribbon mentality again; more on Need and Want below). Choice confuses us, for like dimestore crap collectors, we shop til we drop for love, confusing quantity with quality.... Here's hoping "shoppers" figure out before it's too late, that to read the whole book is far better than reading only the first chapters of many books. And while we all want and need love, if we are being introspectively honest, what we really long for is to be someone – or something's – Favorite. All I can add to that is: Thank God for pets. xoxoxoxo to Jade, Noel, Max and lil Miss Boots.
We are here, we are here; we are here!
From: Horton Hears a Who (book) 1954, (television special) 1970, (film) 2008
The Who's down in Whoville from within the dust speck
Short of fame, fortune and some tangible nod towards immortality via offspring, deeds or possessions, we all just want others to know we are here. We want our existence to count for something, anything. Everyone wants to be acknowledged, either as an individual or as a member of a specific collective. On the one end, it is as simple as believing/knowing one exists in others' worlds - whether in their intimate circles or on some casual periphery. On the other end, there is the deep, dark drive that causes individuals to make indelible, often destructive marks on others or other groups, which wreaks havoc among Mankind. It is that reaching for something bigger, something outside the proverbial village, when one does what he/she can to rise up and out of relative anonymity, to be noticed by more loftily placed others. And it's a magical turn in life, when the sum of one's deeds (finally) start to override luck and/or legacy - and what a long and rutted trek that is. Then; to be accepted? Ah, another thing entirely, taking us right back to those A+++ all over again.... It's all about Leben und Streben, Living and Striving, as my 90 year old Aunt in Berlin would say. In this tech inundated era, with dynamic interaction having taken a backseat to the chronic broadcasting of self (where we have yet to find a sustainable equilibrium), it is good to step back, look up and around - and then ask: Who is left to listen?
Education is the silver bullet. Education is everything. We don't need little changes. We need gigantic revolutionary changes . . . Competition for the best teachers should be fierce. They should be getting six-figure salaries. Schools should be incredibly expensive for government and absolutely free of charge for its citizens, just like national defense.
From: The West Wing, 1999-2006
Education is the silver bullet that can vanquish the societal beast that is Ignorance. Willful ignorance is its own monster, tough skinned and thick skulled. To counter this, we also need to champion the Arts at every level - and we need to officially elevate Humor to the level of Art, just as Nanny Vonnegut noted at a recent Kurt Vonnegut Library panel discussion, a point I too have worked to drive home for years. Think of the mighty pen, strong as a sword, with a feathery plume attached to tickle the nose and find the achilles heel of all those who refuse to allow the healing Art of Humor into their lives. Homage here to my lit idol, Charles Dickens, who with his 1843 classic for the Ages, A Christmas Carol, effected great societal change back in his own day, and ever thereafter:
This boy is Ignorance. This girl is Want. Beware them both, and all of their degree, but most of all beware this boy, for on his brow I see that written which is Doom, unless the writing be erased.
As for the spontaneous poetic prose, only in a Sorkinian land do one and all quip off-the-cuff like orators. Ernest-ly speaking, how nice if just a smidge of that would cross back over into our ever-diminishing 'merican Vern-acular... where the the transitive predicate "me" is once again employed (correctly) without fear, where the over-used "guys" is simply shelved, and where colorful words a la Franciase lose once and for all their faux-shockability....
When you want to be heard, lower your voice. And when you really want to be heard, whisper.
From: Downton Abbey 2010-15
Elizabeth McGovern's as Lady Cora Grantham
As wife, woman, volunteer and creative contributor, and especially as the mom of three, of which two punchy and tumblesome sons had me feeling at times like a drill sergeant, I wish I had had this example set for me thirty years ago, for the benefit of both my boys and my nerves. Plus, I like ladylike behavior and believe we women of the 21st c should, alongside the gender fusion trends of today, remain open to exploring its undeniable effectiveness, not as damsel in distressiness, but as an inherently pre-existing source of empowerment. Bellowing, or piping up like a Minnie Mouse Valley Girl, or croaking a la "vocal fry" are feminine speech trends that could stand some revisiting of the elocution practices of yore. Like that pen I mentioned, there is rock solid muscle in a good word, well placed and smoothly delivered.
From: Sex in the City, the TV series, 1998 – 2004
Sarah Jessica Parker as Carrie Bradshaw, to a pair of shoes spied in a window display
A Few of my Favorite Things are shoes - great fodder for fashion history + pop sociological fun. I am on record as calling shoes the 5th food group. Just as we need our fruits, veggies and proteins, I believe we also "need" regular doses of fabulous footwear. How dichotomous these style and status markers are: We debilitate ourselves with as much enthusiasm as we arm ourselves for the conquering of miles and milestones in our beloved shoes, where to actually be able to walk in them in this strong-woman day n age can still be so very secondary a consideration. And while some "of us" might famously refuse to disclose their age, I'll bet there are many more who refuse to disclose the number of pairs of shoes in their closet(s)…. Who, me? ;)
…It came without tags. It came without packages, boxes or bags....
From The Grinch Who Stole Christmas, (book by Dr Seuss) 1957, (animated short film) 1966, (feature film) 2000
The narrator, speaking of (the Spirit of) Christmas
Allow me to close with this Seussian nugget, to also counterbalance the (tongue-in-cheek) materialism of the previous entry. Our chronic consumerist Catch-22 is our search to either find or forge the forever evasive connection between fun – which can be bought – and happiness, which can never be bought. Most of us spend most of our lives trying to
A nod here to the late, great George Carlin, who served this Grinchly conundrum wonderfully well with his signature "Things n Stuff" schtick.
As this rather odd and at times sad year draws to a close, here is wishing for each and every one of you to be blessed with It - and to recognize It for what It is when It appears before you, however small or silent it may seem. And may It remain with you as a bright guiding and comforting light on into the next year and beyond, and may It help carry us forward together.
Links in text refer back to previous posts by Kimann. Photo by Kimann
Related
Popular in the Community