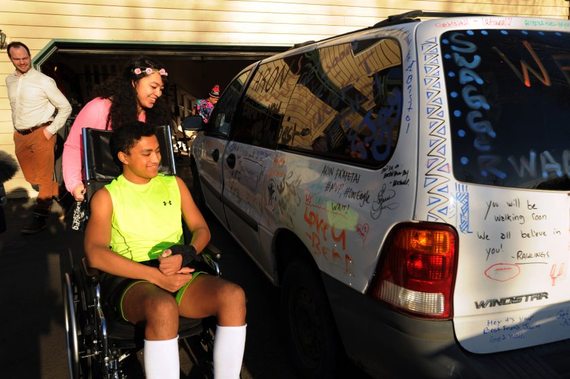 A wheelchair-accessible van decorated by his classmates was delivered to the home of West High freshman Aron Fa'afetai on Tuesday -- the second time this year the Ford Windstar has been donated to an Alaska family facing extreme challenges.
The van originally came from Cash Cab of Homer, which donated it to the Anchor Point family of 11-year-old Angelica Haakenson after Haakenson lost both of her legs in a Christmas Day highway accident.
Earlier that same month, Fa'afetai was paralyzed by a spinal cord injury suffered during a high school wrestling practice. Members of the two families met while their children were being treated in Seattle. When Haakenson progressed to a point where she no longer relies on a wheelchair, her family got in touch with the Homer wrestling staff, which got in touch with the West wrestling staff, which got in touch with the Fa'afetai family.
"To me it's a story of paying it forward," West wrestling coach Shawn Silverthorn said. "Two families were struck by extreme tragedy. The compassion they were able to show in paying it forward, it will help tremendously in giving [Fa'afetai] freedom."
REAL LIFE. REAL NEWS. REAL VOICES.
Help us tell more of the stories that matter from voices that too often remain unheard.