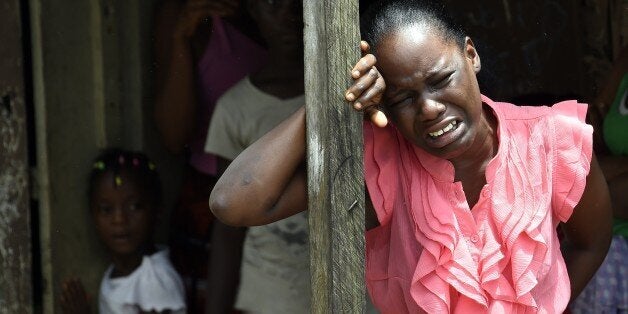 The deadliest Ebola outbreak on record is sweeping West Africa, with over 3,400 lives claimed already. The disease is spreading faster than ever before, with the World Health Organization estimating that 20,000 additional cases will be reported by November. And women are being affected most severely; in fact, 75 percent of those who have died from Ebola are women.
"Women have been affected in so many, many ways. Even though the disease of course affects both men and women, women are at a disadvantage -- period," says Marpue Speare, Executive Director of Women NGOs Secretariat of Liberia (WONGOSOL). "Women are on the front lines. They are the caregivers."
Global Fund for Women is acting quickly to provide crisis support to some of our long-standing grantee partners in Ebola-hit communities in Liberia, and through these groups, we learn how women are being disproportionately affected by the outbreak.
"The crisis is the worst in the Liberia's history after the civil upheaval that lasted for fourteen years," says Zaye Fanyean Zarweah of Give Them Hope, Inc., a Global Fund for Women grantee partner. "Everyone lives in fear not knowing who the next victim would be to this deadly virus. Some health workers describe an infected community or region as living near the gate of hell."
Women are especially vulnerable in rural communities where there are few health clinics. This leaves the women to feed, wash, and care for Ebola victims without even basic protections such as gloves, goggles, or masks -- making them extremely vulnerable to contracting the virus. Women also participate in burial rites that require handling infected bodies.
Even women who do not contract Ebola are at risk, as Liberia's health system has been pushed to the brink by the current crisis. Maternal health services are especially important in the wake of the Ebola outbreak, since already-insufficient healthcare facilities are being stretched even thinner as they try to care for the many infected Ebola patients, meaning that pregnant women are not able to access the care they need.
"Most hospitals and clinics across the country are closed for lack of protective materials and drugs," says Zarweah of Give Them Hope, Inc. Give Them Hope works with women in rural Upper Nimba County, offering maternal health services through a health clinic it operates, as well as providing skill-based training and education to develop more women leaders in the community.
"As we speak, pregnant women and babies are very vulnerable, as no health worker is willing to touch patients, especially in the rural area in Nimba where we serve," says Zarweah of Give Them Hope, Inc. "Pregnant women are left on their own to deliver themselves on bare roads on the street. Hundreds of people have died of the virus and many pregnant women and children have died for lack of attention and intervention."
These limitations are a result of long-term systemic inadequacies in Liberia's health systems. "The country is still emerging out of war even though the war ended in 2003. There are extremely limited health facilities," says Muadi Mukenge, the Global Fund for Women's program director for Sub-Saharan Africa. "Women are not able to reach facilities, particularly women living in rural communities. There aren't that many facilities to begin with, so you often have to go to another district or another province. More than 80 percent of the population lives under the poverty line, so money for transport [to care in other areas] is scarce. And so we're really seeing a crisis in Liberia that speaks to the fact that the health system itself is particularly weak and women are feeling the brunt of that."
One thing is certain: the impact of the current Ebola epidemic on Liberians will be long-term. "In Monrovia, ambulances collect bodies every day from different communities. If you are here, you can see when people hear the sirens and see the ambulance go by, people on the sidewalk get very quiet and are very sad," says Speare. "People who have survived have been neglected, and they are traumatized."
In order to help women on the road to recovery after the crisis -- and to prevent backsliding when the next crisis hits -- experts say investments need to be made in women and girls' health, education, and empowerment on an enduring basis.
"Going forward, there is political will to improve the health sector, particularly in rural counties where the majority of poor women live," says Mukenge. "We need to focus on strengthening local institutions long-term instead of just focusing on short-term solutions, and we need to make sure that any revitalization efforts for the economy or educational system are framed such so that they benefit women.
As long as we have these issues -- lack of infrastructure, lack of education, lack of access to healthcare, lack of gender equality, and the reality of foreign-imposed restrictions -- then there is going to be another crisis further down the road. And once again it will be women who will suffer the most."
This post is part of a special series produced by The Huffington Post in recognition of the threats posed by Ebola, particularly to West Africa. To see all the posts in the series, read here.
Related