Watching the nation's top college football teams may come at a bargain rate this playoff season.
That includes the Peach Bowl and Fiesta Bowl, which will determine the two finalists to this season's National Championship Game at Raymond James Stadium on January 9.
Prices are falling at such alarming rates that Alabama, Clemson and Ohio State have actually played in several pricier home games during the regular season. The Crimson Tide will take on the Huskies in the earlier New Year's Eve Semifinal game at Georgia Dome, and their Iron Bowl matchup with Auburn last month was considerably pricier on resale outlets.
On TicketIQ, a live event search engine that generates tickets and data from over 90 percent of the secondary market, the average resale price for Peach Bowl tickets at Georgia Dome is now $418. That marks nearly a 20 percent dip from last Monday's average of $517. The cheapest tickets are currently priced from $185 each in the 300 sections of the stadium.
Compare those prices with the Iron Bowl game at Bryant-Denny Stadium on November 26. With Alabama cruising to a 30-12 victory tickets owned an average resale price of $533, 28 percent higher than what Peach Bowl tickets are currently averaging. The get-in price for Alabama vs. Auburn tickets was $238.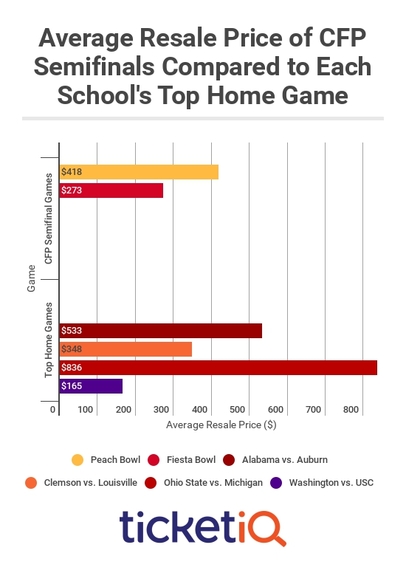 This year's Fiesta Bowl will pit No. 2 Clemson against No. 3 Ohio State at University of Phoenix Stadium. The Tigers have been no stranger to posting big demand at Memorial Stadium this season after their National Championship appearance last January, and two of their home games saw bigger resale demand than their upcoming Semifinal game.
Fiesta Bowl tickets on TicketIQ currently average $273 with a get-in price of $74, falling short of Clemson's October 1 matchup with Louisville ($348 average/$187 get-in price). A November 26 home game with South Carolina also posted a higher get-in price of $117.
As for Ohio State, two of their home games this season posted a higher resale average and get-in price than the upcoming Fiesta Bowl. The Buckeyes' November 26 meeting with Michigan was one of the most expensive games this season, tallying an $836 average and $285 get-in price. Nebraska traveled to the Horseshoe for a November 5 game and also brought massive ticket demand, averaging a $311 ticket and $98 get-in price. Simply put, tickets to see them play in the Fiesta Bowl won't even be in the same stratosphere as those two games.
Washington is the sole school in this year's College Football Playoff that will see a price premium for tickets when compared to top home games. The Huskies hosted the USC Trojans in their most expensive home game on November 12, where tickets averaged $165 and the cheapest were priced from $84 each. That makes their Peach Bowl appearance over 150 percent more expensive on average.
There are also a number of ways to be on hand if planning to attend the National Championship Game in Tampa next month. With the market beginning to take shape, National Championship tickets on TicketIQ are now averaging just north of $2,100. TeamTix.com, a ticketing service that offers fans the chance to reserve tickets to the championship game, is also a legitimate way to lock down primary tickets to the big game.
TeamTix uses a simple business method to guarantee fans a seat at the National Championship Game. By paying a reservation fee for any of the four playoff teams (reservation fees vary depending on seeding), fans will have exclusive access to purchase championship tickets should their selected team move on to Tampa. While that does mean paying two separate fees, TeamTix may very well be the cheapest route to tickets; the cheapest tickets on the secondary market are currently listed from $734 each.
REAL LIFE. REAL NEWS. REAL VOICES.
Help us tell more of the stories that matter from voices that too often remain unheard.