All morning, people were looking to Kasia Celeste for a reaction.
Most of her interactions were positive. The active-duty, openly transgender U.S. Navy sailor said she was surprised and delighted that, despite her commander in chief's announcement on Twitter that trans people will no longer be allowed to serve in the military, her officer in charge checked in to make sure she was OK.
But she also has to worry about the rest of her community, which includes current and former military personnel that identify as trans.
"They're looking to me for answers and I don't have 'em," she told HuffPost.
What is clear is that all the transgender active duty and former military personnel HuffPost spoke to on Wednesday are heartbroken, empowered, confused and, as Celeste put it, "pissed off."
"It's just a shot in the face," she said. "A lot of us are scared and angry because we all signed up to do the same job. Who has the right to say you can't fight for your country?"
I'm not pretty, I'm not a movie star, I'm a retired Navy SEAL. ... I fought for America. As a president, he should be fighting for and defending every American. I'm an American. Why not fight for me?

Kristin Beck, retired Navy SEAL and Purple Heart recipient
Whatever form an actual transgender ban may take, it'll put heroes and patriots on the rocks. One of those heroes is Kristin Beck, a retired Navy SEAL whose 20 years of service included more than a dozen deployments, a Purple Heart, a Bronze Star, and time on the esteemed SEAL Team 6.
She's also openly trans, and proud of it. Beck told HuffPost that she wants to meet Trump face to face, because his idea of her community is warped.
"If he's basing all of his perception of transgender people on Caitlyn Jenner ― who is a millionaire and a TV star ― he's not getting the right picture," Beck said. "I work on a farm with chickens and horses. I grew up poor, on government cheese and powdered milk. I'm not pretty, I'm not a movie star, I'm a retired Navy SEAL. ... I fought for America. As a president, he should be fighting for and defending every American. I'm an American. Why not fight for me?"
Last year, the Pentagon lifted its ban against transgender people serving in the U.S. armed forces. Beck said if Trump really believes that supporting the trans community is costly and disruptive, he's in for a surprise when he tries to discharge thousands of military personnel.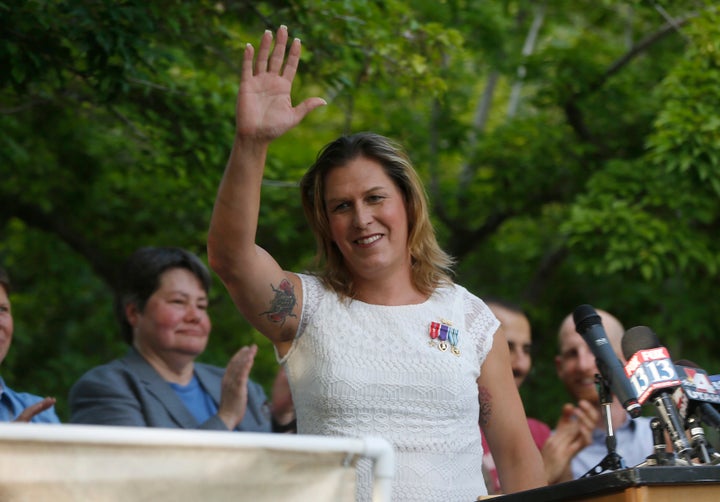 "Even if you're talking expenses alone, this is an irresponsible move," she said. "You just got rid of so many contracts with people who are serving honorably. Now think of the money spent with legal suits, paperwork, bureaucracy and time. You're going to spend [millions of dollars] per person."
Several service members appeared to find hope in the fact that Trump has historically been unable to make good on many of his policies or promises.
"They're three tweets by the current president ― that's all they are," said 2nd Lt. Gabriella Madsen, an openly trans woman who has served 11 years in the Army. "Three tweets are not accompanied by policy. He does that kind of thing all the time. ... In the community, many of those on the still-active-duty side are telling people to calm down. It was only three tweets."
That sentiment was echoed by retired Air Force fighter pilot Shari Zabel, who said she was baffled by Trump's readiness to backpedal on progress.
"The leader of the free world is spouting the same words that were used for racism and slavery. ... It's basically bald-faced discrimination," she said. "This would be the first time that I can recall in our history that a reversal of a nondiscrimination policy has occurred in the military."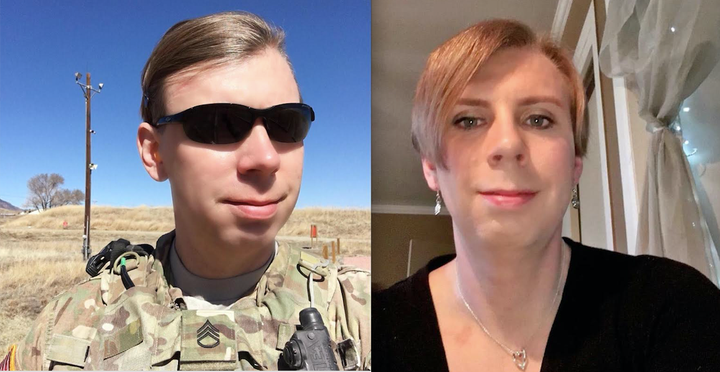 Many of those HuffPost spoke to said they were once not allowed to be open about their true selves in the military. After the military opened itself up to trans service members last year, everything changed. For people like Patricia King, who's openly trans and serving as Army infantry, it's unclear whether the trans community will have to go back to darker days.
"We're still trying to figure it out, there was a lot of ambiguity," she said. "I will continue to show up to work and serve my country until I'm told that I can't anymore. ... The freedoms that I fight for are the same freedoms that I enjoy ― the freedom to be myself, to live my life and be in a country where that's allowed. I can't imagine a place where I could have a more profound impact on those freedoms."
Hayley Miller contributed reporting.
Calling all HuffPost superfans!
Sign up for membership to become a founding member and help shape HuffPost's next chapter