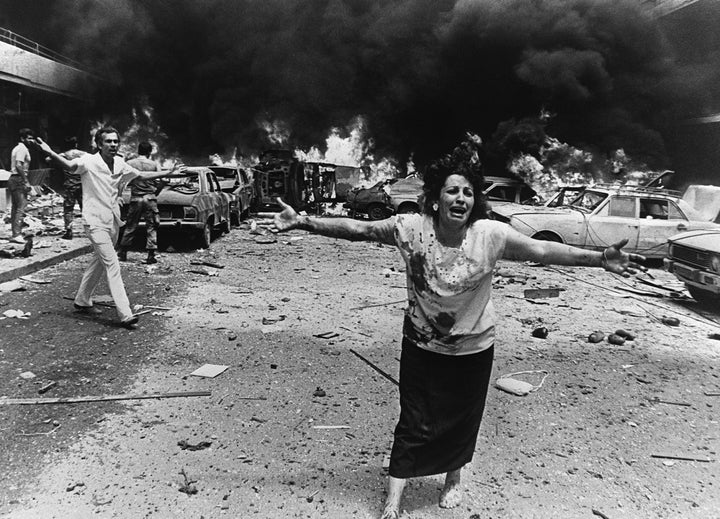 What reads like a bad script to a B grade movie, may be what is playing behind the scenes in Venezuela.
Only it isn't a Hollywood screenplay; it was real life.
A former Ambassador to the U.S. and his aide walk to their car in the leafy neighborhood in Washington DC known as "Embassy Row."
The driver unlocks the doors, the men get in. As the engine starts, a shattering explosion is felt throughout the neighborhood. Both men, unmistakably, are killed instantly.
Decades later, 40 years to be exact, declassified CIA documents reveal the pair were executed by a South American dictator with the help and support of the U.S. government.
The run-up to the Chilean coup and murders in Washington near Sheridan Circle may be the machinations behind the current events in Caracas.
Before he died, Venezuela's Hugo Chavez kept talking about America's involvement in the country's problems. Anything evil that happened in Venezuela, Chavez blamed the U.S. He particularly didn't like George W. Bush. In 2006, during a United Nations General Assembly, Chavez openly -- and proudly -- called Bush "the devil."
When Chavez died, Nicolas Maduro assumed the presidency and continued Chavez's claim that everything wrong with Venezuela was America's fault.
But back to Chile and the murder on Washington DC's streets.
It Wasn't a Script for The Silver Screen; It was Real Life
Ronni Moffitt, an American citizen, was killed in a car bombing in Washington DC on September 21, 1976. Beside him, Orlando Letelier, a former Chilean ambassador to America, was also murdered.
The incident triggered enough international gamesmanship to rival Jason Bourne. Several key suspects were convicted, Pinochet — and other senior officials — backed by America's government, remained untouched.
The newly released document shows Pinochet — a key ally of Washington — personally ordered his intelligence chief to kill the two men. The report, released September 21, 2016, supports a long-held hypothesis by displaying the attempts by Pinochet's intelligence chief to blackmail Pinochet over the killing. The document highlights the length Pinochet went to thwart any efforts to find justice.
"We're talking micromanaging the concealment of an act of terrorism in Washington, DC," said Peter Kornbluh, Director of the Chile Documentation Project at George Washington University.
"The declassified documents are providing a verdict of history where a legal conclusion is no longer possible," Kornbluh added.
"If Orlando Letelier was a symbol of struggle during his life, his image has become a symbol of the search for truth and justice," said Chilean President Michelle Bachelet at a memorial event on Sheridan Circle according to the Washington Post.
Who Was Pinochet and Why Did America Support Him?
Pinochet, who died on December 10, 2006, in Santiago, was President of Chile from 1973 until 1990. From 1973 through 1981, he was president of the Government Junta of Chile.
Pinochet was backed by America in a coup d'etat on September 11, 1973. The coup booted the democratically chosen President Salvador Allende and brought civilian rule in the South American country to a halt.
Academics have said that America's support was crucial to the coup. Writing in Nixon, Kissinger, and Allende: U.S. Involvement in the 1973 Coup in Chile, author Lubna Z. Qureshi says "The White House worried that the Chilean experiment would boost other Latin American countries in testing U.S. hegemony. Nixon, Kissinger, and Allende explore the president's cultural and intellectual prejudices against Latin America and the economic pressures that induced action against Allende."
Nixon and Kissinger couldn't act alone. They put the Central Intelligence Agency to work.
It may be the CIA -- or some other American agency that is possibly rewinding the Chilean events for another road trip in Venezuela.
Peter Winn says the cooperation of the CIA was critical to the power consolidation following the coup.
The CIA concocted a script about a fictitious conspiracy against Allende and his administration. Pinochet was the hero who came just in time to prevent the connivance. Winn said the coup was only possible because of a three-year clandestine act carried out by America. Winn also shows that America had imposed a blockade that devised to interrupt the economy beneath Allende.
Kornbluh, writing in The Pinochet File, says America was deeply involved in and "fomented" the 1973 coup.
Christopher Hitchens, author of The Trial of Henry Kissinger, argues that American covert operations destabilized Allende's government — setting the table for the coup.
Following the coup, the American government furnished material assistance in the form of training, ammunitions and weapons to Chile's military government; while openly criticizing the coup to the public.
The CIA also nurtured contacts within the Chilean DINA intelligence agency. DINA directed the multinational operation, Operation Condor, which carried out the assassinations in Washington as well as seized, beat and murdered approximately 60,000 people according to TK.
In addition to Letelier and Moffit, other well-known victims of Operation Condor included Juan Jose Torres, a former Bolivian President who was slain in Buenos Aires in June 1976 and Carmelo Soria, a UN envoy was killed in July 1976.
Pascal Allende, Salvador Allende's nephew, was marked for killing but escaped in Costa Rica.
Then-US Congressman Edward Koch was also targeted by the American-infiltrated DINA for denouncing Operation Condor.
As anti-junta protests continued throughout the 1980s, 21-year old American photographer Rodrigo Rojas DeNegri and 18-year old schoolgirl Carmen Gloria Quintana were burnt alive — Carmen survived.
On November 25, 2006, Pinochet celebrated his 91st birthday. His wife shared a statement he wrote, saying, "I assume the political responsibility for all that has been done."
Two days later, Pinochet was sentenced to house arrest for the kidnapping and murder of two of Allende's bodyguards.
Pinochet died a few days later without having been convicted of any crime for which he had been accused.
Jerry Nelson is an American freelance writer, ghostwriter and content provider, now living the expat life in South America. Never without a cup of coffee or Marlboros, you can join the million-or-so who follow him on Twitter @ Journey_America and email him at jandrewnelson2@gmail.com.
Calling all HuffPost superfans!
Sign up for membership to become a founding member and help shape HuffPost's next chapter