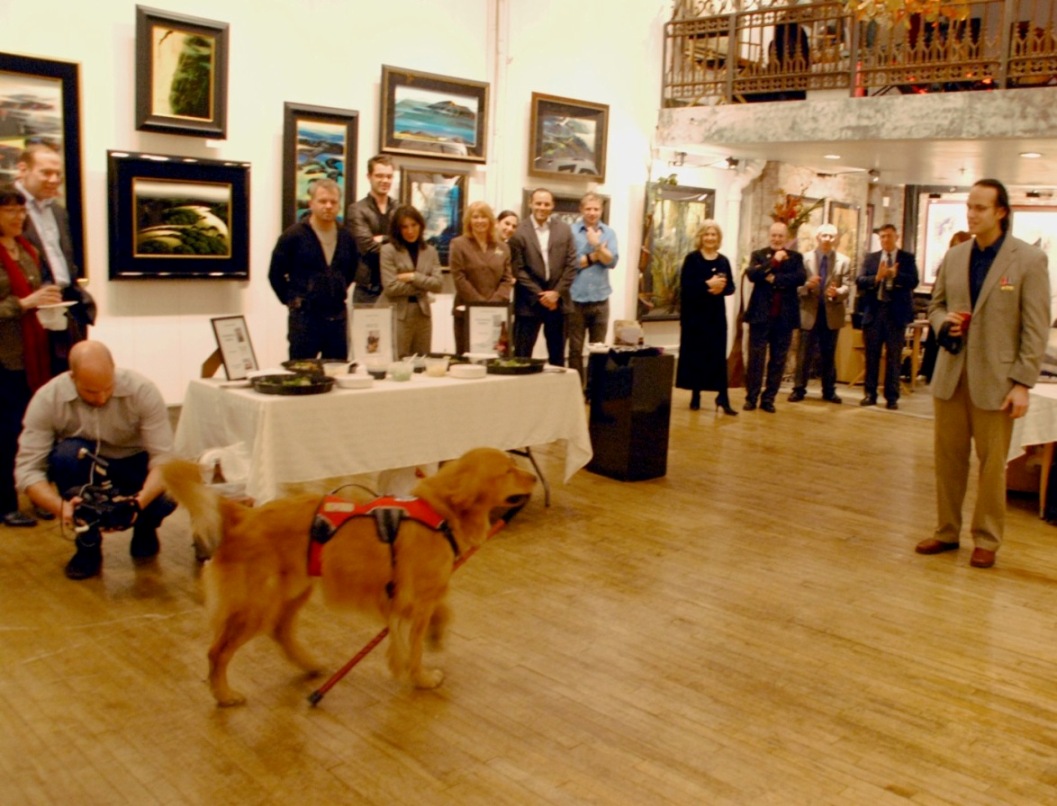 Benefactors of "The Tower of Hope" watch as Tuesday, a service dog, retrieves disabled veteran Luis Carlos Montalvan's cane. The event was recently hosted by The Animazing Gallery located in SoHo. Photo courtesy of Tamara Lund

Recently, I learned that the comic-strip writer Charles Schulz was a decorated veteran of WWII and experienced severe forms of the shock and melancholy that often results from combat.
His famed "Peanuts" comic strip resonated with the postwar generation. According to the website of SoHo's Animazing Gallery, Schulz's work "shouted to the innocence inside of cynical adults."
Proprietors of the Animazing Gallery recently hosted a special evening that was dedicated to helping wounded veterans of Iraq and Afghanistan by providing them with service dogs.
The event was organized by The Tower of Hope, a New York non-profit founded by Cathy Carilli, whose husband, Tom Sinton, was killed in the World Trade Center on 9-11.
Tuesday, my service dog, was at his usual position next to my right leg as we entered the Gallery. A cane in my left hand provided me with stability.
Slowly, we began to tour the gallery to view the work of the legendary cartoonist.
It had been just the previous November when Tuesday, a highly-trained golden retriever, entered my life, and began to help me deal with physical and psychological wounds sustained during combat in Iraq.
As we began our tour a woman exuding warmth and dignity approached.
"Our collection of art indulges the senses and emotions with color, playfulness and beauty," she said before introducing herself as Animazing's owner, Heidi Leigh.
I saw what she meant as I looked at the original drawings and paintings of Snoopy the dog that covered a large portion of a red brick wall.
The images transported me back to my childhood. "Your gallery is absolutely beautiful," I said.
I was struck by how Shultz's portraits of Snoopy harmonized with The Tower of Hope's mission of providing dogs to veterans. Aided by the donations of gracious citizens and the help of a few nonprofits, I was partnered with Tuesday and provided with extensive training.
Under my breath I started humming Vince Guaraldi's "Linus & Lucy," the theme of the Peanuts and Charlie Brown TV specials that went on to become a jazz classic.
Tuesday and I wandered over to the hors d'oeuvres table.
Rick Lund, a board advisor of The Tower of Hope, walked over to us.
"You know," he said, "even in tough times, when some are hunkering down to take care of themselves, there are still so many who give freely of themselves to help soldiers who have protected their country."
I nodded and then looked around at the attendees.
I felt something missing. "If you think they would be interested in a demonstration," I said, "I'd be happy to show them how Tuesday helps me."
Tuesday and I spent the next 10 minutes performing various tasks. We demonstrated the retrieval of my cane and his leash and displayed how he helps me with my physical and emotional equilibrium. And with Tuesday sitting at a distance, I explained to the gathering how he helps me cope with conditions including Post Traumatic Stress Disorder (PTSD) and Traumatic Brain Injury (TBI).
Afterward, Cathy Carilli, founder of The Tower of Hope, approached, and gave both Tuesday and me a big hug.
"Thank you so much for that," she said. "And, we really look forward to seeing you both on May 12th for our charity gala aboard the USS Intrepid."
I smiled and thanked her for the delightful time.
The evening ended and Tuesday and I took the subway home to Brooklyn.
The next day I thought a lot about Schulz, the war and my comrades past and present. I thought about the trauma that today's generation of veterans face and I marveled at how Schulz had channeled his fatigue and anxiety into an art-form with such purity of heart.
A woman I met at the event, Barbara Tavrow, sent me an email.

"The most poignant moments that evening were when you talked to our guests and shared your own story, with Tuesday by your side.
"The stories of our wounded veteran heroes are not being shared -- especially what their lives become when they return home. Thanks for sharing. I can't believe that's easy to do. It made a huge difference that evening."
My thoughts drifted further still.
"Happiness is a warm puppy," wrote Schulz several decades ago.
I looked at Tuesday curled by my side, and found myself smiling.

Related