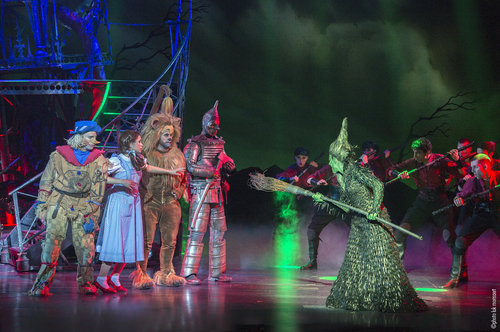 The Wizard of Oz may be 77 years old but it's a classic that still holds appeal for children and the grown-ups who remember falling in love with the story when they were young. Fortunately for DC residents, there are many ways to experience the magic of Oz right in our area.
Dorothy's Ruby Red Slippers: One of the most asked about items in the Smithsonian's collection is the Ruby Red Slippers worn by Judy Garland in The Wizard of Oz. While Dorothy's slippers were silver in the original book, the iconic red ones worn in the movie have become synonymous with Oz. While viewing the slippers at the National Museum of American History, check out the Scarecrow Costume, the original movie script, and the technicolor camera used to shoot the movie.
Wizard of Oz Playground: Yes, Dorothy, there is a Wizard of Oz themed playground right here in our area. Watkins Regional Park hosts a number of kid-friendly activities and close to the train and carousel, there is a large playground with a yellow brick road, rainbow track, huge ruby red slipper slides, a red barn climbing structure, and more. Look for flying monkeys in the trees and homages to the state fair and Munchkin Land.
Wizard of Oz Live and On Stage: For Wizard of Oz fans there is perhaps no experience more special than seeing Dorothy, the Tin Man, the Lion, and the Scarecrow sing their hearts out live with both the classics you already love and new songs by Tim Rice and Andrew Lloyd Weber. The Wizard of Oz will be landing at the National Theatre from May 3rd - May 15th and Dorothy in this national production hails from Montgomery County.
Oz Photo Op: Dress your little one up like Dorothy or the Tin Man and head over to the Wizard of Oz mural at 1633 P Street, NW near the Stead Recreation Center in DuPont Circle. This graffiti-type mural is worth a look if you love Oz and are in the area.
Oz to Eat: Want to step out to Oz? There is a restaurant by that very name in Clarendon. Ok, it's an Australian restaurant rather than a Wizard of Oz themed restaurant but if you want to be able say that you had dinner in Oz this is your place.
Surrender Dorothy: Driving around 495 you may see Surrender Dorothy painted on an overpass just as the Mormon Temple comes into view, although currently only the word Surrender is visible. Searches for the graffiti artist behind Surrender Dorothy have been fruitless but speculation is that the artist finds the Temple reminiscent of the great city of Oz.
If you are a Wizard of Oz fan, there's no place like home.
Calling all HuffPost superfans!
Sign up for membership to become a founding member and help shape HuffPost's next chapter