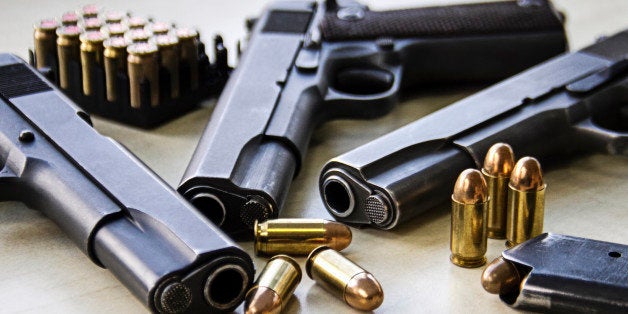 On the first day of Domestic Violence Awareness Month, here is a disturbing statistic: Of women murdered by men, 93 percent are killed by someone they know -- and the majority are intimate partners of their killers.
We present these uncomfortable facts in an annual report from my organization, the Violence Policy Center: When Men Murder Women: An Analysis of 2012 Homicide Data. You can view the full report here.
We coincidentally released this year's report the same day the nation's attention was focused on domestic violence following the release of the Ray Rice video. While the Ray Rice incident thankfully was not fatal, we know that similar assaults of women far too often end in death.
Our report used data from 2012, the most recent year for which national data are available. In that year, 1,706 females were murdered by males in single-victim/single-offender incidents. That's 33 victims every week and more than four every day.
Just as in previous years, we found the most common weapon men use to murder women is a gun. For homicides in which the murder weapon could be identified, 52 percent of victims were shot and killed with a gun. The most common firearm was a handgun, used in 69 percent of the homicides committed with guns.
The report also ranks the states on the rate of women murdered by men. In 2012, Alaska had the highest rate, followed by South Carolina, Oklahoma, and Louisiana. A list of the states with the highest 10 rates can be found below.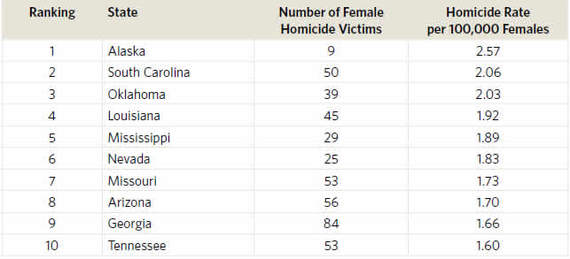 One finding that has been depressingly consistent, in the 17 years we have released this report, is that fatal violence against women is most often domestic violence. As noted above, 93 percent of the victims in 2012 were killed by someone they knew.
When circumstances could be identified, at least 62 percent of the victims known to their killers were intimate partners: wives, common-law wives, ex-wives, or girlfriends. (The actual figure for intimate partner killings is certainly higher, since ex-girlfriends are not included in the FBI's Supplementary Homicide Report.)
The overwhelming majority of the homicides in 2012 were not related to any other felony crime, such as rape or robbery. When the circumstances could be identified, 85 percent of the homicides were not related to the commission of another felony. Most often, females were killed by males in the course of an argument between the victim and the offender.
The National Rifle Association and its financial backers in the gun industry often raise the specter of an unknown assailant in order to encourage women to buy guns. However, our report makes clear that the vast majority of female victims are not murdered by strangers in a dark alley. In reality, having a gun can actually increase a woman's chance of being killed. One study found that women living with a gun in the home were nearly three times more likely to be murdered than those with no gun in a home.
In short, the evidence shows that women murdered by men are nearly always killed by someone they know, most often by an intimate partner, and the most common weapon used is a gun. Reducing gun violence against women goes hand in hand with reducing domestic violence.
We released the study just before the 20th anniversary of the Violence Against Women Act, which was signed into law on September 13, 1994. Since that time, our society has increasingly treated domestic violence as the serious problem that it is. Long-term trends show that fatal violence against women has declined in the past two decades, but we still have a very long way to go.
Based on our previous studies, we have found that the rate of females murdered by males in the United States declined 26 percent over 17 years: from 1.57 per 100,000 in 1996 to 1.16 per 100,000 in 2012 (see the chart below). However, this is unacceptably high compared to most other developed countries.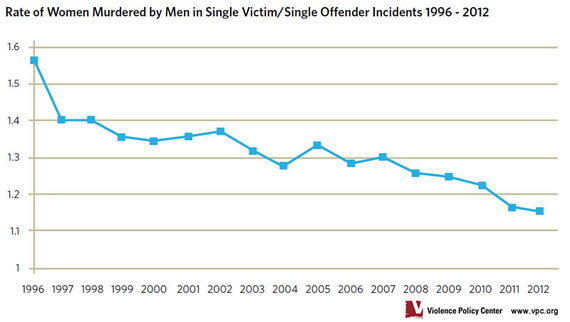 To prevent fatal violence against women, we need to ensure communities have the resources to help women who are the potential victims of domestic violence. Moreover, we should do everything we can at both the state and federal levels to ensure abusers do not have access to guns.
Fortunately, many state legislatures are already moving forward. In South Carolina, the legislature has begun holding hearings on how to improve the state's domestic violence laws. Several states, including Louisiana, have recently passed laws making it more difficult for domestic abusers to possess firearms.
These efforts are welcome, but not nearly sufficient when so many lives are at stake. Every state and community, as well as the federal government, should take a close look at what they can do to help stop fatal domestic violence.
For individual women, we hope our study is a reminder to think very carefully about the facts before considering purchasing a gun for the purpose of self-protection. The evidence shows that for women in America, just like men, guns are most often used not to save lives, but to take them.
Popular in the Community