WASHINGTON -- More than half of the nation's 400 richest citizens have contributed money to help elect President Barack Obama or former Massachusetts Gov. Mitt Romney to the White House. These members of the Forbes 400, who boast a combined net worth of $1.7 trillion -- more than 10 percent of the country's gross domestic product -- have donated more to affect the outcome of the presidential race than ever before.
Romney leads with a total of $3.4 million raised for his campaign and the Republican National Committee (RNC) from 158 of the Forbes 400 through Oct. 17, exceeding the $2.8 million raised by Republican nominee Sen. John McCain four years ago. Obama and the Democratic National Committee (DNC) have raised $1.7 million from 62 of the richest billionaires through Oct. 17; four years ago he raised $1.3 million from this elite group.
These numbers pale in comparison to the amounts the wealthy have donated to two super PACs that are legally independent of the campaigns but are run by the candidates' former aides. The latter contributions, which rise into eight figures, are made possible thanks to the Supreme Court's 2010 Citizens United ruling that freed corporations, unions and, through a subsequent lower court ruling, individuals to spend unlimited sums on elections.
Restore Our Future, the primary super PAC supporting Romney, received $44.8 million from 43 billionaires through the middle of October. Priorities USA Action, the super PAC supporting Obama, pulled in $16.6 million from 12 billionaires over the same period. Other super PACs and "dark money" nonprofit groups have raised tens of millions more from these billionaires.
Asked about the billionaires' largess, Obama campaign spokesman Adam Fetcher pointed to the $260 million from small donors raised by the president's reelection effort and said, "Grassroots giving is what is powering this campaign. As the Romney campaign and their super PAC allies continue to outspend us on the air, we continue to expand our donor base heading into the final stretch."
The Romney campaign did not respond to a request for comment.
If their man wins election next Tuesday, these wealthy contributors are poised to have his ear. Already, both candidates have come out in favor of policies backed by their most supportive billionaire donors.
Much of Romney's platform caters directly to the policies they desire. Further tax cuts for upper incomes, capital gains, interest and dividends; the elimination of taxes on estate transfers; lower corporate tax rates; and the implementation of a territorial tax system all favor the wealthy over the working and middle classes.
"The initial effect would be to give very large tax cuts to wealthy people -- and that's clear -- and to corporations which they own," said Bob McIntyre, president of Citizens for Tax Justice.
The Romney policies would disproportionately aid financial-sector billionaires, who make most of their money through capital gains and carried interest. Fifty-eight members of the Forbes 400 who have supported Romney hail from the financial and investments industries. They have given a total of $12.9 million to help the Republican candidate.
View full list of Forbes 400 donors to Romney, the RNC and Restore Our Future.
(Sources: Forbes.com and Federal Election Commission.)
Romney's policies are also very favorable to the fossil fuel industry, including reduced regulation, cuts in the Environmental Protection Agency's budget and more areas open to drilling. Oil billionaire Harold Hamm, one of Romney's top energy advisers and a major donor to both the Romney campaign and Restore Our Future, would profit handsomely from Romney's energy agenda.
Then there's casino magnate Sheldon Adelson, the largest donor to Romney's efforts. Adelson, who has given $20 million to Restore Our Future and $35,800 to Romney and the RNC, has made it clear that he opposes unions, supports lower taxes and Israel's right-wing government, and wants an investigation into his company's China business to be quashed.
There is another way to look at the strong support Romney receives from the super rich: Many of his policies are in line with the overall view of priorities held by the wealthy, which is different than that of the general public.
"When it comes to kitchen-table issues that matter to working families, over and over the wealthy have different priorities and different ways to go about addressing our national problems, and these ways don't often benefit working families," said Adam Lioz of the left-leaning advocacy group Demos.
A survey of millionaires and billionaires in the Chicago area, presented at the 2011 annual meeting of the American Political Science Association, showed that the wealthy care a great deal about the growing national debt and the annual federal budget deficit. Northwestern University professors Benjamin Page and Jason Seawright and Vanderbilt University professor Larry Bartels found that 87 percent of the wealthy label budget deficits as a "very important" issue -- the highest percentage choosing "very important" for any issue. In a separate, open-ended question, 32 percent, "far more than mentioned any other issue," said that "budget deficits and excessive government spending" were the "most important problem facing this country today."
This focus on budget deficits as the biggest problem does not extend to the rest of the population. In a September, Gallup poll, the national debt and budget deficits were named as the most important issue by 10 percent of Americans, well behind the 32 percent who named unemployment and jobs.
The rich also heavily favor reining in government programs, including Social Security and Medicare. According to the Chicago study, "They lean toward cutting all the income-redistributive or social insurance programs we asked about."
Throughout the campaign, Romney's budget proposals have relied on deep cuts to discretionary spending and favored Social Security and Medicare plans that rely more on reducing benefits for future retirees than finding additional revenue to pay for them.
The wealthy support government spending on infrastructure investment, scientific research and education, according to the Chicago study. These are all policies that both Romney and Obama have touted, although in different -- and in Romney's case, not always consistent -- ways.
For Obama's part, he has also taken positions that align with the industry-specific priorities of his biggest donors. There has, however, been slightly more daylight between those he has adopted and pushed and those backed by his most supportive contributors.
View full list of Forbes 400 donors to Obama, the DNC and Priorities USA Action.
(Sources: Forbes.com and Federal Election Commission.)
Like Romney, Obama's top source of Forbes 400 money comes from the financial and investments industries. Twenty-three billionaires in that sector have given a total of $6.7 million to the Obama campaign, the DNC and Priorities USA Action. This despite the widespread hatred of the president on Wall Street.
Billionaires from the tech industry have also given big to reelect Obama: Fifteen in the Forbes 400 have donated $3.4 million to Obama, the DNC and Priorities USA Action.
In the first presidential debate, the president endorsed a top priority of technology companies. "When it comes to our tax code, Governor Romney and I both agree that our corporate tax rate is too high, so I want to lower it, particularly for manufacturing, taking it down to 25 percent," he said.
During his four years in office, Obama has embraced a number of efforts to crack down on offshore profit holding -- an initiative opposed by the tech sector. But McIntyre of Citizens for Tax Justice noted those efforts wound up going nowhere after tech companies voiced their concerns.
"When [Obama] first came in, he had some really -- I mean they weren't perfect, but they were excellent proposals to try to crack down on offshore profit shifting, and the tech companies complained," McIntyre said.
Obama noted his support for reeling in untaxed offshore profits during the third presidential debate. The Information Technology Industry Council, a trade association for tech companies, criticized the president's position.
The president did stand up for the tech sector against another big donor class during the 2011 congressional clash over Internet piracy. The administration effectively killed the Stop Online Piracy Act (SOPA), a top priority of Hollywood, when it stated that certain provisions in the bill would trigger a veto. Three Hollywood members of the Forbes 400 who backed SOPA have given more than $1.5 million to reelect Obama.
The president has also received support from one Forbes 400 member who benefited from the administration's now-controversial energy loan initiatives. Elon Musk, the lead investor in the electric-car company Tesla Motors, has given $35,800 to Obama's reelection efforts.
Before You Go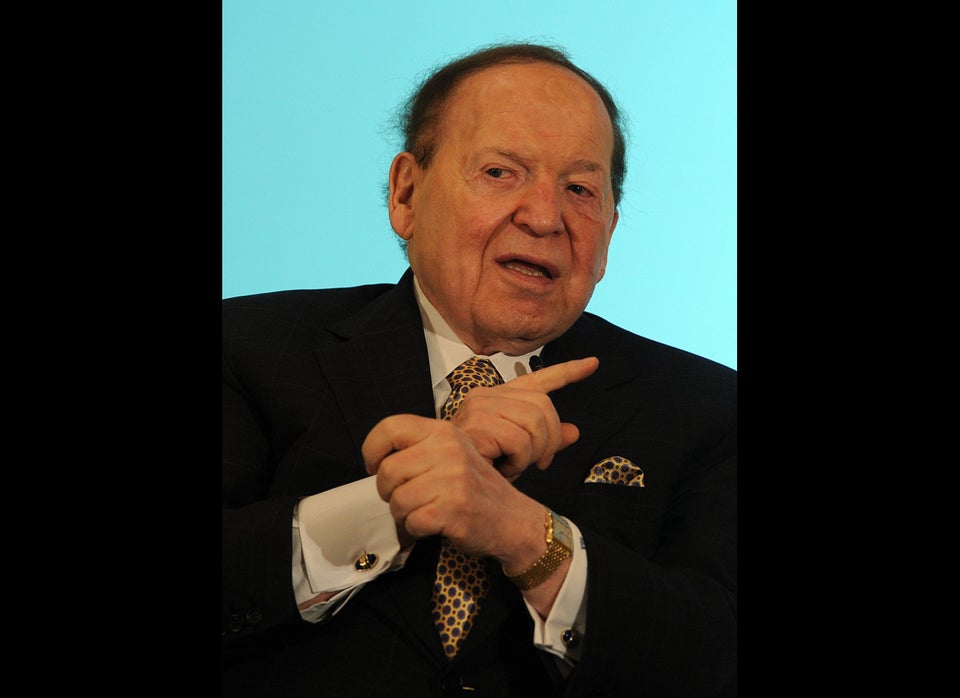 Donors Giving $500,000-Plus To Super PACs
Popular in the Community