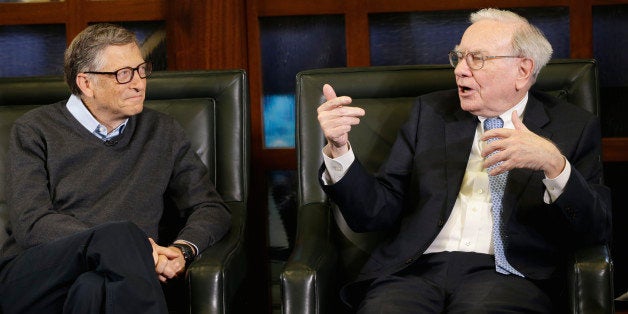 Forbes: The combined wealth of Forbes' 2014 ranking of the richest people in America "The Forbes 400" (p. 125 of the October 20, 2014 Forbes magazine issue) is $2.29 trillion, up from $2.02 trillion in 2013 and the highest ever, partly due to the strength of the U.S. stock market. The average net worth of a Forbes 400 member is an astounding $5.7 billion, the highest to date, up from $5 billion last year. Net worth increased for 303 members, and decreased for 36 members. Cost of admission to the 2014 list is the highest ever at $1.55 billion, up from $1.3 billion a year ago.
For the complete Forbes 400 ranking on Forbes.com, click: here.
Bill Gates retains the top spot on The Forbes 400 for the 21st straight year, at $81 billion, up $9 billion from 2013. Warren Buffett (#2) is at $67 billion, up $8.5 billion from last year. Larry Ellison (#3), worth $50 billion, is up $9 billion from last year. Steve Ballmer (#18), worth $22.5 billion, climbed back into the top 20 after dropping out last year.
Twenty-seven newcomers made it into the ranks, including Jan Koum (#62) of WhatsApp at $7.6 billion, Russ Weiner (# 249) of Rockstar Energy at $2.5 billion, Travis Kalanick (#190) of Uber Technologies at $3 billion, and David Walentas (#368), a real estate developer who made his fortune by rebuilding the Dumbo area in Brooklyn, New York, at $1.7 billion. The biggest gainer is Mark Zuckerberg (#11), whose net worth grew $15 billion since last year; he is currently worth $34 billion. Nicholas Woodman's fortune is up 200% to $3.9 billion, tripling from $1.3 billion last year, making the GoPro founder the largest percentage gainer this year (#129).
Forty-seven women are on the list, down from 48 last year. This year includes newcomer and self-made billionaire Elizabeth Holmes (#110), who founded Theranos, a Palo Alto company that is disrupting the business of blood testing. Holmes is the youngest woman on The Forbes 400 list. An additional five women are on the list as part of couples, including Jin Sook in Jin Sook & Do Won Chang (#90), Marian Ilitch in Michael & Marian Ilitch & family (#122), Lynda Resnick in Stewart and Lynda Resnick (#133), Judy Love in Tom & Judy Love (#167), and Peggy Cherng in Andrew & Peggy Cherng (#190). Twenty-seven people who were on the 2013 Forbes 400 dropped off the list, and 6 people died.
The issue includes cover story Jerry Yang's Revenge (p. 53), featuring an interview with Jerry Yang (#324), Yahoo cofounder and Alibaba board member. It details the inside story of how the Yahoo founder turned $1 billion into $50 billion with Alibaba and is the U.S. tech industry's bridge to China. The Exterminators (p. 100) reveals all the fighting within the Rollins family, as well as who poisoned the $8 billion Orkin pest-control dynasty. Welcome to Gilbertville (p. 90) details Quicken Loans owner Dan Gilbert's billion-dollar makeover of Detroit, and how it is one of the most ambitious human resources project in the history of American business.
For the first time ever Forbes has assigned a "self-made score" to each member of The Forbes 400 in an effort to better distinguish how far some list members have climbed to make the ranks. This measurement runs from 1 (inherited wealth, with no activity to build the fortune) to 10 (classic Horatio Alger saga). For perspective, Forbes also assigned scores for The Forbes 400 going back 30 years. The results showed an enormous shift from inherited wealth to self-made wealth at the very top. Even 20 years ago, more than half of The Forbes 400 came via inherited wealth. This year, more than two-thirds are self-made.
The Forbes 400 issue will feature five consecutive covers, including Jerry Yang, Yahoo cofounder and Alibaba board member, on the front cover; Steve Ballmer, former Microsoft CEO; Elizabeth Holmes, newcomer and the youngest woman on The Forbes 400 list; Dan Gilbert, the man who brought Lebron James back to Cleveland; and Leslie Wexner, the man behind Victoria's Secret.
PHOTO GALLERY
Forbes 400: America's Richest for 2014
REAL LIFE. REAL NEWS. REAL VOICES.
Help us tell more of the stories that matter from voices that too often remain unheard.