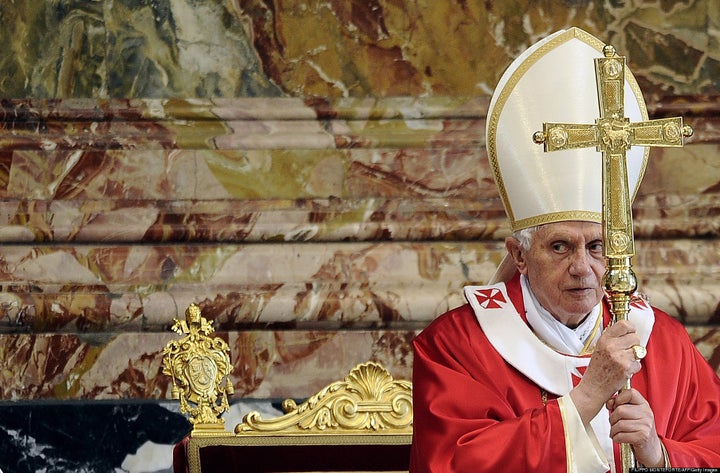 By Whitney Jones
Religion News Service

(RNS) Pope Benedict XVI won the No. 5 spot in a list of the world's most powerful people, one of only two religious leaders in Forbes magazine's list of 68 influential men and women.

Benedict was sandwiched between Russian Prime Minister Vladimir Putin and German Chancellor Angela Merkel. The only other religious leader on the list was the Dalai Lama, who ranked at No. 39.

Forbes, which released the list Wednesday (Nov. 3), scored the rankings by the person's influence over people, which for religious leaders meant counting the followers in their flocks.

The pope was named the "highest earthly authority for 1.1 billion souls," which represents one-sixth of the world's population. He was noted for "healing old wounds" in September when he became the first modern pope to visit London's Westminster Abbey, where he shook the hand of a clergywoman.

The Dalai Lama was praised in the list for "keeping China honest" and providing spiritual leadership for millions of Buddhists and his political leadership for 150,000 Tibetans in exile.

The pope jumped ahead six spots in this year's rankings, while the Dalai Lama stayed put.

This list is the magazine's second ranking of the world's most powerful people. The top 10 most powerful people are:

1. Chinese President Hu Jintao
2. U.S. President Barack Obama
3. King Abdullah of Saudi Arabia
4. Russian Prime Minister Vladimir Putin
5. Pope Benedict XVI
6. German Chancellor Angela Merkel
7. British Prime Minister David Cameron
8. Federal Reserve Chairman Ben Bernanke
9. Indian National Congress President Sonia Gandhi
10. Bill Gates, founder of Microsoft and co-chair of the Bill and Melinda Gates Foundation
Calling all HuffPost superfans!
Sign up for membership to become a founding member and help shape HuffPost's next chapter