FORBES has hoisted the bar on Crowdfunding to a Class A level with its FORBES list Advisors, Monetary Resources, and Foundations weighing in with cash and clout to socially-conscious start-ups at its Forbes Under 30 Summit in October. The $1 million global social impact competition for entrepreneurs under the age of 30 to advance solutions that address global challenges, with a $1 million prize pool, will be awarded at the FORBES second Under 30 Summit in Philadelphia from Oct.4-7 which is expected to bring together 2000 of America's most important young entrepreneurs and game changers. If this event is anything like last year's Under 30 Summit, which included its Under 30 $400,000 Pressure Cooker competition with an audience that included young twenty-something newly minted billionaires, established funds looking for the next new thing, Rockstars and stars of Academia as well as Steve Forbes and a crowd of FORBES editors with the young and ambitious presenting their start-ups onstage, it will be a noisy, intense, thoroughly brilliant and profitable competition for the deserving 6 start-ups.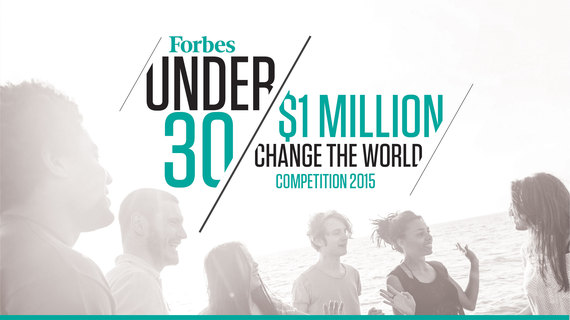 "We have brought together an amazing coalition of good for a historic competition that we hope will inspire and accelerate a generation of social entrepreneurs", says Randall Lane, editor of FORBES magazine, who oversees the FORBES Under 30 Summit and FORBES Summit on Philanthropy which was held in New York recently and attended by Warren Buffet and Bill and Melinda Gates. The definition of what makes a social entrepreneur is still evolving according to Lane and this contest reflects that: it's open to young leaders of both not-for-profit and for-profit organizations. "Great non-profits now operate like entrepreneurs--social problem solvers need to embrace a lean, results-based mindset." Explains Lane, "Many for-profit businesses now have a social mission: there's even an incorporation classification, a B corp, that recognizes companies devoted to helping society as well as shareholders." The FORBES $1 Million Under 30 Change the World Competition will grant money both to not-for-profits and for-profits with a social mission, particularly with breakthrough results in education, health, sustainability and extreme poverty.
Behind the presentations onstage and indeed the keepers of the entry gate, FORBES has partnered with the University of Pennsylvania's Wharton School, one of the pre-eminent Business Schools in the world, to oversee the contest in the spirit of fair competition. Penn and Wharton will be overseeing the initial screening process to determine the best prospects. The Wharton Social Impact Initiative, established in 2010, focuses on impact finance, impact analytics and strategic corporate social impact and incorporates research that leverages Wharton's analytic horsepower. X Prize's HeroX platform will make the "entire operation hum" according to FORBES editor Lane. Lane, who oversees the entire competition, is himself a cross between entrepreneur, athletic coach, business anthropologist and game show host. The finals judges are yet to be announced but they will be in keeping with the FORBES roster which is weighing in with a FORBES media grant for the half dozen winners whose lives will be forever changed.
The participating Foundations will be providing the contest capital and sharing expertise. The Charles and Lynn Schusterman Family Foundation, the Case Foundation headed by Steve Case, AOL co-founder and head of his fund REVOLUTION, Pratt Foundation, Keywell Foundation and billionaire tycoon/philanthropist Bob Duggan, whose foundation works miracles even as his businesses are finding new cures for cancer, are exemplary partners to fund and award these prizes.
The six semi-finalists will be announced in early September before competing on the main stage at the FORBES Under 30 Summit in October.
Related
Popular in the Community