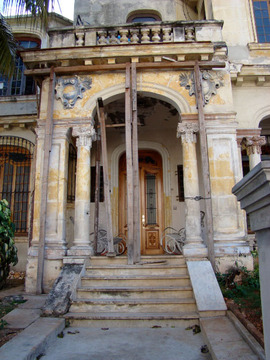 The lady holds a sign that reads, "To trade: house in Central Havana. Needed: two apartments in Cerro." Starting very early she goes to a park in the city hoping to find someone interested in her offer of an exchange. She's spent three years in this search, because exchanging one property for two is extremely complicated in today's Cuba. She will have to find someone who wants to live together in a single dwelling, but they are the rare ones. In the majority of shared housing there are two generations, at least.
Forbidden to buy and sell houses, Cubans rely on informal exchange to look for a better location or something in a better condition. The bureaucratic machinery to manage these bartered trades is complicated, so many pay a "stimulus" to the bureaucrats at the Housing Institute to help the process move more quickly. There are specialists in finding each family what they need, called "exchangers," and it's an occupation at the edges of the law. Precisely because she has not contracted with one of these experienced negotiators, the lady with the sign has spent a lot of time waiting.
The illusion that Raul Castro would allow a real estate market has been vanishing after a year of the mandate. The Cuban leaders know that if they authorize it, citizens will redistribute themselves in a short time. Those who have convertible money will move to the best neighborhoods and those who earn only Cuban pesos will live on the periphery. The fact that there are not rich areas and poor areas is not because, as some believe, we've achieved social justice, but rather the inability to buy and sell houses. What they haven't been able to face is the people's creativity, which disguises the frequent acts of buying and selling as simple exchanges.
Yoani's blog, Generation Y, can be read here in English translation.
REAL LIFE. REAL NEWS. REAL VOICES.
Help us tell more of the stories that matter from voices that too often remain unheard.